Pike Brewing Releases The Long Dark Barrel-Aged Stout and Short Days Double Hazy IPA
|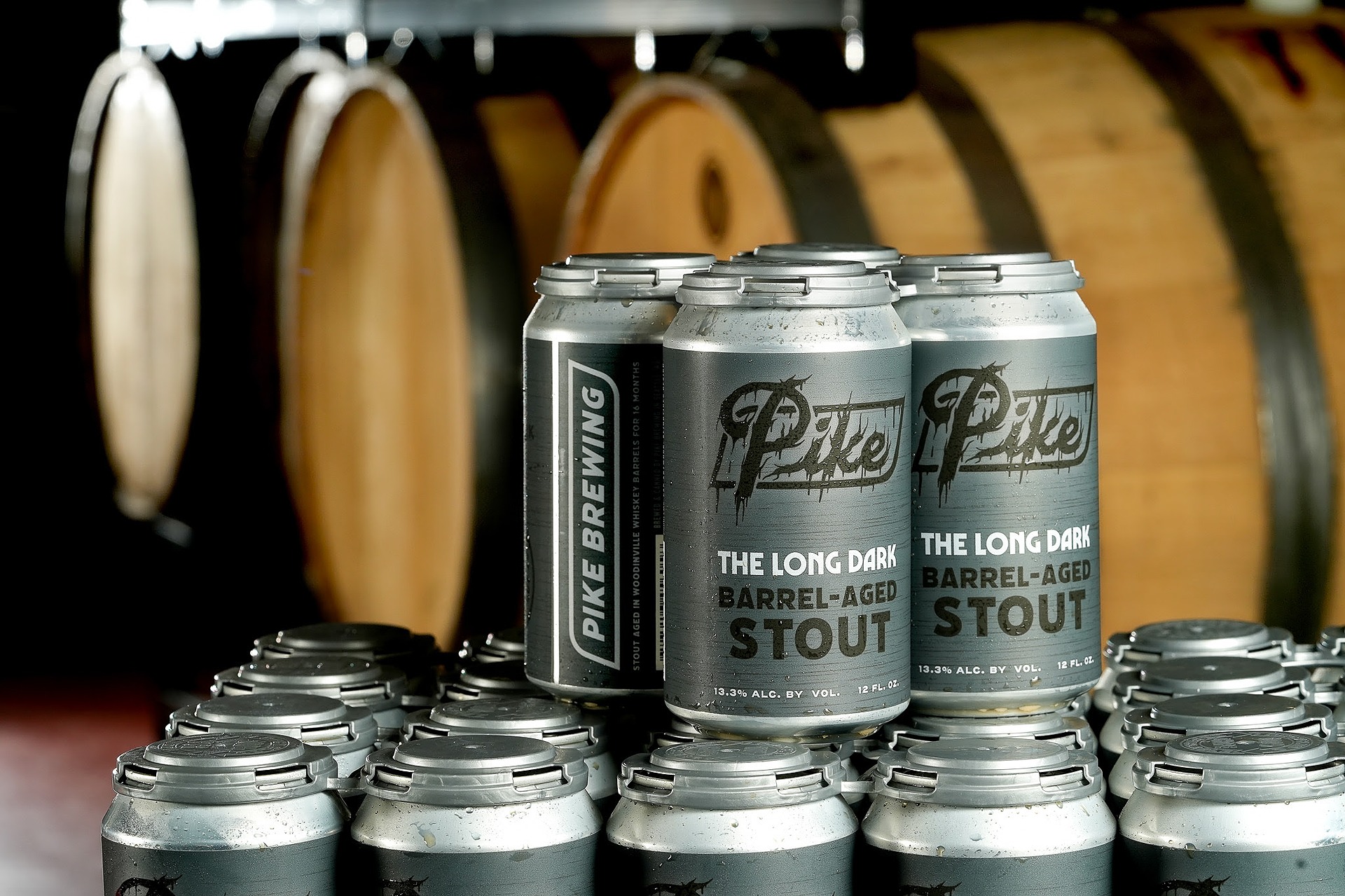 SEATTLE, January 17, 2023 —The dreaded short dark days of winter are here. Don't hibernate, it's the ideal time to check out two new limited release beers from Pike Brewing!
Pike's head brewer Leslie Shore and her team are thrilled to introduce The Long Dark Barrel-Aged Stout and Short Days Double Hazy IPA.
The Long Dark Barrel-Aged Stout is the perfect winter warmer. This big, rich, full-bodied stout packs a punch at 13.3% ABV. Aged for 36 months, this beer boasts notes of port, baked dark fruit, molasses, brown sugar, raisins, figs, and vanilla. This very limited release is available now in 4-packs of 12oz cans and on draft.
The Short Days Double Hazy IPA is sunshine in a can. Made using Centennial Simcoe, Mosaic, and Cascade hops this expressive hazy IPA has aromas of fruit, melon, and flowers. This easy drinking beer is hop focused, medium bodied highlighting the flavors of orange, cantaloupe, and honeysuckle with a smooth finish. 8.2% ABV. This limited release hazy IPA will be available late January through March in 6-packs of 12oz cans and on draft.
On Tuesday, January 24 Pike Taproom in Ballard is hosting a casual Short Days Double Hazy IPA release event from 3pm to close.  Come check out the new Pike Taproom (5205 Ballard Ave NW), play some darts, chat with head brewer Leslie Shore, and enjoy pints of Short Days for $5.  Plus, the happy hour menu will be offered all night long. Score!
Pike's seasonal beers are available at Pike Brewing, Pike Taproom, local bottle shops, and select retailers throughout the Pacific Northwest.
Founded in 1989 by Charles and Rose Ann Finkel, Pike Brewing is the longest running, independently operated craft brewery in Washington State. Located adjacent to Seattle's iconic Pike Place Market, Pike Brewing features a sustainably focused gravity-flow steam-powered brewhouse producing bold, diverse, and dynamic craft beers. In addition to the urban brewery, the three-level space boasts two restaurants and a Microbrewery Museum, making Pike Brewing a destination for both locals and visitors alike. Pike Brewing is renowned for a wide range of award-winning beers, top-notch hospitality, and a philanthropic commitment to the community. Look for Pike Brewing in restaurants, hotels, and grocery stores throughout Washington, as well as select grocery stores in Alaska and Idaho. To learn more, visit pikebrewingseattle.com.
Pike Brewing is located at 1415 First Avenue in Seattle, Washington.