Redhook Brewery Releases Tangelic Halo Tangerine IPA
|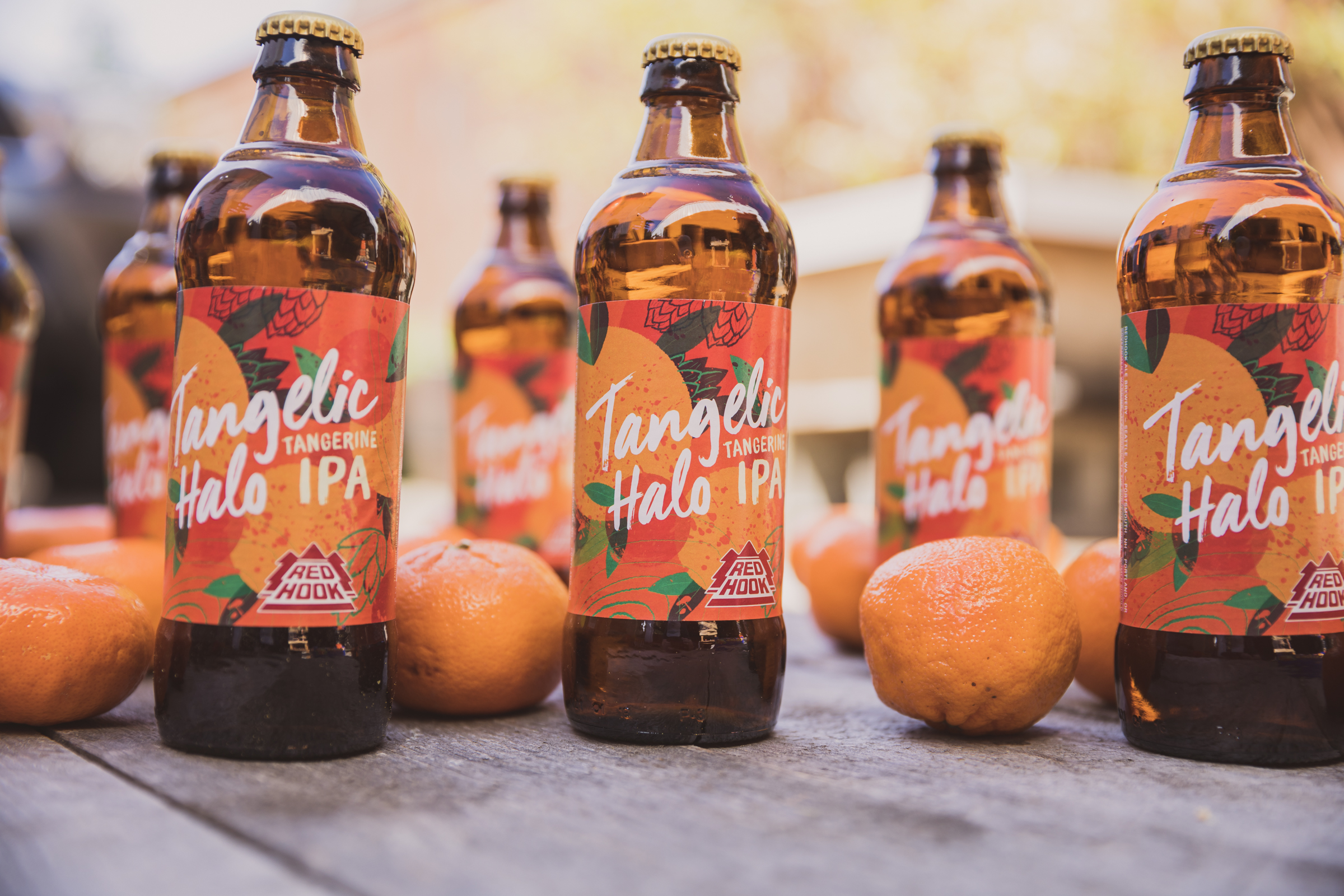 SEATTLE, WASH. – May 30, 2018 – Loaded with citrusy tangerine and amplified by a quintet of hops, Redhook's refreshing Tangelic Halo Tangerine IPA is launching throughout the Northwest just as the temperatures start to rise. The new summer seasonal is available in six and 12-packs of 12-ounce bottles. Tangelic Halo is the second new seasonal release from Redhook head brewer Nick Crandall in 2018.
"During the summer months we wanted to give beer drinkers a brew that was refreshing, satisfying and provided a citrusy punch," said Crandall. "We knew the hops — Apollo, Citra, Manderina, Bavaria and Lemondrop used in Tangelic Halo would play well with a citrusy addition, so we added tangerine to balance out the flavors of the beer."
Aromas of Tangelic Halo recall the smells of summer: Fresh cut grass, tangerine and citrus fill the nose and pave the way for a dry, straight forward malt character on the palate. At 6.2 percent ABV and 40 IBU, Tangelic Halo is the perfect accompaniment to Summer.
Tangelic Halo is a summer seasonal that will be available in six and 12-packs of 12oz bottles from May – September of 2018, as well as in Redhook's IPA variety 12-pack, the Hoppy Hook Pack. Tangelic Halo will also be available on draft at Seattle-area pubs and taprooms.
To celebrate the release, Redhook is throwing a launch party at Brewlab in Capitol Hill on Wednesday, June 20. Tangelic Halo will be flowing on draft and in bottles throughout the day.  Brewlab will also tap a new small-batch collaboration with Imperfect Produce – Tangerine Helles – brewed with Imperfect's own, ugly-looking but still great-tasting mandarin. Imperfect Produce, the produce delivery service that saves produce from ending up in the landfill, will be on hand and attendees can learn more about their noble mission and service. Brewlab guests can also enter to win a six-month Imperfect Produce subscription.
For additional information on Redhook Brewery, visit redhook.com and follow the brewery on Instagram, Facebook, and Twitter. Or, to find Tangelic Halo near you, visit Redhook's beerfinder: http://www.Redhook.com/find-beer.
Tangelic Halo Tangerine IPA
Tangelic Halo is loaded with naturally citrusy hops that are heightened by the addition of tangerines. Fresh citrus on the nose gives way to bursts of tangerine and pitchy citrus. At just 40 IBUs, it's a smooth, well-balanced IPA with a dry, straight-forward malt finish.
Malts: Pale
Hops: Apollo, Citra, Mandarina, Bavaria, Lemondrop
ABV: 6.2%
IBU: 40
About Redhook Brewery
Redhook was born out of the entrepreneurial spirit of early 1980s in the heart of Seattle. While the term didn't exist at the time, Redhook became one of America's first craft breweries with its focus on creating a better beer. From a modest start in a former transmission shop in the Seattle neighborhood of Ballard, to a Fremont trolley barn that housed The Trolleyman brewpub, to its current breweries in Seattle, Wash., and Portsmouth, N.H., Redhook has become one of America's most recognized craft breweries. Redhook opened a 10-barrel brewpub called Redhook Brewlab in the Capitol Hill neighborhood of Seattle in 2017. Redhook's beer lineup includes ESB, Long Hammer IPA, Big Ballard Imperial IPA, Bicoastal IPA and a variety of seasonal and limited release beers, including My Oh My Caramel Macchiato Milk Stout, Peaches for Me IPA, Winterhook, and more. Redhook beers are available on draught and in bottles and cans around the country. Redhook Brewery, Est. Seattle, WA 1981