Reuben's Brews 2017 Fall Beer Releases – Mosaic Fresh Hop, Roasted Rye IPA, and Pilsner
|
Fresh off winning a Gold Medal for its Triumvirate IPA at the 2017 Great American Beer Festival, Reuben's Brews announces its 2017 Fall Beer Releases. Hitting shelves are three beers – Mosaic Fresh Hop, Roasted Rye IPA, and Pilsner.
A little over one week ago the brewers at Reuben's Brews from Seattle struck gold while at the annual Great American Brewers Festival in Denver. Its Triumvirate IPA took a gold medal in the International-Style Pale Ale category at the awards ceremony.
When it debuted in 2015, Triumvirate IPA was originally brewed to be the house beer for Seattle's Brouwer's Café, Bottleworks, and The Burgundian. Beyond being honored at this year's GABF, Triumvirate IPA has been honored at the World Beer Cup, U.S. Beer Tasting Championships, and the Washington Beer Awards. This also marks the third Gold Medal won by Reuben's at the GABF.
"Winning a medal like this at such a highly competitive event gives us encouragement that we are creating beers that stand out from the crowd," Adam Robbings, co-founder and head brewer for Reuben's Brews in a statement. "With so many amazing beers in this year's festival, we are incredibly honored to be among those who took home gold.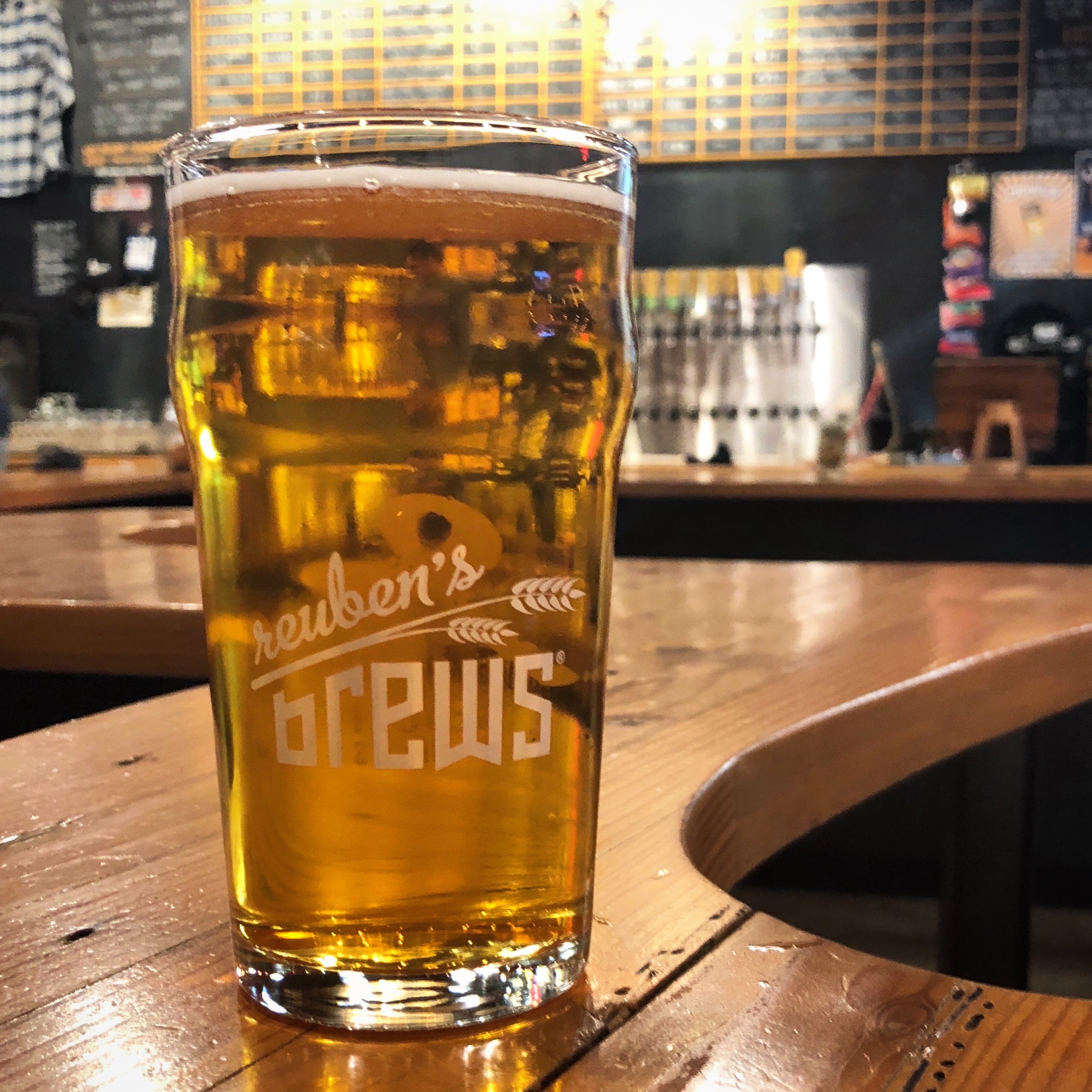 Also worth noting are three new beers that are now being packaged by Reuben's Brews. The highlight of the three is its now year-round Pilsner. Earlier this year Reuben's collaborated with Rainier on r&R Pils, brewed at the former Redhook Brewery in Woodinville. That beer was a good American representation of the style but when we tried it side by side with Reuben's house Pilsner, its own version definitely won out. Reuben's Pilsner is crisp, clean with bready malts and a nice hop spiciness that suits this Czech-style Pils quite well. This one rivals the regions premier Pilsners from pFriem Family Brewers and Chuckanut Brewery.
Learn More: Reuben's Brews and Rainier Brewing Collaborate on r&R Pils
The other two releases are fall seasonals. Roasted Rye IPA pours a dark mahogany/cherry color that brings a malt forwardness to it. This beer is called a fall seasonal but brings back memories of the winter seasonals from many years ago. And the short run seasonal Mosaic Fresh Hop offers a promising floral aroma alongside a hop profile that is not overtly bitter. As a fan of Mosaic hops this one is very enjoyable.
Here are the brewery's descriptions on each of its three new packaged beers.
Roasted Rye IPA:
Our fall seasonal available September through December this is the beer that started it all in 2010 back when we were homebrewers. This beer shows citrus and tangerine in the nose, supported by chocolate, roast and caramel notes from the malts. The best of an India pale ale and a winter warmer wrapped into one brew. ABV 7% | IBUs: 80
Pilsner:
Our newest year-round brew, we decided to put this Czech-style pilsner in cans after it flew out of the taps at our Seattle taproom and received top-level honors from local, regional and national award programs. We think you'll enjoy clean, crisp and bright lager with bready malt notes and spicy traditional hops. ABV 5.4% | IBUs: 35
Mosaic Fresh Hop:
Released only once a year during hop harvest, this beer brings passionfruit and grapefruit notes wrapped up with a crisp, refreshing finish. A showcase of the Mosaic hop which has often been credited with a fruitiness that changed craft beer, our Fresh Hop brew is everything we love about this season. ABV 6% | IBUs: 50