Rogue Ales & Spirits and Revival Cycles Collaborate on Knuckle Buster Cold IPA
|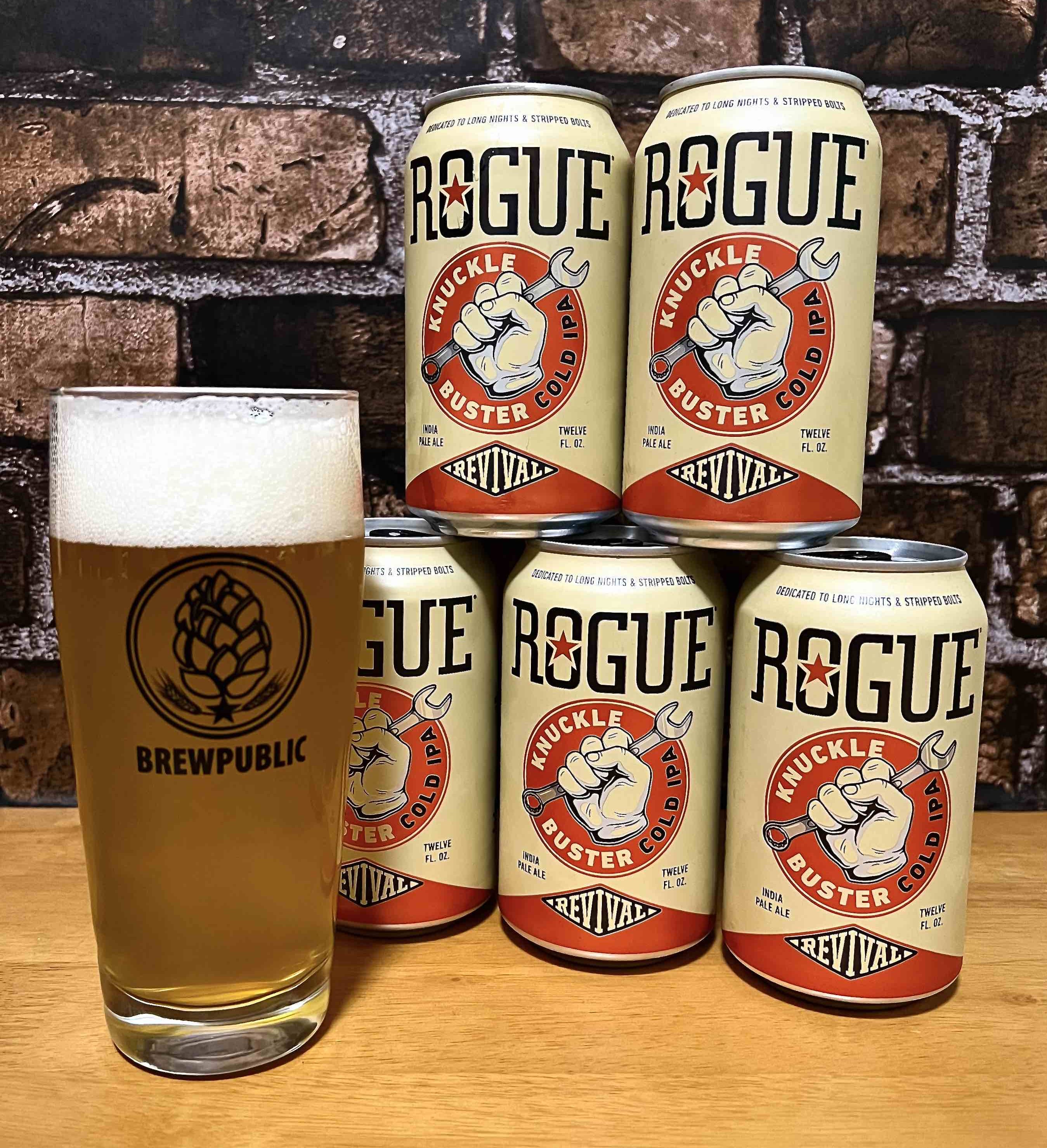 The trend of the Cold IPA has hit one of Oregon's most well-known breweries. Rogue Ales & Spirits has recently released Knuckle Buster Cold IPA in collaboration with Revival Cycles, an Austin, Texas based design house known for custom motorcycle builds.
Knuckle Buster Cold IPA is rooted in design, from the building of the beer itself at the brewery to the design work on the packaging of the beer. The name "Knuckle Buster" was chosen to also pay homage to gearheads and craftspeople from all walks of life and industries. A perfect nod to those that don't mind getting a bit dirty.
"At Rogue, we are always working on new ideas that break from the norm; this collaboration is no different," said Dharma Tamm, Rogue President, in a statement. "Our friends at Revival Cycles in Austin, Texas also like to push the envelope with their hand-built motorcycles, so teaming up on a new style of IPA that uses a cold fermentation technique just made sense."
The newly minted title of Cold IPA is a variation of the what was once known has a Hoppy Lager or India Pale Lager (IPL) where a cold fermented beer is generously hopped. Knuckle Buster Cold IPA is not much different and politely falls into this category.
Knuckle Buster Cold IPA pours a dark golden straw color with a bit of a haze and ample white head. Bready aromas fill the senses that's followed by a bit of floral hop aromas. It finishes fairly clean with a bit of short-lived bitterness. Nothing too special but a definitely different than that of other bottom fermented beers. Knuckle Buster Cold IPA sits at 6.1% ABV and 60 IBUs.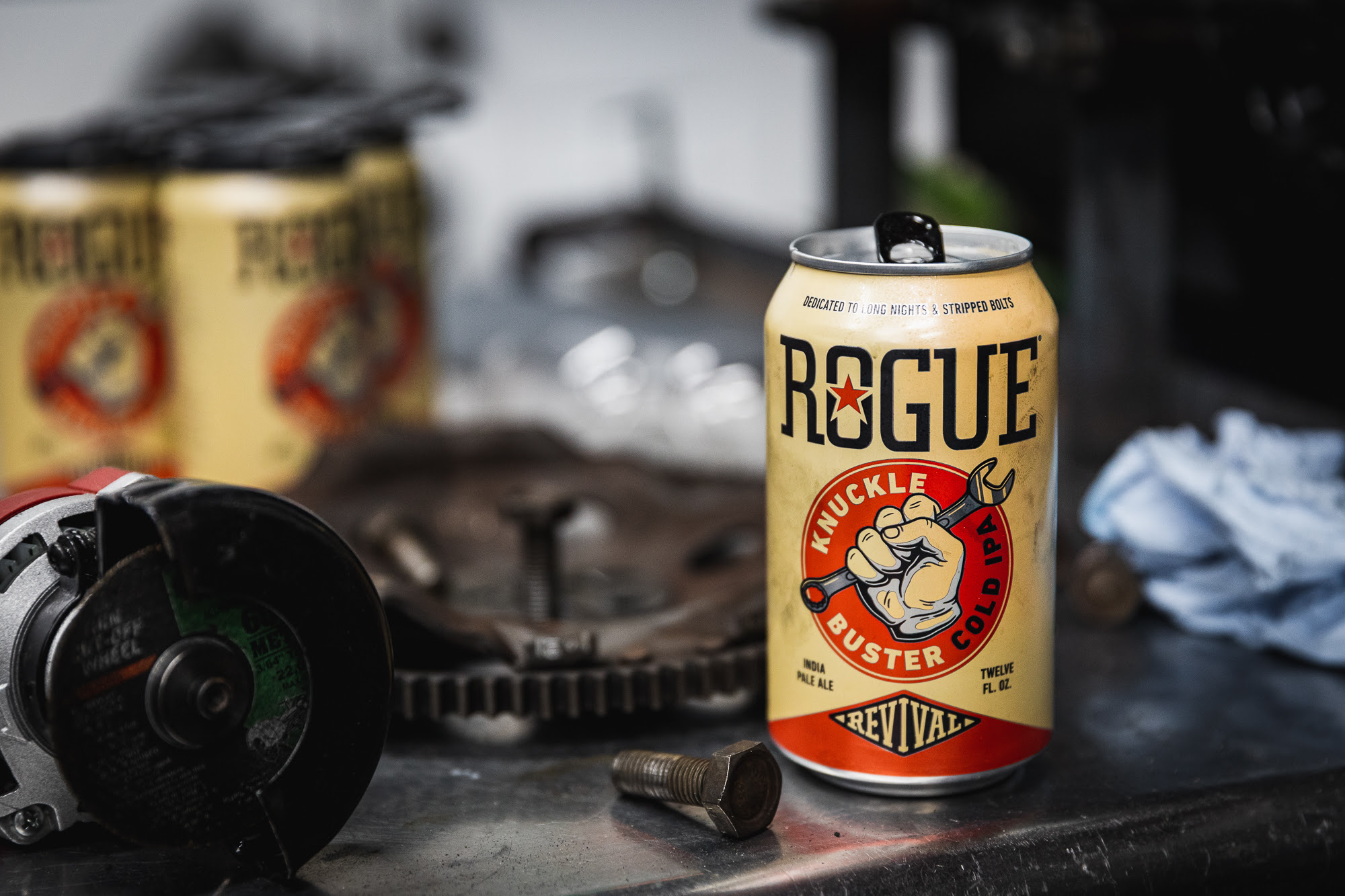 "At Revival Cycles, we understand that collaborating with like-minded design focused people is how we all grow, learn, stay fresh, and innovate," adds Alan Stulberg, Founder, Revival Cycles, in a statement. "This fun project with Rogue allows us to expand our footprint and drink more of their delicious IPAs."
One Texas-based element to the beer release are secret gold coins. With the January release throughout stores in Austin and the surrounding cities, select Knuckle Buster six packs will come with a gold coin placed between the lid of the can and plastic six pack ring. Over a dozen lucky individuals who find the gold coins, will be able to redeem them at the 2022 Handbuilt Motorcycle Show produced by Revival Cycles in April 2022 for a Supporter Ticket ($200 package), which includes VIP Lounge Access, Discounted Drinks, Access to the VIP areas of the Pre-Party, Discounts on Merch and skip the line access at the show.
To locate Knuckle Buster Cold IPA, use the Rogue Finder to find this beer near you. Don't delay as this one will only be available through April 2022 on draft and in 12oz cans!