Samuel Smith Exports Cans Of Organic Lager & Nut Brown Ale To The United States
|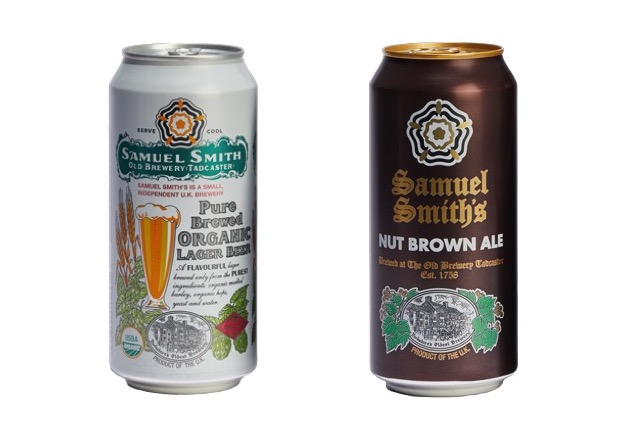 With a brewing history dating back to 1758, The Old Brewery at Tadcaster has been independently brewing Samuel Smith's beer for multiple generations. Now the Yorkshire, England based brewer is exporting two of its portfolio's beers in cans to the United States through its Seattle based importer, Merchant du Vin.
Joining the can beer revolution is Samuel Smith's Pure Brewed Organic Lager and Samuel Smith's Nut Brown Ale as both beers are now available in four-packs of 440 mL (14.9 oz.) cans.
Samuel Smith's Pure Brewed Organic Lager Stats:
History – Lightly kilned organic lager malt grown in the UK is the main ingredient, with a substantial addition of organic UK Vienna malt. Samuel Smith's has begun to source organic hops in England; some of the organic hops used in the recipe come from New Zealand. Certified Organic by the USDA-accredited UK Soil Association. In 2012, Pure Brewed Organic Lager replaced Pure Brewed Lager and Organic Lager.
Taste – Bright straw-gold color; medium body. Pure barley malt flavor and herbal hops in perfect balance. Clean and crisp, with brilliant conditioning.
Ingredients – Water, organic barley malt, organic hops, yeast
ABV: 5.0% – OG: 1.045 – IBU: 25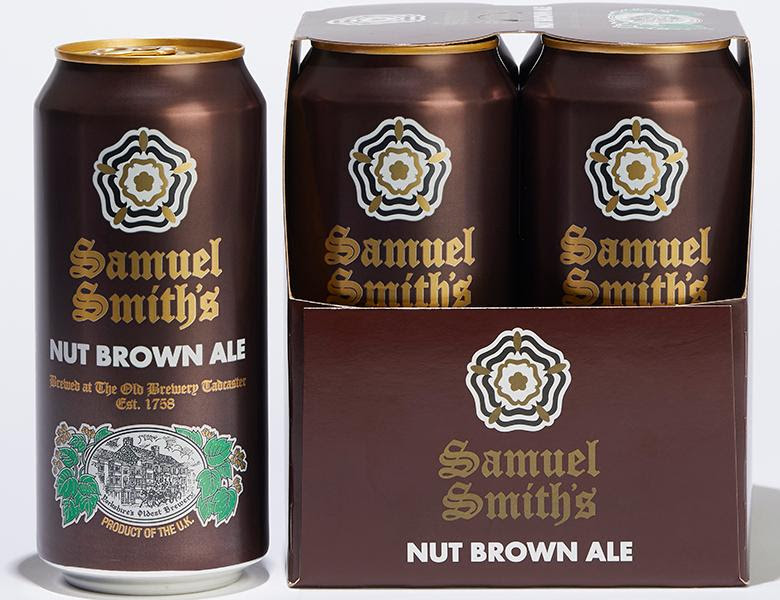 Samuel Smith's Nut Brown Ale Stats:
History – Brown ale is a specialty of the North of England, and a very early beer style – it is mentioned in literature in the 16th century. Judicious amounts of dark malt give brown ales brilliant dark-amber color and deep flavors that stop short of roastiness.
Taste – The walnut or hazelnut notes in Nut Brown Ale come from dark malts and from fermentation in Yorkshire Squares – no nuts are used in the recipe! Dry, medium-bodied; the Sam Smith ale yeast strain gives a fruity note to the finish.
Ingredients – Water, barley malt, roasted barley, hops, cane sugar, yeast.
ABV: 5.0% – OG: 1.050 – IBU: 31
To locate these new Samuel Smith's cans or any other beer within the Merchant du Vin catalog use the importers Find Our Beer Page to locate them.