Sasquatch Brewing & New West Cider Announces Its Northwest Portland Grand Opening
|
Almost one year after taking over a 4,000 square foot space in Portland's Industrial area, Sasquatch Brewing and New West Cider is proud to announce that it will host its official Grand Opening on Friday, April 21st. From 3:00 to 10:00pm Sasquatch Brewing and New West Cider will host an evening of complimentary BBQ and live music from Portland bluegrass band Out West.
Prior to this grand opening we had a second look of the spot after it completely remodeled that space over the course of the past 11 months. Located less than a block south of Portland Brewing and 1/3 mile from the forthcoming second location of Great Notion Brewing, this area of Industrial Northwest Portland is slowly becoming a craft beer destination.
This new location will expand upon the breweries current 7-barrel system in Hillsdale as its original pub will continue on just as it has for the past five years. The Hillsdale location will focus on developing small experimental batches.
Read more about our profile of the upcoming Sasquatch Brewing location in Northwest Portland from May 2016.
At its new NW Portland location the new brewhouse is a new 15-barrel system produce by Practical Fusion. There will also be two new 90-barrel fermenters dedicated to only producing New West Cider. Once the brewery fully establishes its complete line up of beer and cider it will have 22 taps to pour from, one of which will be a nitro beer.
"The brewery has been a labor of love from day one," stated Sasquatch Brewery founder Tom Sims in a press release. "We have appreciated and thrived on the support of the local community, and are excited that we've come to a point where we've simply outgrown our space. We are looking forward to having room to spread our wings and begin some new programs out of the new location."
Mike Paladino, Head Brewer, stated in the release, "The brewery's new location will give us the room to make lagers, start a barrel-aging program and start packaging beer and cider in a 500ml bottle format. The new facility in the heart of Northwest Portland is a brewer's dream."
Upon entering the new taproom you are greeted by a new bar that consists of a backdrop of wood and white tile. To the right, on the north wall, local artists Chris Bigalke and Julia Skerry of Glowdeer painted a mural that shows a view of what this area once may have looked like with Balch Creek flowing through the middle. Chris is a Portland based artist that has developed a portfolio of music performance posters. A few of these gig posters that he completed for the band WILCO are hanging in the hallway that leads to the restrooms.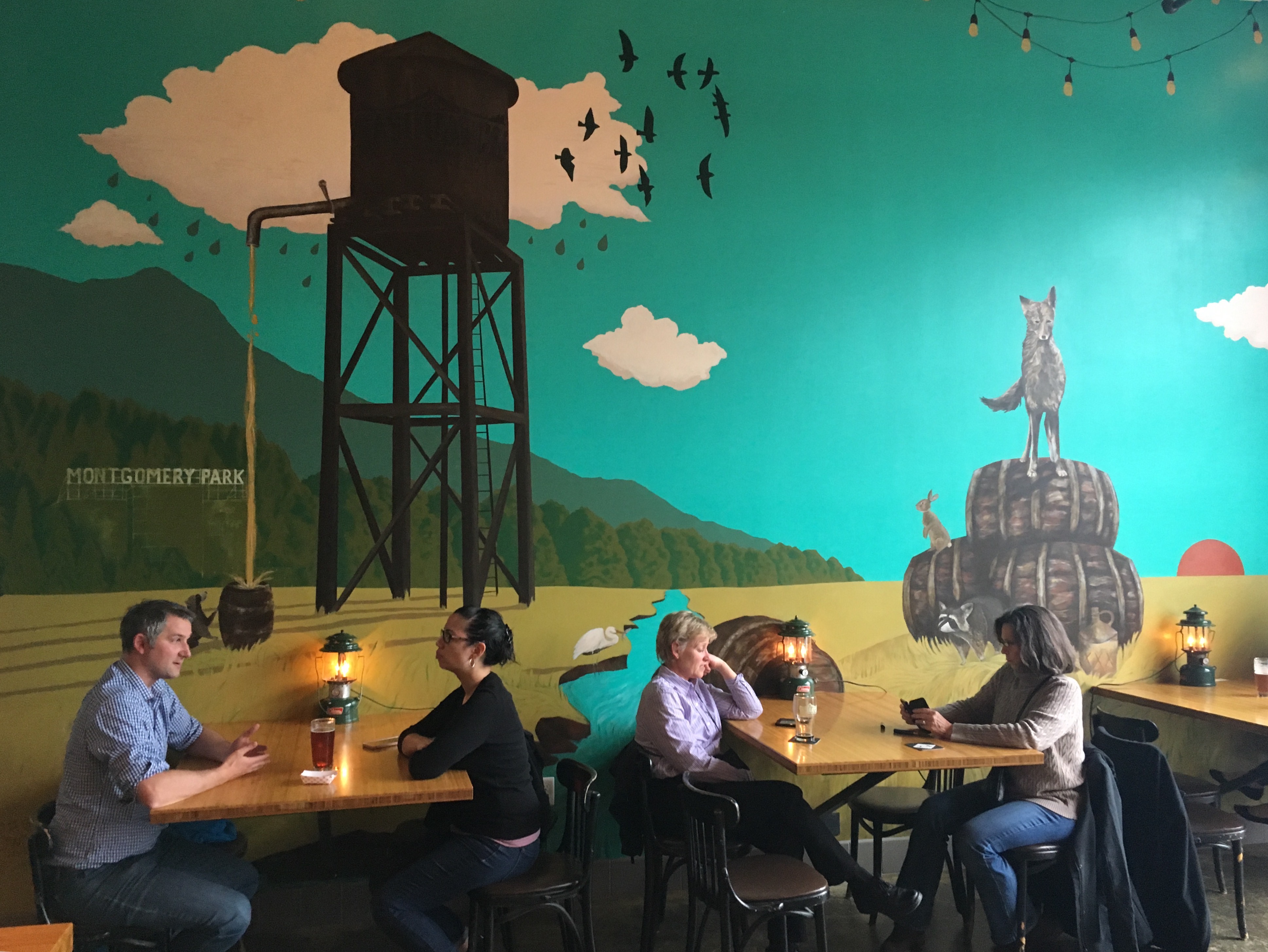 Various tables both short and small and tall and long lead to views through the brewery's roll up doors of its industrial neighbors that includes steel galvanizers are dipping metal into steaming vats of molten zinc.
Hours for the new location will be most likely be 3:00 to 10:00pm Friday through Sunday with expanded hours in the coming months. Also on the horizon is the construction of a kitchen that will be located above the bar serving up sandwiches and light pub fare.
Until then make sure to swing by the grand opening on April 21st to be the first to try three brand new Sasquatch beers; a Kolsch, Amber and a Grapefruit IPA alongside a new Hopped Cider.
Sasquatch Brewing & New West Cider – NW Portland
2531 NW 30th Ave.
Portland, OR 97210