Shimai Toshi Brewing Introduces Yuzu Lager
|
A new gypsy brewer has graced the Portland beer scene during the pandemic. Hitting the marketplace with just one beer, Yuzu Lager, is Shimai Toshi Brewing.
The name of Shimai Toshi comes from the Japanese meaning of sister city. Portland has a handful of sister cities around the globe but the oldest, since 1959, is with Sapporo, Japan. A city that has inspired the sole beer from Shimai Toshi Brewing.
Led by owner Ian Marshall, he brews Yuzu Lager under contract by Zoiglhaus Brewing in Portland's Lents neighborhood. He decided it was best to have a professional brewer take on the challenge and he found that someone in Alan Taylor, Brewmaster and Co-Founder of Zoiglhaus Brewing.
"Alan at Zoiglehaus has been a fantastic partner. We went to him with our ideas, and we worked on the recipe for the Lager for a few months, and then made a small batch and took it to a bunch of Chefs in growlers to get their feedback."
Marshall has taken a unique approach to brewing his one beer, a lager that uses yuzu fruit. That in itself will keep the beer a bit limited in its appeal to a larger audience but he feels he has found a way to market this one beer with a certain demographic.
"I've been growing Yuzu and other hardier citrus for a few years, and selling them to Japanese restaurants and a few other higher end restaurants around Portland," explained Marshall on his use of the yuzu fruit.
This connection has led him to become friends with a few sushi friends from around town. "A couple years ago we were having beers with a couple of friends who are Sushi chefs and we were talking about how Japanese restaurants sell the standard Japanese beers, and larger ones might sell a couple local craft beers, usually an IPA and a Lager."
To break the mold of the traditional imported Japanese or other Southeast Asian imported beer, Marshall felt that he could utilize his orchards and brew an approachable lager that utilizes his yuzu fruit.
"Yuzu is much an amazing fruit. It has such a complex flavor that's not like any of our regular citrus, like Lemons, Limes, or Grapefruit," said Marshall. "So we decided to make beers that utilize Yuzu and other Japanese flavors to pair perfectly with Japanese food."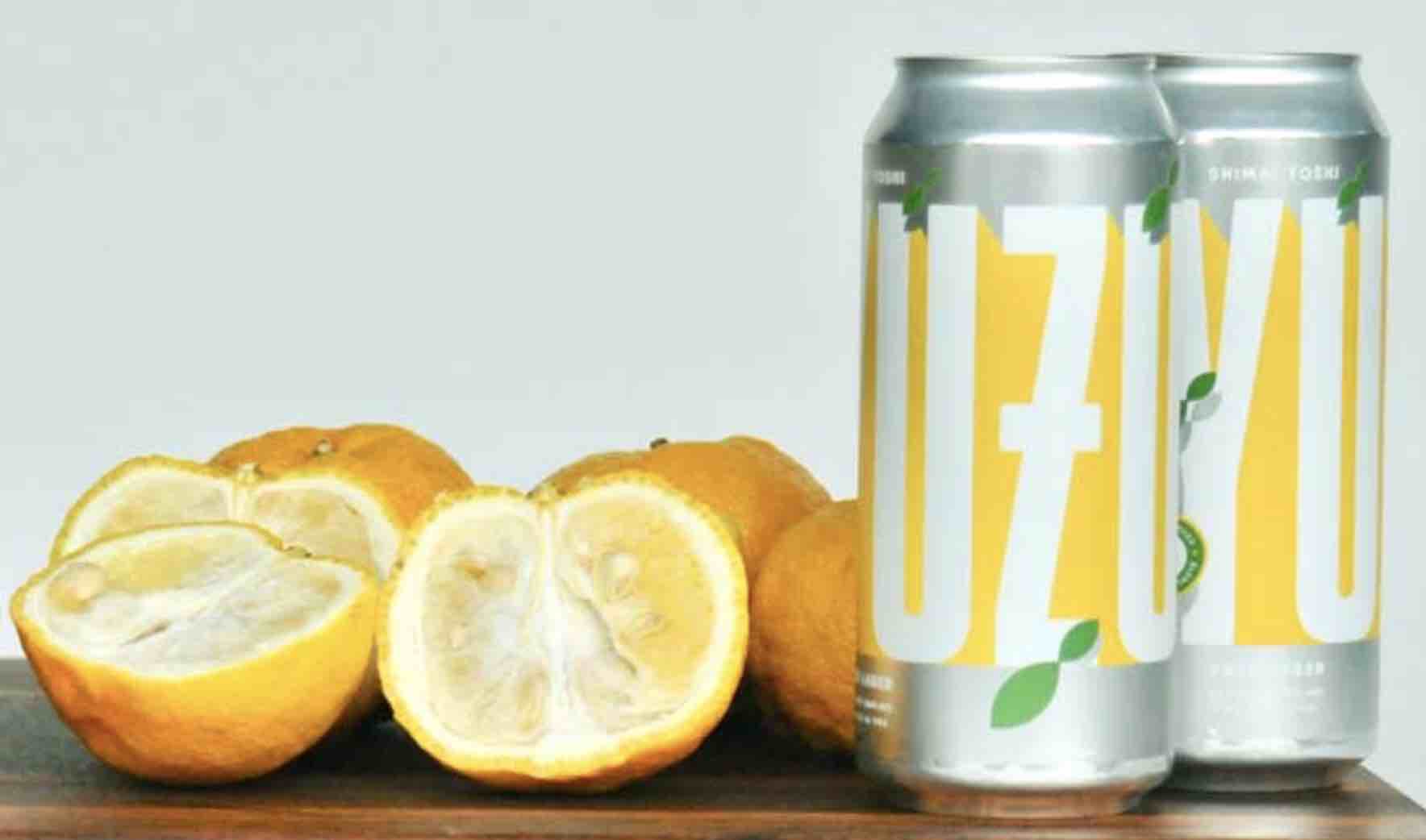 Yuzu Lager is packaged in 16oz cans with a silver sticker label with white fonts, a combination that makes it a tad difficult to fully read what you're about to drink. With some angling and proper lighting it can be done. From doing so we notice that it's a 5.0% ABV lager and properly lists that the beer is brewed at Zoiglhaus Brewing.
Poured into a glass, Yuzu Lager features a medium straw color with a slight bit of haze to it, especially when compared to a normal lager. A proper amount of light head tops the pour with aromas of fresh lemon or what we assume is the yuzu shinning through. This aroma leads into the flavor that also pops with this citrus character. The label does state that this beer is best enjoyed with good food, something we can figure would be a great accompaniment to the beer. On its own, the beer is a bit more fruit-centric than what we prefer. Definitely much more malt flavor in the beer and less fruit forward than a Radler or Shandy, but on its own the fruit is noticeable in the flavor profile where it may be a beer on its own for a warmer day while basking in the sun.
Currently Shimai Toshi Brewing self distributes in the Portland metro area. "Many of the bottle shops/stores are doing great with it," stated Marshall. "Like John's Market, Green Zebra, Beer Mongers, Road Beers, 1856, Belmont Station, and Uptown Beer."
Outside the metro area that brewery works with distributors, a list that continues to grow. "We started working with Orcas Distributing in WA in few weeks ago, so we are now in restaurants and bottle shops from Olympia through Seattle, and Fort George is distributing us on the North Coast of OR, and South Coast of WA," said Marshall. "We are talking with other distributors now, and will have the rest of OR, BC, and CO soon. Later this year in California."
When asked if he has larger plans to open his own brewery, he is quick to say it has no interest. "We don't have plans to build a brewery," said Marshall. "Alan has the expertise and the space, and is the perfect person for us to work with."
It is with Taylor where Marshall will soon expand his offerings with another beer or two. "We started with the Lager, and we have a Yuzu Hazy IPA coming soon, and will have seasonal beers coming," explained Marshall. "We will have some really cool collaborations coming this fall using Sake Rice."
To locate Yuzu Lager, use the Shimai Toshi Beer Finder and follow the brewery on Instagram to stay up to date.