Sierra Nevada Brewing Offers Up Big Little Thing
|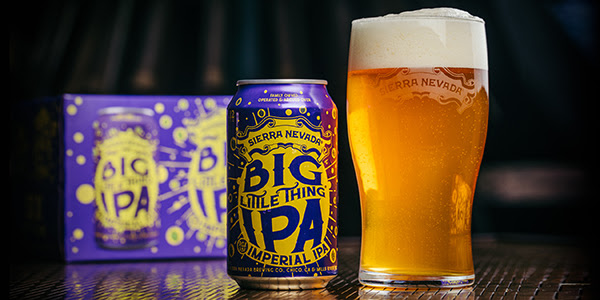 First there was Hazy Little Thing, Sierra Nevada Brewing's venture into hazy IPAs, that went on to become one of the top selling craft beers. Then came the slightly tart Wild Little Thing and now arriving on shelves is Big Little Thing, an imperial take on the brewery's Hazy Little Thing.
Sierra Nevada states that Big Little Thing defies brewing logic. This monster of an IPA at 9% ABV and 45 IBUs is booming with hop character, but also allows for tame sweetness and a clean finish. This anomaly of imperial IPA starts with the mash with a huge volume of Pale, Wheat, and Munich Malt. Sierra Nevada mashes its grain aggressively to yield a higher ratio of fermentable vs. unfermentable sugars. This allows yeast to metabolize nearly all sugar, which both boosts the ABV and cuts the malt sweetness.
At the same time, ale yeast and Magnum, Crystal, Chinook, Idaho 7, Columbus, Cascade, and Mosaic Hops collaborate on their own magic. Dry hopping during active fermentation sparks biotransformation: yeast cells alter the chemical compounds in hops to unlock entirely new aromas—like the tropical wave that washes over Big Little Thing.
Look for Big Little Thing in cans and on draft wherever Sierra Nevada Brewing beers are sold.