Steeplejack Brewing Launches Foundation Series
|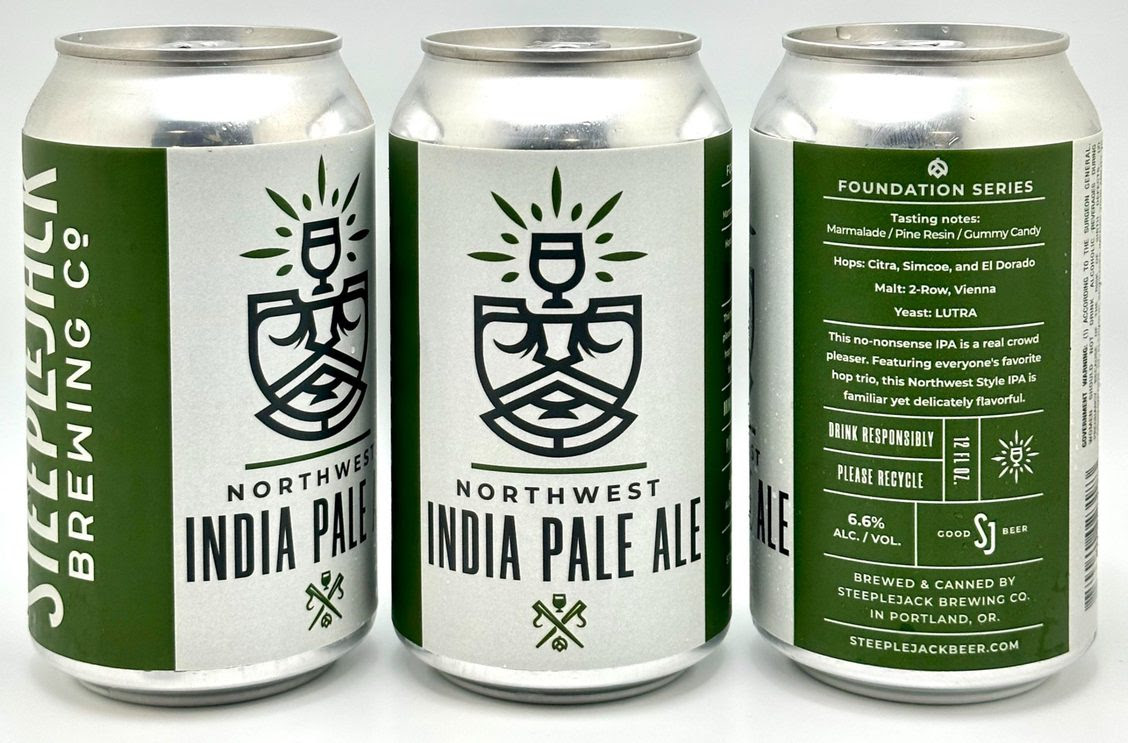 Portland, Oregon. Steeplejack Brewing launches production and distribution of their Foundation Series in 12oz six-pack cans. The first beers to market in this new format are Pilsner and Northwest IPA.
Steeplejack's Foundation Series, the brewery's core beer offerings, expands to include both 12oz six-pack and 16oz four-pack can formats. Oregon and Washington craft connoisseurs can expect to find Pilsner and West Coast IPA six-packs available at local grocery, convenience stores, and bottle shops beginning in mid-March.
Steeplejack Pilsner is carefully step-mashed and lightly dry hopped. At 5% ABV, this Italian-Style Pilsner is bright, crisp and satisfyingly balanced.
The Northwest Style India Pale Ale is what the Steeplejack team refers to as a "no-nonsense IPA." Featuring Citra, Simcoe and El Dorado hops, this classic 6.6% ABV IPA offers notes of marmalade, pine resin, and gummy candy.
"We are thrilled to offer our Foundation Series in 12oz six-pack cans," explains co-owner Brody Day. "We heard from our customers that they wanted our beer in six-packs and to find it in more retail outlets. The addition of six-packs to our distribution lineup enables this to happen."
Steeplejack's distribution has greatly increased over the last year, signing with big name distributors including Maletis, Bigfoot, Fort George Distribution, Summit, Dickerson and NW Beverage. All of the brewery's distribution partners will be offering the new Foundation Series six-packs, reaching markets across the state of Oregon, in Western Washington, up through the Greater Seattle Area and to the Northern border.
About Steeplejack Brewing
Founded in 2021, Steeplejack is family owned, with a women-led brewing team, dedicated to producing world-class beers. The brewery's first location is home to a 10bbl brewhouse and taproom situated in a former church constructed in 1909 in Portland, OR. Located at NE Broadway and 24th, The Broadway Pub continues a proud tradition of community gathering. Steeplejack's second location, Pizza and Beer, is a pizza pub in SW Portland. A third location, The Hillsboro Brewery and Taproom is home to a 30 bbl production brewery in Hillsboro, OR. All three taprooms serve a full menu, host a full bar and welcome community gathering.
Steeplejack Foundation Series beers are the brewery's flagship offerings, available in both draft and cans throughout Oregon and Washington. This year-round series includes Pilsner and Northwest India Pale Ale as well as Sawyer Table Beer and Alewife Dark Mild.