Stone Brewing Returns with Stone Xocoveza Imperial Mocha Stout
|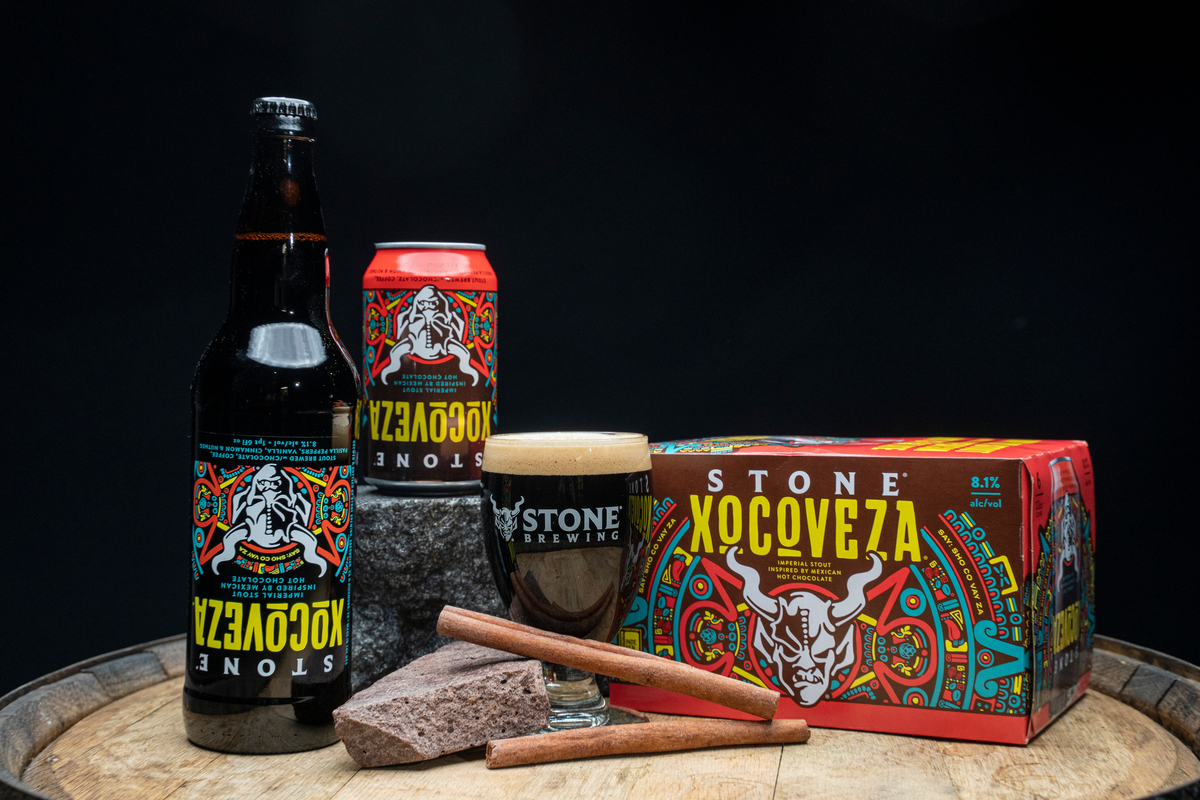 In time for the cooler nights ahead, Stone Brewing returns with its Stone Xocoveza, an imperial mocha stout inspired by Oaxacan Hot Chocolate. Brewed with the upcoming holiday season in mind, this bold stout incorporates chocolate, coffee, Pasilla peppers, vanilla, cinnamon, and nutmeg for one interesting ride on your palate.
Stone Brewing first released Stone Xocoveza in 2014. Once again, this beer features cocoa and cinnamon flavors that are followed by coffee, nutmeg and vanilla. The fruitiness and mild heat of the peppers warm on the finish with chocolate present throughout each sip. And at 8.1% ABV, Stone Xocoveza is a perfect way to enter the fall season.
For the 2020 version of this release, Stone has partnered with Ritual Coffee, a fully independent, woman-owned roasting company. Ritual is known for its seasonally fresh, single-origin coffees purchased directly from farmers and producers. In the same way that Stone defined the West Coast Style IPA, Ritual pioneered coffee's West Coast Style of light roasting that pushes the boundaries of what coffee can be.
"We trialed some new coffees from a few suppliers for this year's Stone Xocoveza," explained Steve Gonzalez, Stone Senior Manager of Brewing & Innovation – Small Batch, in a statement. "The clear standout was Sítio Cafe Forte, a Brazilian coffee roasted by Ritual. The chocolate notes of the beans piqued our interest, and when we pilot brewed the beer with this coffee, the results really blew us away. Ritual is a company that has a well-deserved reputation not only for quality, but also sustainable sourcing and a commitment to diversity."
Stone also partners with an artisan chocolate maker, Belyzium Craft Chocolate. Belyzium is an artisan "bean to bar" chocolate producer dedicated to organically grown, sustainably sourced cacao from Belize.
Stone Xocoveza Brewery Tasting Notes:
Appearance: Pours black with a thick brown head.
Aroma: Intense cinnamon, cocoa and coffee are followed by nutmeg and peppers. As the beer warms up, the flavor combinations evolve, and the cocoa and vanilla notes really start to open up.
Taste: Cocoa and cinnamon are at the forefront. The coffee, nutmeg and vanilla follow, and the fruitiness and mild heat of the pasilla peppers come through nicely on the finish. Chocolate is present throughout.
Palate: Full bodied and very smooth with a light bitterness. The sweetness adds a lot to this beer without being syrupy.
Now Stone Xocoveza is part of the Leave No Stone Unturned advertising campaign where all of the labels on Stone's packaging is currently upside down. Stone Xocoveza is available nationwide as a special release in 12oz six-pack cans, 22oz bottles and on draft. Locate Stone Xocoveza by using the Stone Beer Finder: https://find.stonebrewing.com/.