Thirsty Monk Releases Grace Sour Blend, a Collaboration with Crooked Stave
|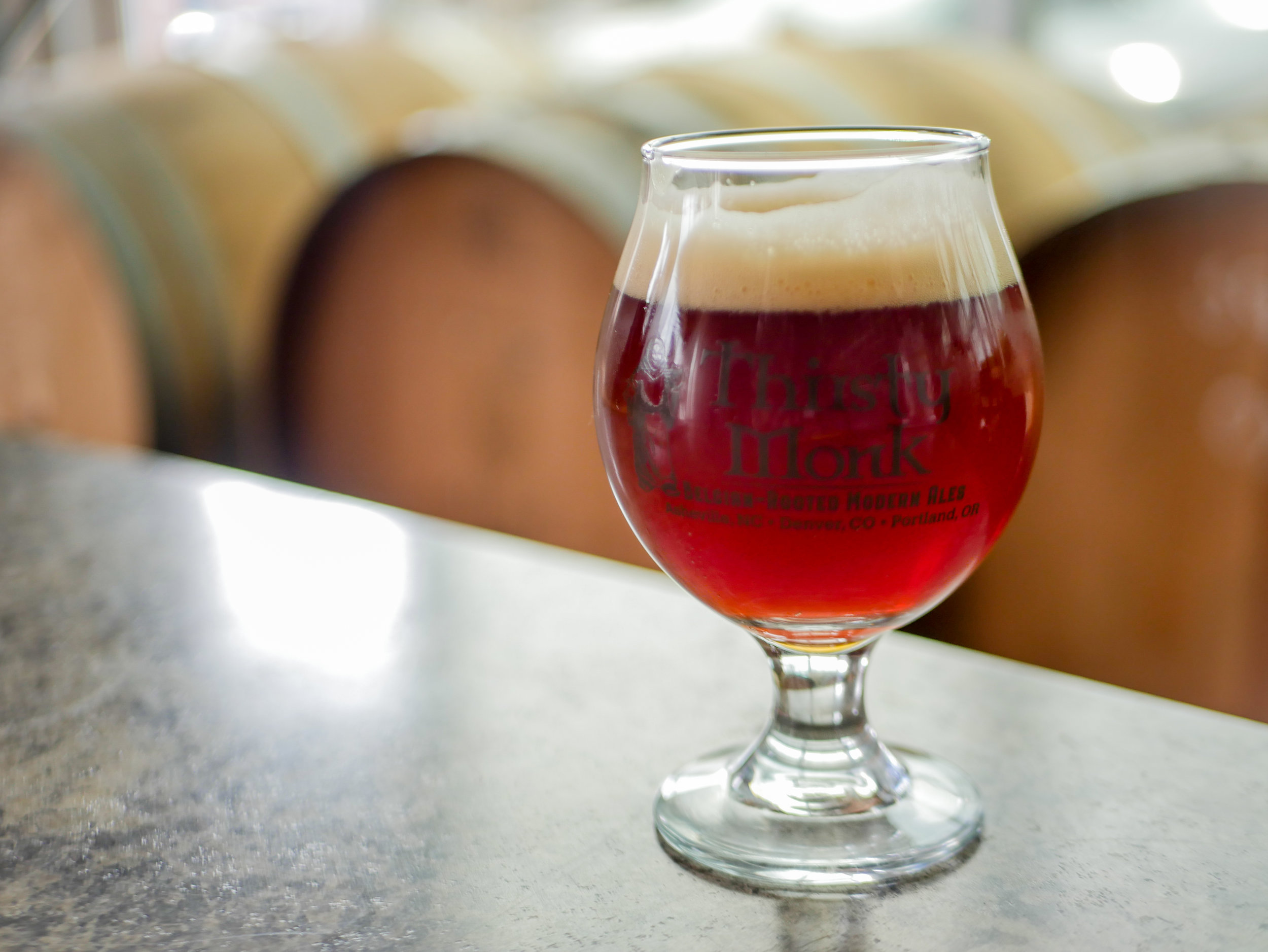 Earlier this week, Thirsty Monk – Portland tapped Grace Sour Blend, the latest collaboration from Thirsty Monk – Denver and Crooked Stave Artisan Beer Project. On this latest in a series of collborations between the two breweries, Thirsty Monk Head Brewer, Brian Grace, returned to his former brewer to collaborate on a beer together.
Grace Sour Blend is a blended sour comprised of barrel and foudre-aged beers brewed, cellared, and now hand-selected by Thirsty Monk head brewer, Brian Grace during his 3 years as Head Brewer at Crooked Stave Artisan Beer Project.
This project comes after the announcement of Thirsty Monk's newly developed barrel house, The Woodshed in Denver. This barrel aging facility currently houses Thirsty Monk's budding sour beer program featuring two foeders and a diverse selection of wine and spirit barrels for which Grace is brewing black, burgundy and golden base, inoculated with wild yeast and bacteria before the addition of fruit, and eventual blending and bottle conditioning.
"I still keep in touch with the team at Crooked Stave including several collaborations since my departure," explained Grace in a statement. "I was discussing with Crooked Stave owner and Brewmaster, Chad Yakobson about how Thirsty Monk is in need of barrel-aged sour offerings while our beers continue to age at The Woodshed. Chad suggested I create a blend with barrel-aged beers in their cellar that I brewed while working there."
Grace Sour Blend is burgundy in color, with aromas of red wine, leathery Brettanomyces, oak and a light berry bouquet. Flavors swim in a medley of berry fruit and skins, red wine, mild oak and a balanced Brettanomyces funk. The care Grace took in hand selecting this blend is evident in its smooth complexity, showcasing a new direction that the Thirsty Monk family is excited to explore and add to its well-rounded beer list.
"As far as the flavor goes I had a clean slate and wasn't required to make a blend that needed to taste like any other beer," said Grace in a statement. "So I spent a few days tasting through their cellar, exploring the different flavors of barrels (including gin, wine, and foeder aged barrels) and came up with a unique blend just for Thirsty Monk."
And don't forget about the various daily specials at Thirsty Monk – Portland. Look for Food Flight Happy Hour – $6 Food Flights 4pm-6pm Tuesday-Friday; Tuesday – Burger Tuesdays! $12 Burger and Beer Combinations; Wednesday – $1 off Food Flights; and Thursday – $1 off & Beer Flights.
Thirsty Monk – Portland
1522 SE 32nd Ave.
Portland, OR 97214