Von Ebert Brewing and Steeplejack Brewing Collaborate on Maid of the Mist Pilsner
|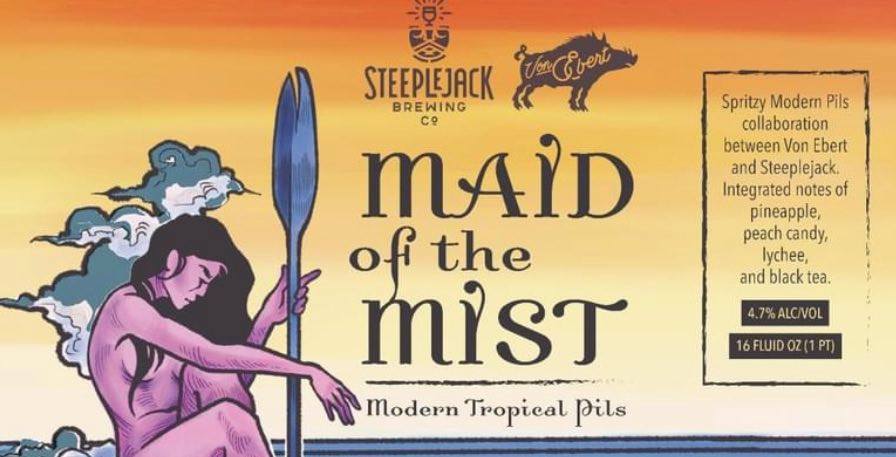 A new beer collaboration is about to see the light of day from Von Ebert Brewing and Portland newcomer's Steeplejack Brewing. Taking place on Thursday, July 22nd, Von Ebert Brewing will host the release of Maid of the Mist – Modern Tropical Pilsner.
"Maid of the Mist is a true warm weather Pilsner," explained Jason Hansen, Lead Brewer and Blender, Von Ebert Glendoveer, in a statement. "We created a spritzy modern Pilsner, taking it in a tropical direction."
To brew Maid of the Mist, the two brew teams came together on a recipe that uses specially selected Azacca and El Dorado hops from Yakima Valley's Roy Farms. In addition to these hops, the Pilsner uses an experimental variety HBC 586 and a concentrated pellet of Sultana hops.
Maid of the Mist is a 4.7% ABV beer that contains characteristics of pineapple, peach candy, lychee, and black tea. The Maid of the Mist name references a Native American myth about Niagara Falls.
"This blend of hops evokes sitting on an equatorial beach watching the sunset with a warm breeze blowing through your hair and the distant sounds of monkeys and parrots in your ears," continued Hansen, in a statement. "The beer is hyper-aromatic, while still retaining the crispness and drinkability of the underlying Pilsner base."
Maid of the Mist will be available at both Von Ebert pub locations, Glendoveer and the Pearl, on draft and in 16oz. can four-packs beginning on Thursday, July 22. This Pilsner will also be available at Steeplejack Brewing when they are scheduled to open its doors on July 31st.