Von Ebert Brewing Releases Seamless Transition – Imperial Hazy IPA and Eat Me Cake – Tart Ale
|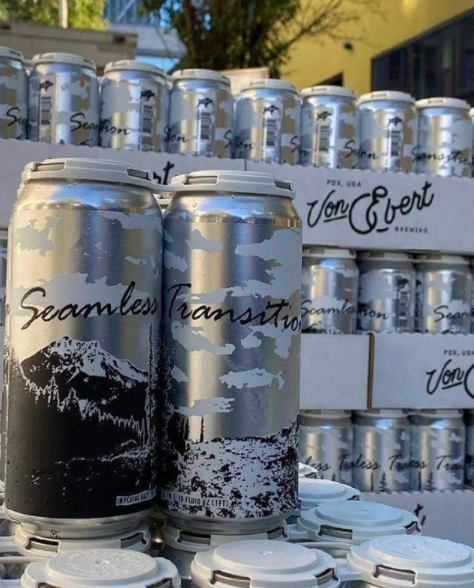 Von Ebert Brewing has released two new canned beers today with Seamless Transition, an Imperial Hazy IPA, and Eat Me Cake, a tart ale. Both beers are available in 16oz cans and will be available on draft. If you act fast, you can grab both beers today for $2.50 per can at either Von Ebert Brewing location.
Seamless Transition is an Imperial Hazy IPA at 8.1% ABV that is brewed with Nelson, Enigma, Strata, Mosaic, and Citra hops. The generous addition of Southern Hemisphere hops complements the fruity esters of the yeast and blend well with berry and citrus-forward American varietals, producing flavors of passionfruit, raspberry, apricot, and pineapple.
"We're excited to put this Imperial Hazy IPA into cans and share it with customers," said Eric Ebel, Lead Brewer, Von Ebert Pearl, in a statement. "The can artwork features the 'seamless transition' of scenery on the drive from Mt. Hood to Bend, Oregon. Just like the drive from our majestic mountain to the beautiful dry desert of Central Oregon, we aimed to make this beer as smooth as possible."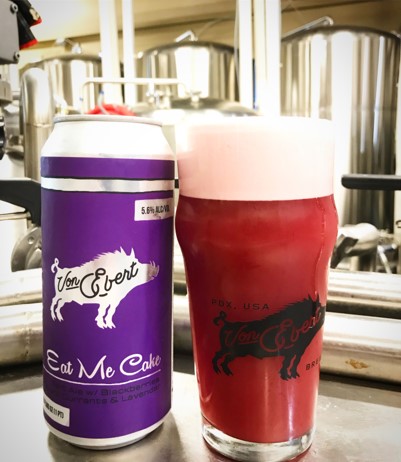 Eat Me Cake is a 5.6% ABV tart ale with blackberry, black currants, and lavender. The luscious, yet well-rounded fruited kettle sour ale, part of the Von Ebert "Tart Ale" series, is a follow up to the popular Drink Me Potion. Organic lavender was used in the boil and a generous amount of fruit was added during fermentation to create a harmonious balance of acidity and fruity floral character.
Seamless Transition and Eat Me Cake are available in 16oz. can four-packs at both Von Ebert Glendoveer and Von Ebert Pearl. The beers will also soon appear on draft at both locations.