Wayfinder Beer January 2021 Beer Releases – Linear Ashes + Glass Dolls
|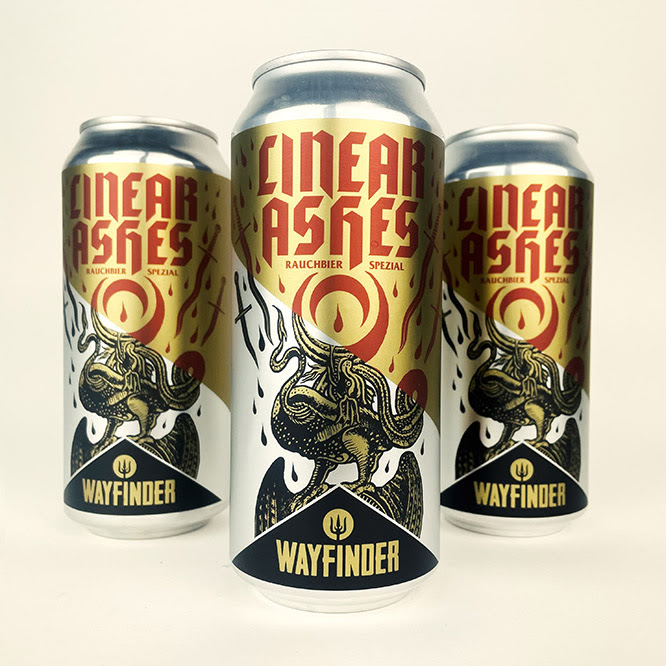 Wayfinder Beer enters the New Year with two new beer releases. First up is Linear Ashes, a Rauchbier, that will be followed up a week later with Glass Dolls, an Itailian-Style Pilsner.
Here are descriptions on each of the beers as provided by the brewery.
LINEAR ASHES – Rauchbier Spezial
First off, we collaborated with one of our favorite breweries, Structures Brewing, to make a fancy Rauchbier Spezial we are calling Linear Ashes. This luxurious smoked lager is full bodied, herbal and drying with a big dose of Beechwood smoke. Rauchbier Spezial is a celebration of Bamberg beer and we think it just might turn that frown around.
GLASS DOLLS – Italian-Style Pilsner
Speaking of collaborations we also brewed Glass Dolls, an Italian-Style Pilsner for our friends at Edison City Alehouse for their anniversary. It's a lighter in alcohol but punchy in hop and body; made with Ariana, Mittelfrüh and Magnum hops with a base-layer of floor malted grains, fermented agonizingly cold and krausened to perfection. Pale, herbal, layered and unusual, this is one for the persnickety palette.
Linear Ashes is currently on pre-sale while Glass Dolls will see its pre-sale begin on January 18 for pickup on January 23.
Wayfinder Beer is currently open on Saturdays from 1:00-5:00pm for beer to go orders. If you are in Portland, Road Beers PDX is delivering in a 15-mile radius from our brewery on Wednesdays through Sundays every week.