WeldWerks Brewing Co. Announces Second Quarter Beer Releases
|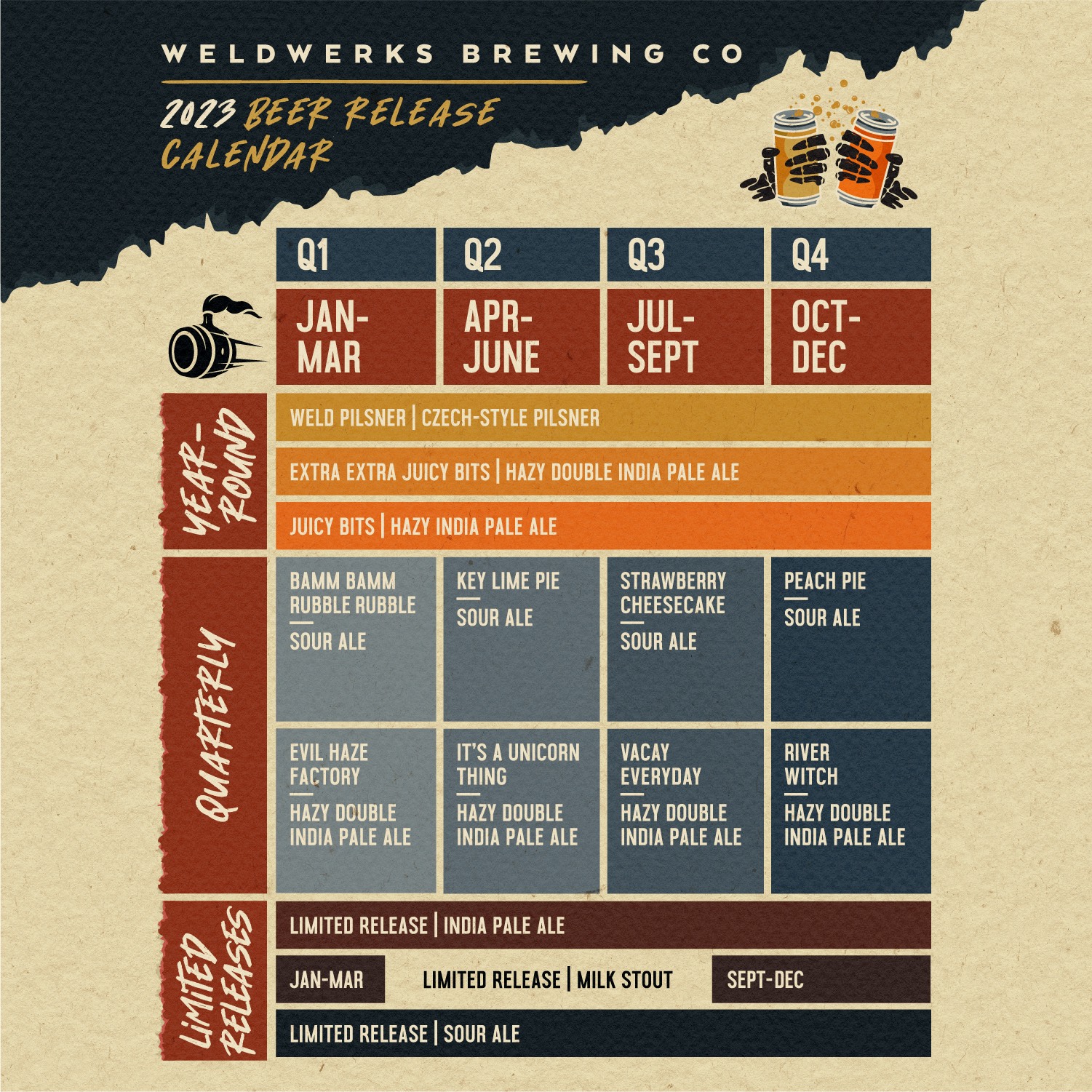 GREELEY, CO (Mar. 28, 2023)— WeldWerks Brewing Co. is delighted to announce that Key Lime Pie and It's a Unicorn Thing will be available at the Greeley taproom on Friday, March 31. The two limited release beers will also make their way to 24 out-of-state markets starting next month.
Earlier this year WeldWerks announced their 2023 beer release calendar, which includes Juicy Bits, Extra Extra Juicy Bits, and Weld Pilsner as year-round beers. As spring weather approaches, beer lovers can enjoy two limited offerings that will quench their thirst.
"Key Lime Pie, as with many folks, is one of my favorite desserts so I look forward to the release of the beer form of this treat every year," says WeldWerks Marketing Director Devin Quinn. "With this beer, our brewers did an incredible job balancing the sweetness from vanilla and graham cracker alongside the tartness from the freshly squeezed key limes. The result is refreshing and light!"
Key Lime Pie, one of WeldWerks' most popular pastry sours, makes a triumphant return to delight taste palates across the country. This highly drinkable 5.1% ABV sour ale includes freshly squeezed key limes, vanilla beans, and a hint of graham cracker that is completely reminiscent of the classic dessert pie.
For those looking for a heftier beer that is equally drinkable, look no further than It's a Unicorn Thing, an 8.5% ABV Hazy Double IPA that's brewed with Citra, Lotus, and Mosaic hops.
Both beers will be available on draft and in 4-packs at WeldWerks starting on Friday, March 31. The beers will also be available at participating retail locations in the following states: Arizona, California, Connecticut, Florida, Georgia, Idaho, Illinois, Iowa, Kansas, Massachusetts, Michigan, Minnesota, Nebraska, Nevada, New Hampshire, New Jersey, New York, North Carolina, Ohio, Oregon, Pennsylvania, Rhode Island, South Carolina, and Wisconsin.
"Both of these beers will help embrace the warmth and new growth that comes with spring," says Quinn. "We hope you enjoy them!"
ABOUT WELDWERKS BREWING CO.
Established in 2015, WeldWerks Brewing Co. is an award-winning craft brewery located in Greeley, Colorado recognized for brewing an array of beer styles including Juicy Bits, one of the most highly regarded IPAs in the country. Comprised of a passionate group of individuals dedicated to bringing innovative and quality craft beer to the community it serves, WeldWerks Brewing has garnered numerous medals and acclaim on the way, including being named the best new brewery in the country by USA Today in 2016 and multiple medals at both the Great American Beer Festival and World Beer Cup. The brewery's charitable arm, the WeldWerks Community Foundation, is a 501c3 nonprofit that supports local nonprofits through events like The WeldWerks Invitational. At WeldWerks, being "dialed-in" is a way of life, helping to ensure outstanding excellence in craft beer, service and beyond. For more information about WeldWerks Brewing Co, visit www.weldwerks.com.