Widmer Brothers Brewing Releases Hefe X, Deadlift Imperial IPA and Green & Gold Kölsch
|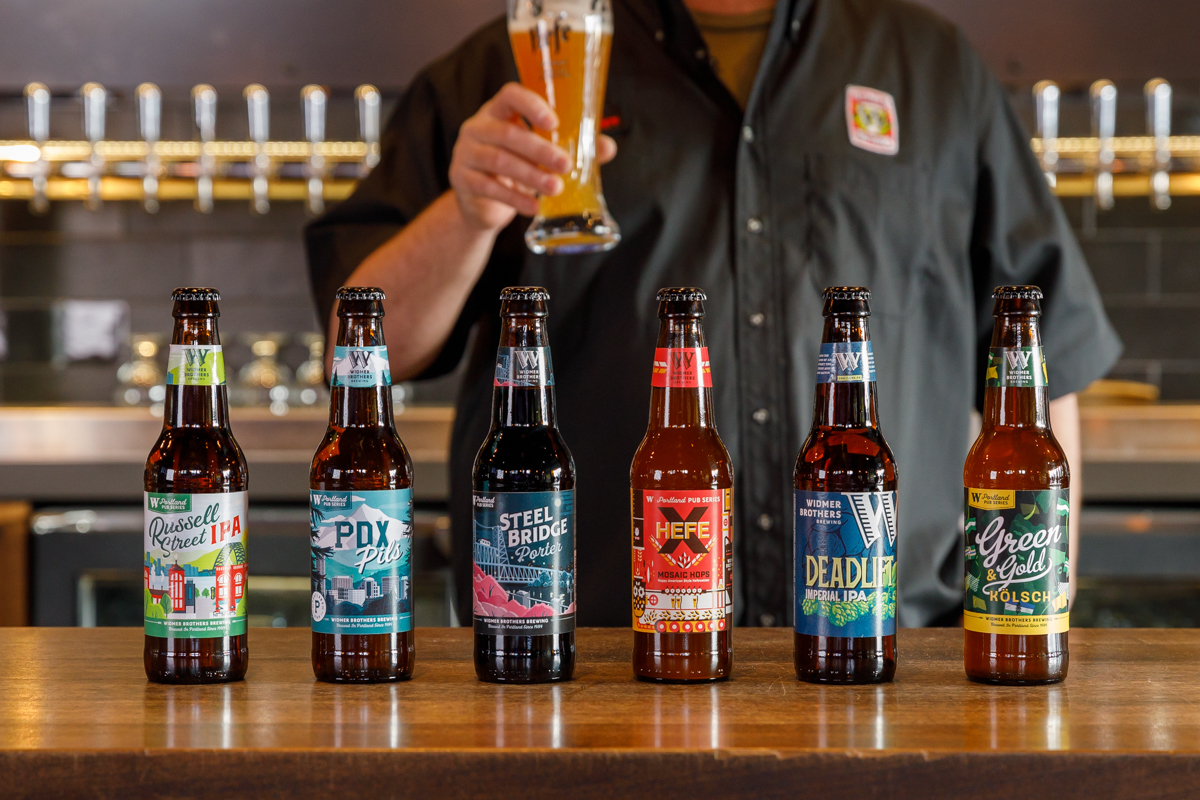 The number one selling craft beer in Oregon is Hefe from Widmer Brothers Brewing. To continue its expansion of this German inspired beer, Widmer is set to launch its new Hefe X Series of beers in 2018. Also joining the new Hefe X in early 2018 are two old Widmer favorites – Deadlift Imperial IPA and Green & Gold Kölsch.
The new Hefe X Series will feature 13 experimental Hefe beers that the brewers have developed inside its innovation brewery in North Portland. Its first release of Hefe X Mosaic is brewed with Mosaic hops to amp up the hop profile with a decidedly hazy tropical character and smooth citrusy mouthfeel. In addition to Hefe X Mosaic in bottles, this series will include 12 draft-only variations sold exclusively at its newly revamped pub.
"Hazy beers are all the rage right now, and with Hefe, we've had a true hazy beer since 1986. The idea behind the Hefe X series is to bring that signature haziness of Hefe to life in a hoppier way, while remaining true to the original," said Widmer Brothers Innovation Brewmaster Parker Penley in a statement. "We've always loved the bright haze of Hefe, and wanted to bring to bottle something that provided that same haziness in a hoppier version."
With the release of Hefe X, Widmer Brothers has launched its new Portland Pub Series 12-Pack, which will highlight beers born out of its Innovation Brewery on Russell Street in Portland, Oregon. Joining Hefe X in the Portland Pub Series are Russell Street IPA, PDX Pils and Steel Bridge Porter. Each beer features new packaging in 2018 that celebrates Portland with colorful illustrations.
"The Innovation Brewery gives us a chance to experiment and truly get feedback direct from the public about what they love," said Tom Bleigh, Innovation Brewmaster, in a statement. "Each of these four beers have been big hits in our pub, so it made sense to combine the four as part of our Portland Pub Series."
Widmer has also announced the return of two old favorites with Deadlift Imperial IPA and Green & Gold Kölsch. Originally brewed in 2010 under a different name, Deadlift is Widmer Brothers imperial IPA brewed with a quartet of hops — Nelson Sauvin, Cascade, Willamette, and Alchemy. The beer is a burst of intense hop flavor and aroma that is balanced out by a slightly sweet caramel malt character. At 8.6 percent alcohol by volume (ABV), the beer packs a flavorful hop punch that belies a smooth finish.
Green & Gold Kölsch was born from a love of soccer and beer. The beer was originally created by Portland beer industry staple and longtime Timbers Army/107ist Member Abram Goldman-Armstrong. Goldman-Armstrong won the Timbers Army annual homebrew competition in 2013.
As a long-time Portland Timbers partner, Widmer Brothers collaborated with Goldman-Armstrong to bring the beer to life on a broader scale as a limited release on draft and in 22oz bottles at the team's home games in 2013 and 2014 – which was a big hit among Timbers fans.
Widmer Brothers is bringing Green & Gold back as its summer seasonal available in 6 packs, 12 packs, and draft. Green & Gold is a golden-colored beer with aromas of strawberry and cracked black pepper, a soft sweet bready malt flavor, a creamy body and a crisp, dry finish.
Here are the full descriptions of each the new beers from Widmer.
Deadlift Imperial IPA
Deadlift boasts the strong hop flavor of an Imperial IPA that is balanced by a citrus and berry hop notes and a malty backbone.
Malts: 2-Row, Caramel 10
Hops: Alchemy, Nelson Sauvin, Cascade, Willamette
ABV: 8.6%
IBU: 70
Green & Gold Kölsch
Green & Gold Kölsch is a classing German-style Kölsch first brewed in honor of the Portland Timbers' inaugural MLS season. A soft, sweet, bready flavor and aromas of strawberry and black pepper belie a crisp, dry finish.
Malts: Weyermann Pilsner, Weyermann Acidulated
Hops: Magnum, Hallertau
ABV: 5.2%
IBU: 35
Hefe X
The Hefe X series features dry hopped versions of the Original American Hefeweizen, focusing on a single hop varietal to highlight the inclusion of specific and unique hops. Hefe X Mosaic Hops amps up the hoppiness with a unique tropic flavor.
Malts: Pale, Wheat, Extra Special
Hops: Alchemy, Mosaic
ABV: 4.9%
IBU: 58
In addition to the new Hefe X, Widmer will return this year with three Hefe Seasonals. The 2018 Hefe Seasonals will launch with Hefe Hopfruit and will be followed by Hefe Berry Lime in the summer and Hefe Twisted Citrus in the winter.