Winterhawks and Grains of Wrath Partner on Bar Down Lager
|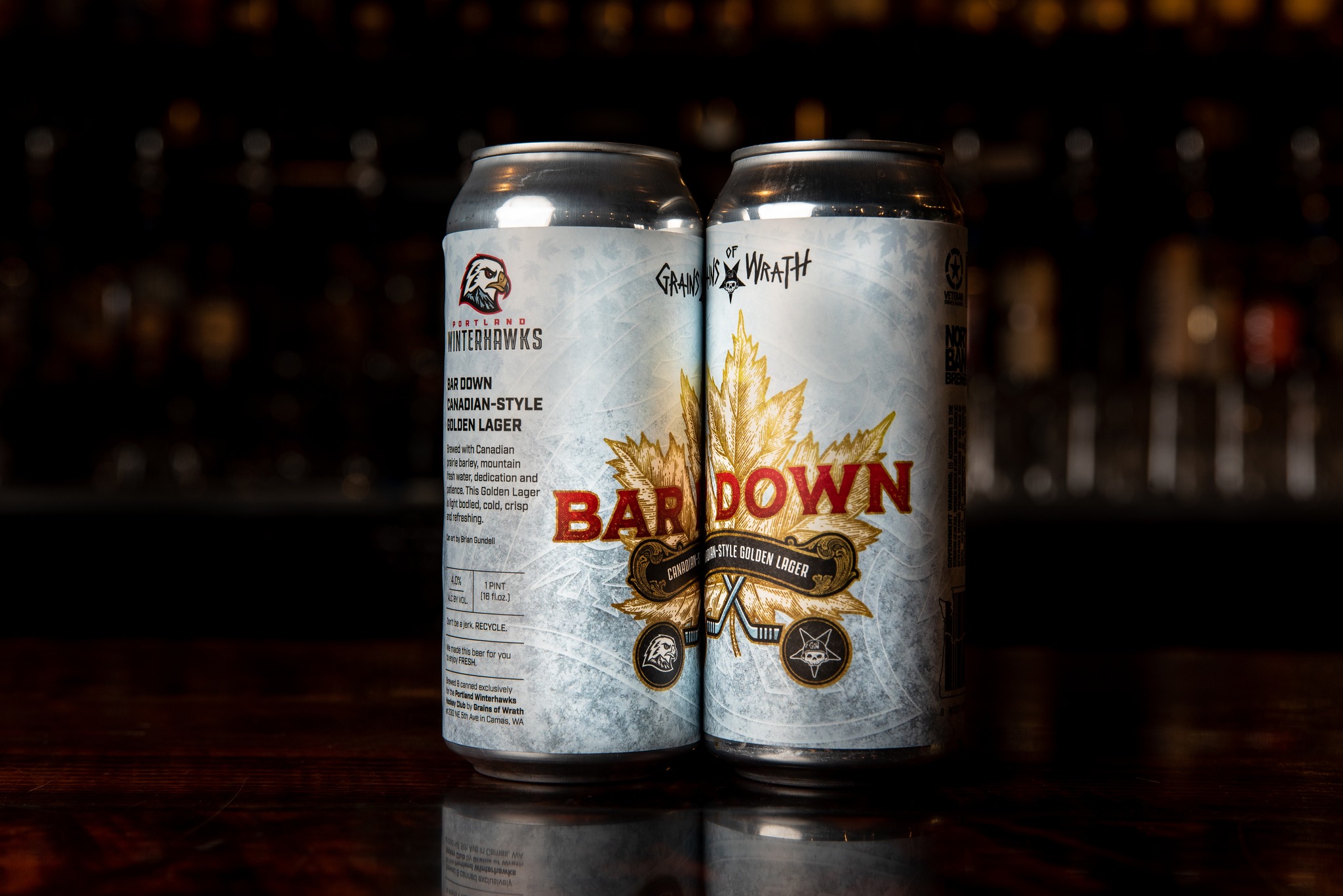 For the second time this season, the Portland Winterhawks have partnered with a local brewery on a beer brewed for the team's home hockey games at the Veterans Memorial Coliseum.
At the start of the season Portland's hockey team partnered with Backwoods Brewing on Light the Lamp West Coast IPA. Now the Winterhawks have partnered with Grains of Wrath on Bar Down – Canadian-Style Golden Lager.
The limited-edition Bar Down lager will debut on Saturday, February 11th at the VMC when the Winterhawks host the Seattle Thunderbirds. Find Bar Down at Grab N' Go areas in the VMC and in select local restaurants in the Portland metro area.
Bar Down takes its name from the hockey term when the puck hits the bottom of the crossbar and then lands in the net for a goal. This new Canadian inspired lager pours a distinct golden hue and is easily drinkable at 4.0% ABV, perfect for game nights in the Rose City.
"It was clear when we met our friends at Grains of Wrath that they are die-hard hockey fans," said Winterhawks Chief Marketing Officer Jeff McGillis. "Bar Down Canadian-Style Golden Lager is a true passion project for both brands. The Winterhawks are excited to collaborate with the award-winning local brewery."
Bar Down joins Grains of Wrath's lineup of beer options and stands out with unique a Winterhawks flavor on the can design, created by Brian Gundell.
"We had a great time collaborating with the Winterhawks on Bar Down. This Canadian-style golden lager is light-bodied, crisp and refreshing," said Grains of Wrath founder Mike Hunsaker.
With nearly twenty games left in the 2022-2023 WHL season, the Winterhawks have already clinched a playoff spot. So grab some tickets to a home Winterhawks game and reach for a Bar Down as we cheer on the hometown boys!