Zoiglhaus Brewing 2019 Beer Release Calendar
|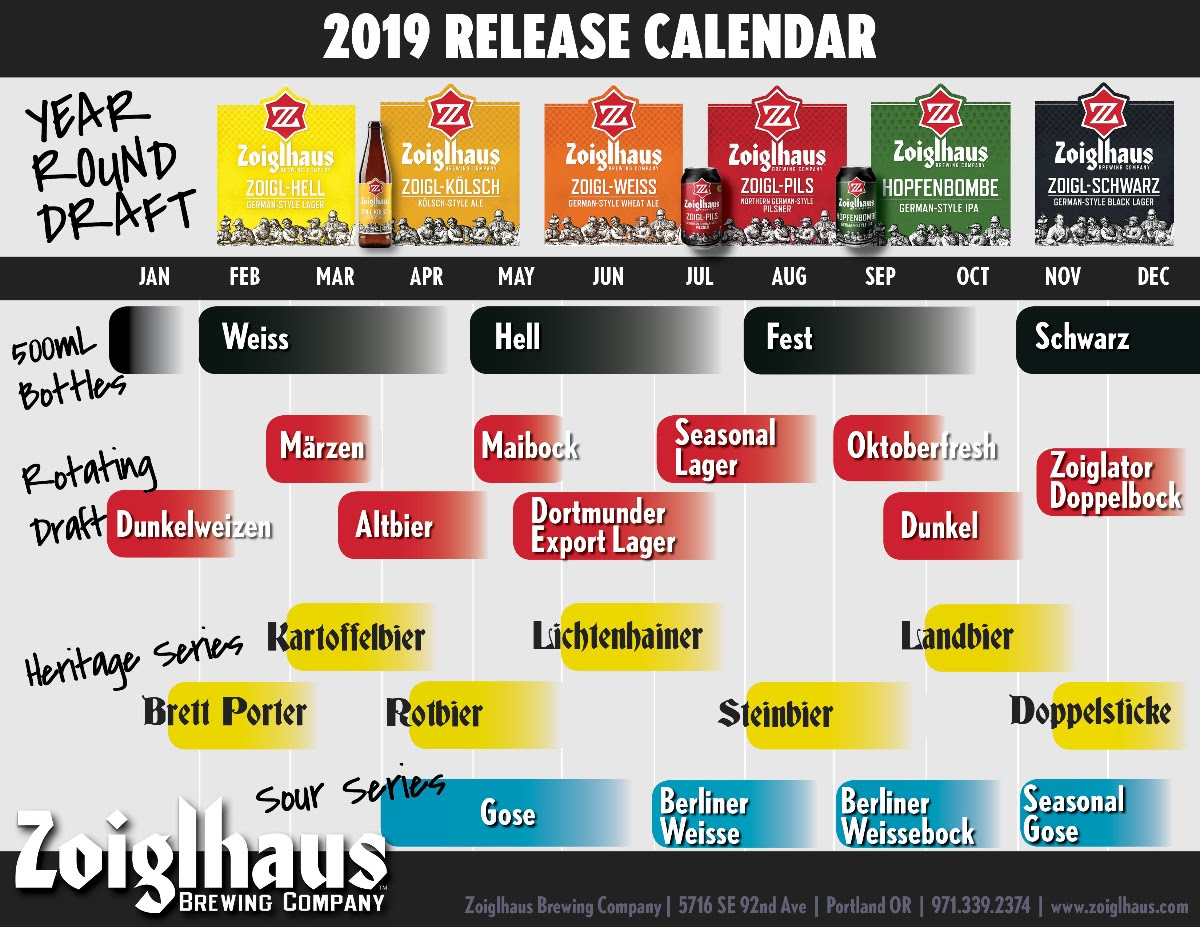 Out in the Lents neighborhood, Zoiglhaus Brewing has announced its 2019 Beer Release Calendar. This new beer release calendar encompasses its lineup of 500mL bottles, 12-ounce cans, core lineup, and rotating beers. In addition to these established series of beers, Zoiglhaus will release its new Sour Series and Heritage Series of beers.
Here's a rundown on what to expect from Zoiglhaus and the Alan Taylor led brew team in the coming year!
500mL Bottles:
A seasonal rotation including:
Weiss – Spring | Hell – Summer | Festbier – Autumn | Schwarzbier – Winter
Core Beers:
Available for distribution year-round
Helles, Hopfenbombe IPA, Weiss, Pilsner, Schwarzbier, Kölsch
Rotating Beers:
Available seasonally, these are the German standbys you've come to expect from our brewing team
Dunkelweizen, Märzen, Altbier, Maibock, Dortmunder Export, Seasonal Lager, Oktoberfest, Dunkel, Zoiglator Doppelbock
Sour Series:
A selection of traditional Sour beers including variations of Gose and Berliner Weisse produced with a traditional mixed-culture tank fermentation method.
Gose, Berliner Weisse, Berliner Weissebock (Imperial version of our Berliner), Seasonal Gose
Heritage Series:
The new Heritage Series is a selection of historic German bier styles that have been lost through the years.
Brett Porter, Kartoffelbier, Rotbier, Lichtenhainer, Steinbier, Landbier, Doppelsticke
Once many of these new beers come to market, we be bringing you additional information on them.