Beer Review – Pabst Blue Ribbon Hard Coffee
|
A few weeks ago Pabst Blue Ribbon announced the release of its new beverage, Pabst Blue Ribbon Hard Coffee. In recent years Pabst has been rolling out a few Flavored Malt Beverages (FMB), such as Not Your Father's Root Beer and is set to release its own Pabst Blue Ribbon Whiskey via its partner New Holland Brewing.
With its new Hard Coffee, the iconic Pabst Blue Ribbon is test marketing this product in select states in the Eastern U.S. It joins the ever-growing category of FMBs that hard seltzers are certainly creating one strong buzz in.
Since Pabst only has a small pilot brewery in Milwaukee, Wisconsin and its major line of beers are brewed mostly at MillerCoors breweries across the U.S., this as with many of its specialty lines of beer are brewed elsewhere. The label on the can of Hard Coffee lists Neenah, Wisconsin being the origin of this new FMB. Online searches lead this beverage being made at Horseshoe Beverage Company, also maker of its very own Brown Bomber Hard Latte.
When we received the press release for this new offering from Pabst a few weeks back we were a bit skeptical and inquired about reviewing Hard Coffee. Low and behold a few cans showed up and we were excited to chill these cans down and crack them open and poured them on ice.
A coffee beer this is not. What Hard Coffee is, is an appealing ready-to-drink coffee drink that's similar to ones from Starbucks, Dunkin' Donuts and others but with a 5% ABV kick! Damn its good and very addictive as we can see that a 4-pack of 11oz cans wouldn't last long.
Labeled as a Malt Beverage with natural and artificial flavors and contains milk, Hard Coffee is more of a frothy coffee drink than beer. In producing this new beverage Pabst uses Arabica and Robusta coffee beans and rich, creamy milk that's infused with vanilla.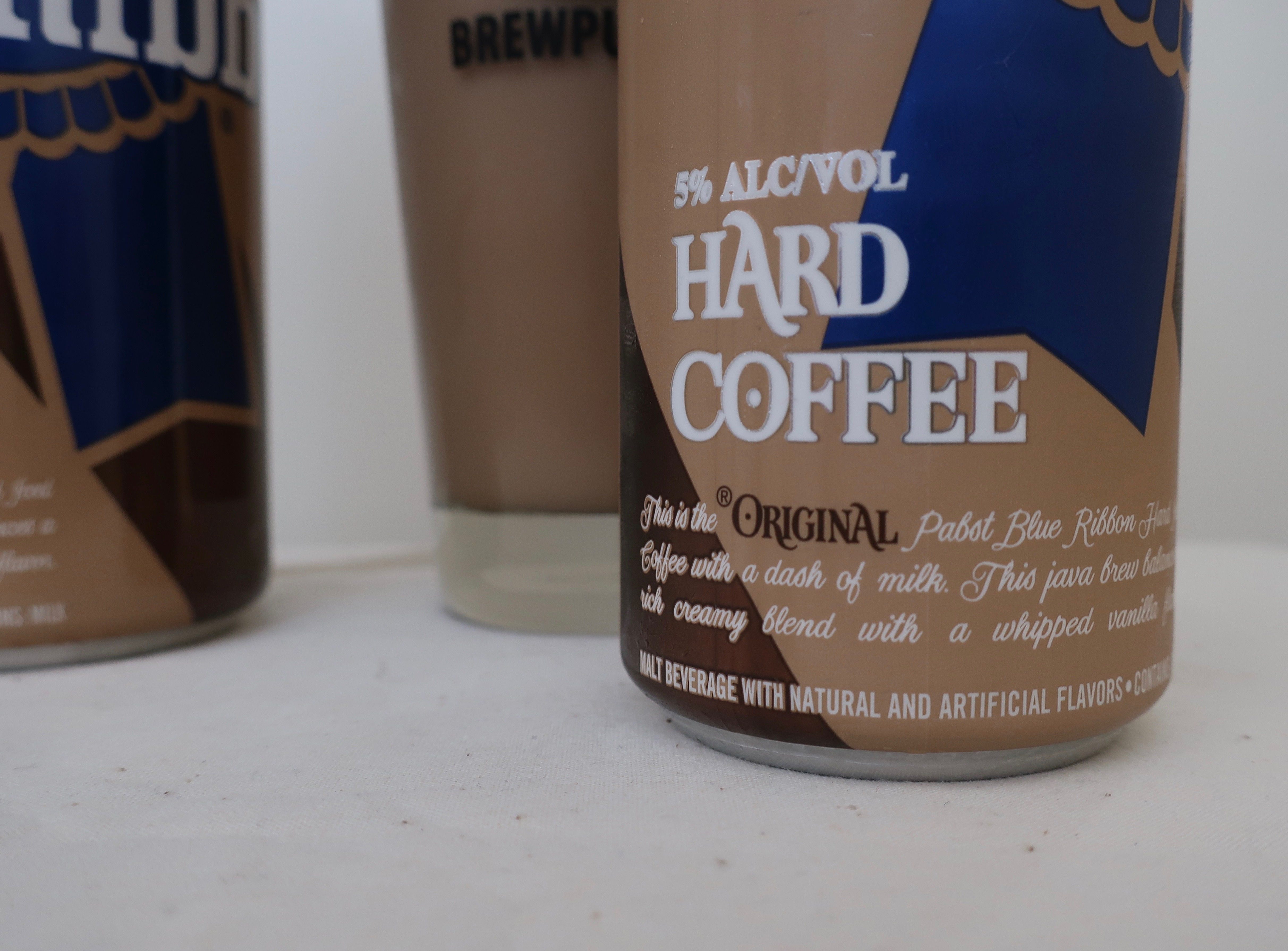 "Pabst Blue Ribbon has always been a brand that pushes boundaries and celebrates those who experiment and try new things. Hard Coffee is an opportunity for us to pioneer a delicious and fun new drink, and give America something unique. We hope everyone loves it as much as we do," said John Newhouse, brand manager at Pabst Blue Ribbon, in a statement.
Pabst Blue Ribbon Hard Coffee is currently being test marketed in select regions of the country. Unfortunately it is nowhere near the Pacific Northwest. This limited release is available in Maine, Pennsylvania, New Jersey, Georgia, and Florida. If successful Hard Coffee will be rolled out nationally next year so in the meantime you may need to find a friend to ship you some from out east.