Hard Seltzer Review – pH Experiment Pacer Low Proof Seltzer
|
This summer the buzz in the adult beverage world has to be hard seltzers with White Claw leading the pack. Locally there's SeekOut from 2 Towns Ciderhouse, Pacific Sparkling from Ninkasi Brewing and now Pacer Low Proof Seltzer from pH Experiment, part of the Craft Brew Alliance portfolio that's based in Portland.
Targeting the health-conscious drinker, these hard seltzers are usually low in calories and low in sugar. This is exactly who pH Experiment is targeting with its Pacer Low Proof Seltzer that's produced at Widmer Brothers Brewing.
According to Karmen Olsen, pH Experiment General Manager, she said in a statement, "We already knew moderation was becoming more important to drinkers. What we understood more fully after last year's research was that moderation means different things to different people in different occasions. We heard from many drinkers who said they wanted something that would help them pace themselves to stay in control. With seltzers growing triple digits but available only in non-alcohol or 5% ABV, we saw an opportunity to create a low proof offering that would allow drinkers to moderate at their own pace."
What differentiates Pacer Low Proof Seltzer from the many others out in the marketplace is its much lower alcohol content, the entire three flavor product line of Blood Orange, Meyer Lemon & Lavender, and Melon & Mint each sit at 2% ABV. Many of the other hard seltzers on the market edge closer to the 5% ABV range.
We recently sampled all three offerings in the new Pacer Low Proof Seltzer line. Each 12oz can states that this hard seltzer is "Beer with Natural Flavors". At only 2% ABV, 50 calories, 0 grams of sugar and naturally gluten free, this new line will certainly be attractive to its market demographic of the health-conscious drinker.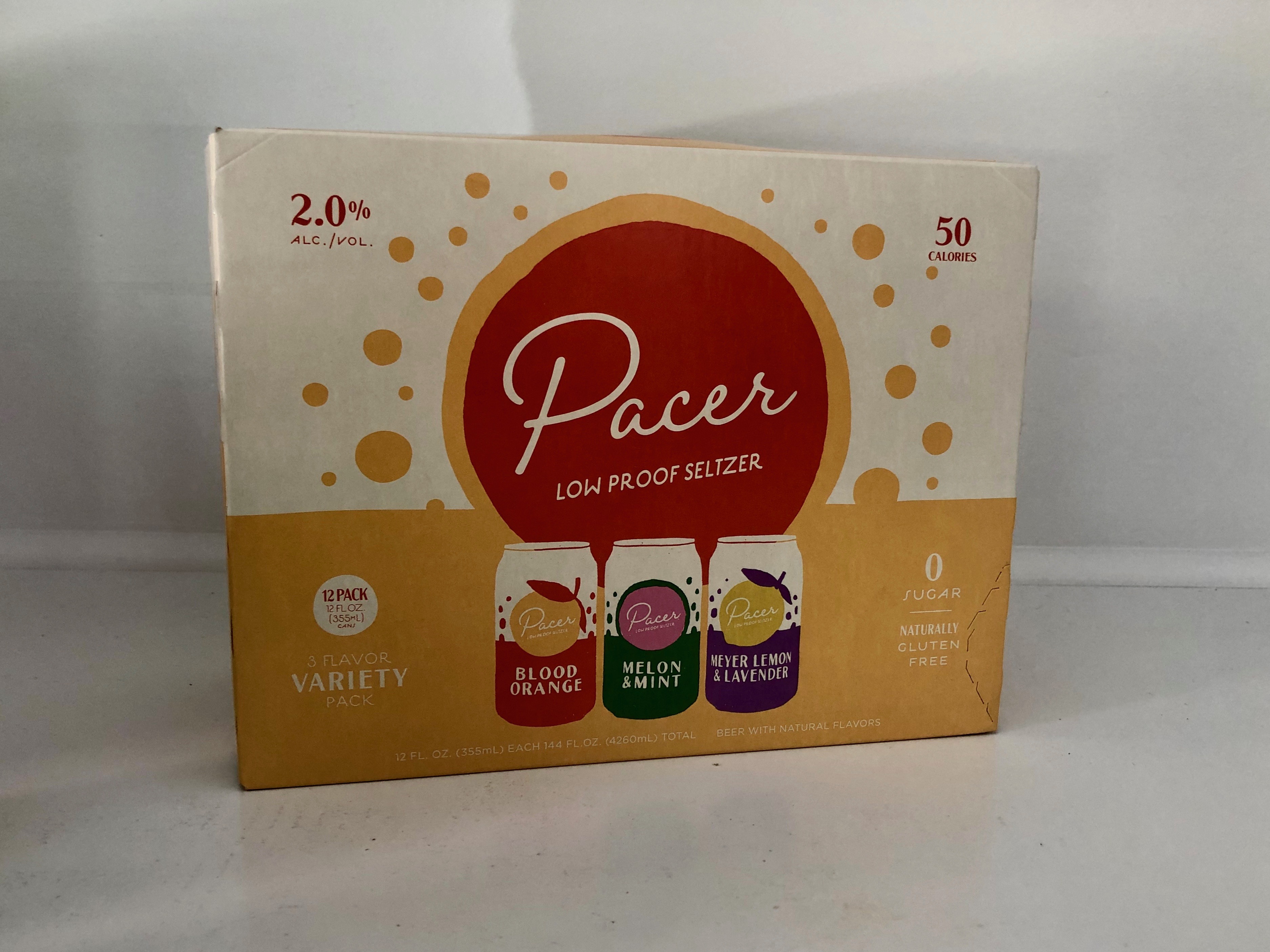 Melon & Mint offers melon flavors up front and the mint seems to linger on the back. Meyer Lemon & Lavender, our favorite, offers up prominent notes of lemon without any soapy lavender characteristics that can occasionally plague this flavor. Most likely the most popular flavor in the bunch, Blood Orange tastes just as its name indicates.
All three flavors are not overtly fruit forward. Just a slight touch of natural fruit flavors unlike a few of the other brands we have sampled. We can see these being great to use as mixers with vodka or gin.
Pacer Low Proof Seltzer is expected to officially launch on August 1st at select Safeway locations in the Pacific Northwest with a Variety 12-pack retailing at $14.99. Six-packs of Blood Orange will soon follow at specialty stores shortly thereafter.