Hop Valley Brewing Curates the New Hazy Daze Patty-O-Pack
|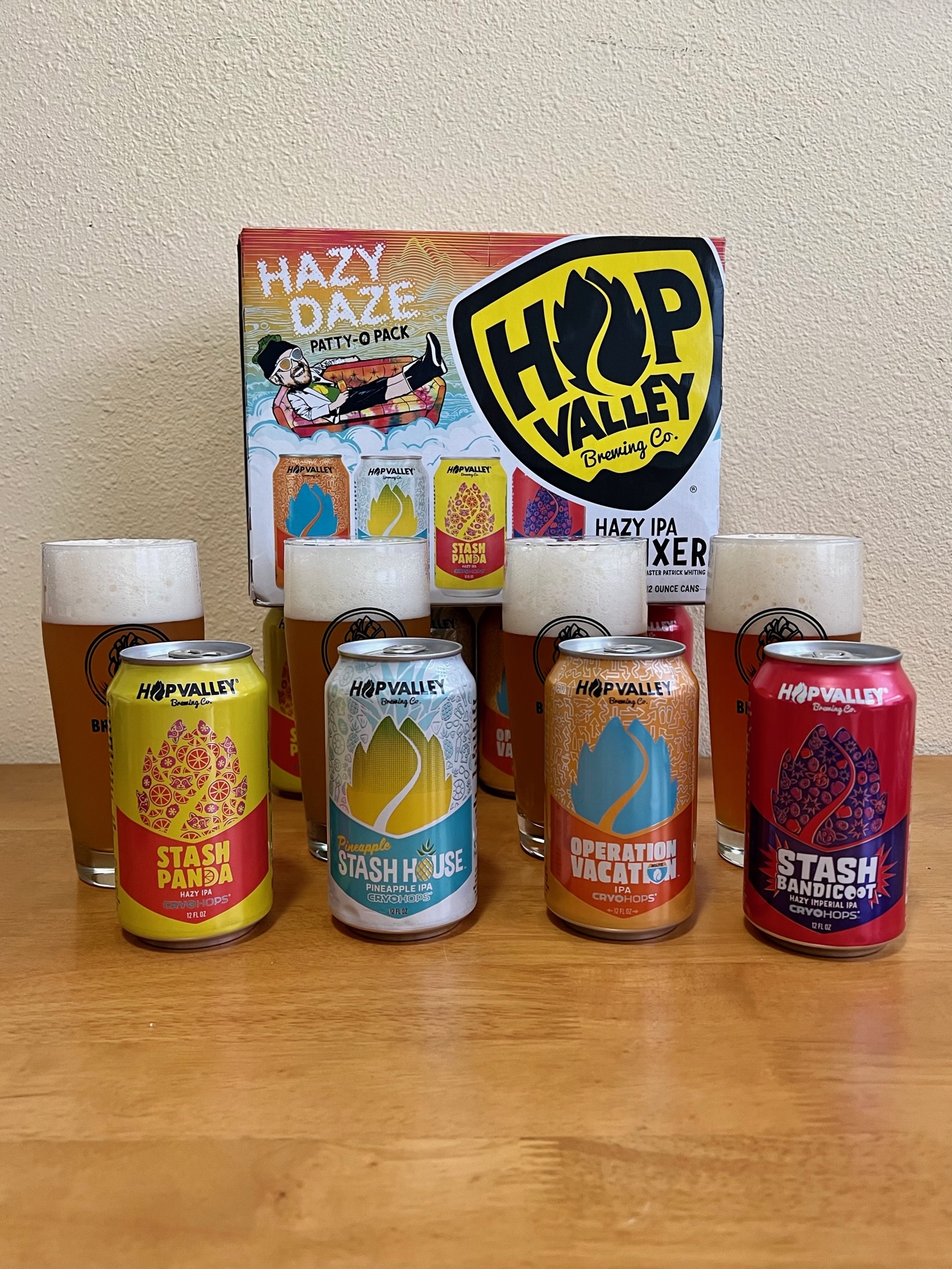 The market excitement for craft beer variety packs continues to grow as both regional and national breweries continue to add more variety each year. Hop Valley Brewing from the Eugene-Springfield, Oregon area is one such brewer that continues to add new variety packs into the mix.
For its latest variety pack, Hop Valley Brewing has created the new Hazy Daze Patty-O-Pack featuring its evolving Stash Series Beers each featuring the Yakima Chief Hops patented Cryo Hops. These beers included in the pack are Operation Vacation, Pineapple Stash House, Stash Bandicoot and Stash Panda.
These fruit forward Stash beers in the Hazy Daze Patty-O-Pack come from Hop Valley's R&D Brewmaster Patrick Whiting. The four Stash beers in this new variety pack features Hop Valley offerings from the past few years with the notable exception of Operation Vacation as this beer has seen a few adaptations during its tenure.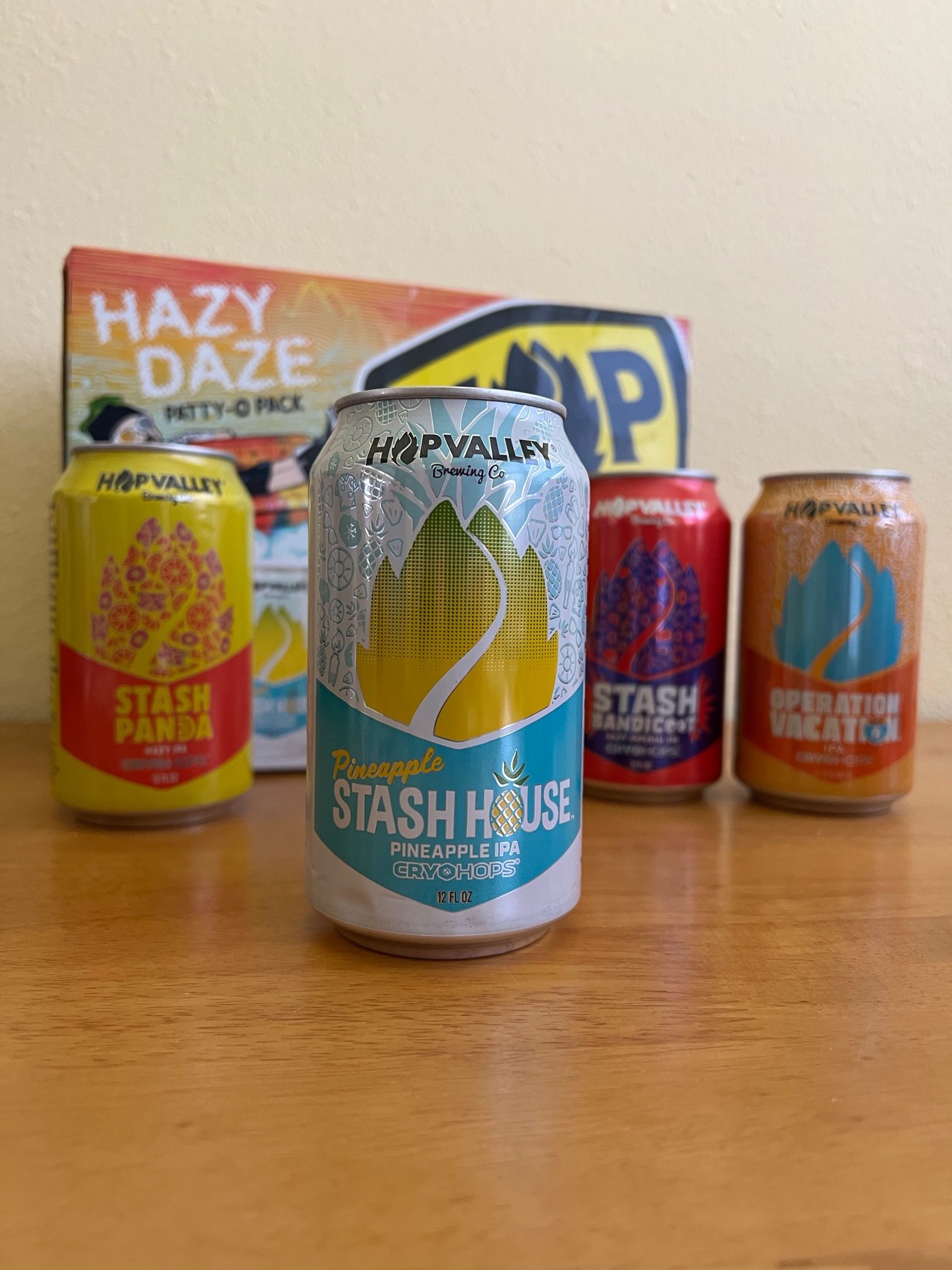 Operation Vacation (Peach/Pear):
On this go-round with Operation Vacation, Hop Valley brings a peach and pear flavor to this fruited IPA. In addition to healthy dry hopping of Simcoe Cryo Hops, this beer offers up some pleasant aromas of peach, citrus and fresh pear juice. Definitely a nice flavor to this IPA that sits at 6% ABV and 20 IBUs.
Pineapple Stash House (Pineapple):
Last year, Pineapple Stash House joined the Stash lineup at Hop Valley. This beer uses 20 lbs of pineapple puree per barrel and Simcoe Cryo Hops to create this pineapple haze that ends up being a bit more subtle than expected. The pineapple is there and is perfect for those seeking a more balanced pineapple beer. Pineapple Stash House sits at 6.7A% ABV and 31 IBUs.
Stash Bandicoot (Apricot/Berries):
Designed to compete with other bolder IPAs from regional and National breweries., Stash Bandicoot packs a punch with Hop Valley's use of Citra, Ahtanum, and Chinook Cryo Hops. Discover a juicy jungle with notes of apricots and red berries in this Hazy Imperial IPA that sits at 8% ABV and 61 IBUs.
Stash Panda (Grapefruit):
This reliable Hazy IPA has been part of the Hop Valley portfolio for the past few years. Stash Panda features Citra Cryo Hops and a hefty helping of grapefruit peel giving this bright hazy tropical ale an unmasked citrus flavor and aroma. At 6.5% ABV and 50 IBUs, Stash Panda is nothing flashy, just an easy drinking IPA.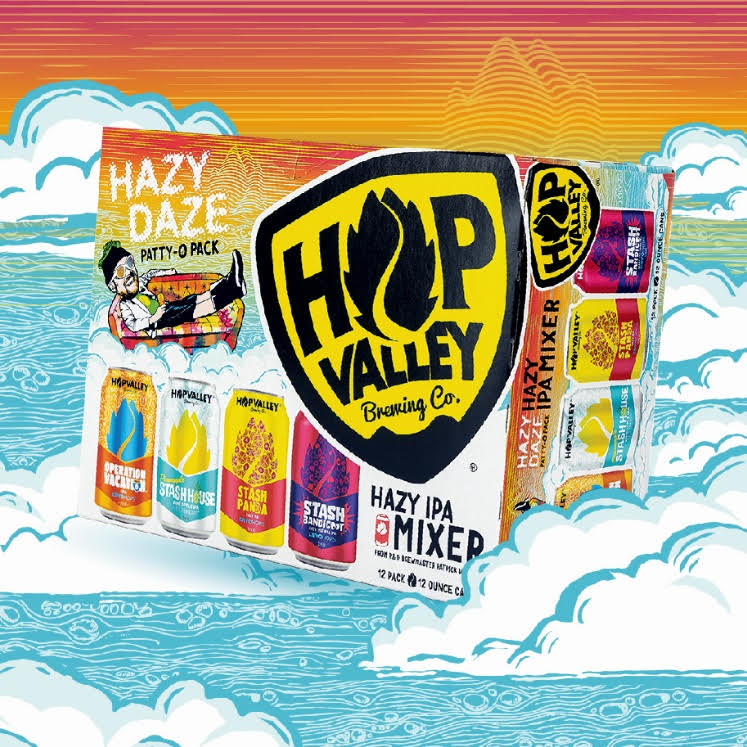 Look for the Hazy Daze Patty-O-Pack throughout Hop Valley Brewing's distribution footprint. Locally, we've seen them at Safeway for under $20.