New Belgium Partners with Four Roses Bourbon on Oakspire Bourbon Barrel Ale
|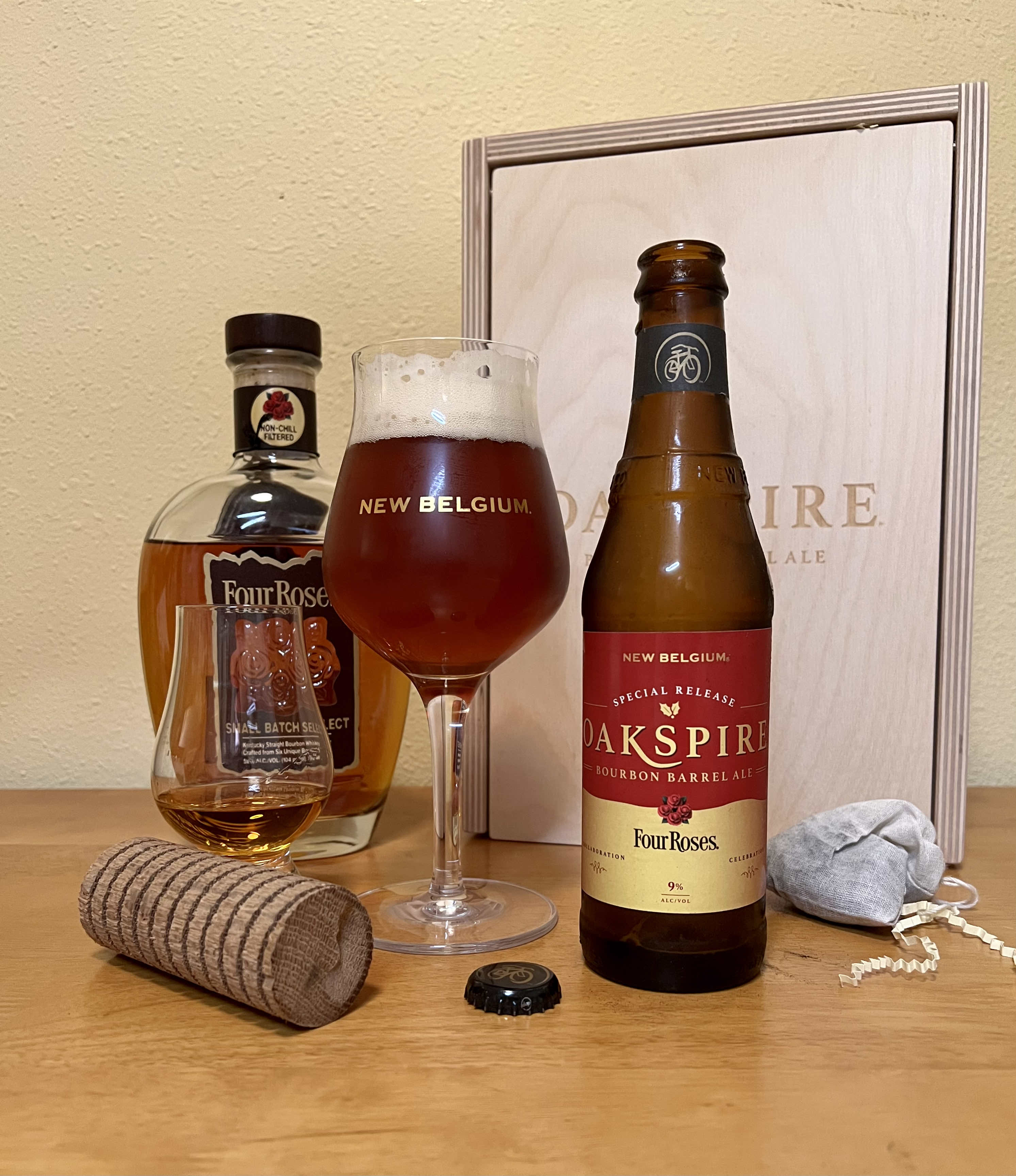 As we begin to hunker down for the awaiting winter season; big, bold beers are looking a bit more alluring. One beer in particular that is worth seeking out is Oakspire Bourbon Barrel Ale.
Over the past few years, New Belgium Brewing has released a few variations of this beer, one in partnership with Knob Creek and another inspired by the classic Old Fashioned cocktail. For 2021, New Belgium reached out to its sister company, Four Roses Distillery, on a new interpretation of Oakspire Bourbon Barrel Ale.
"The process of brewing Oakspire is truly a brewer's take on distilling, turning bourbon-soaked oak char into a unique and delicious beer," said Astrid Moresco, Specialty Brand Manager at New Belgium Brewing, in a statement. "We loved collaborating with Four Roses to bring Oakspire to life through creativity and craftsmanship. If you love bourbon – or just love beer – this is one you must try."
Being fans of Four Roses Bourbon and this bourbon's smooth, yet spicy character, we were excited to try this new rendition of Oakspire. As the name states, Oakspire Bourbon Barrel Ale, this beer is not a normal barrel-aged beer. Instead of the base beer resting in barrels, New Belgium worked with Four Roses to collect charred oak chips from inside their bourbon barrels as they are emptied. These oak chips contain caramelized wood sugars that add notes of brown sugar, caramel, and toffee, and add color to the whiskey while it ages. Next, a barrel maker in Minnesota toasts a custom blend of oak spirals which are then soaked in Four Roses' bourbon.
While this effort was taking place, New Belgium's engineering team constructed a series of custom, stainless steel vessels to hold the charred oak and wood spirals. New Belgium's high-rye base ale then circulates through the vessels during maturation, infusing the flavor from the charred oak and bourbon-soaked spirals.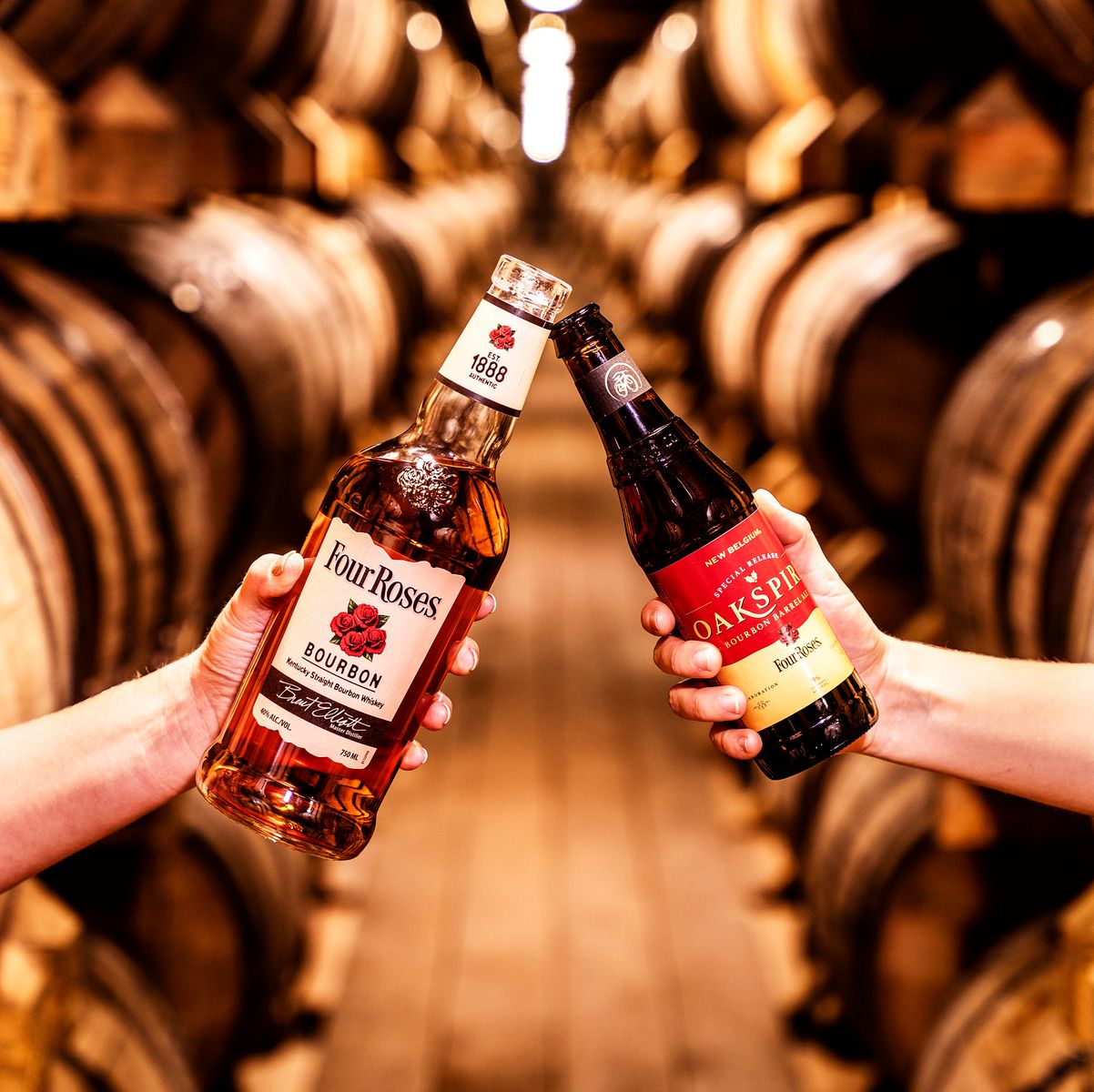 The resulting beer, Oakspire Bourbon Barrel Ale, is one that is full of flavor with plenty of caramel and vanilla with a bit of citrus and lingering coconut on the tongue. At 9% ABV, Oakspire is more of a seasonable barrel-aged beer. This lighter beer, that's perfectly carbonated, allows for the nuances of the beer to shine through. One cannot go wrong with this beer and is one we recommend picking up a 4-pack of, you won't be disappointed!
"Four Roses and New Belgium make for great partners because we both are committed to our craft and our own processes, and New Belgium's innovative approach brings the result of our individual crafts together perfectly," said Four Roses Chief Operating Officer, Ryan Ashley, in a statement. "Oakspire takes a different approach from the traditional bourbon barrel ale that brings the rich Four Roses flavor notes forward in quite a remarkable way."
Oakspire Bourbon Barrel Ale is available at select retailers across the country. For more information on Oakspire Bourbon Barrel Ale, visit newbelgium.com. To find the nearest Oakspire Bourbon Barrel Ale or any of New Belgium's other offerings, visit the brewery's beer finder.