A Look Inside the New Deschutes Brewery Pub at Portland International Airport
|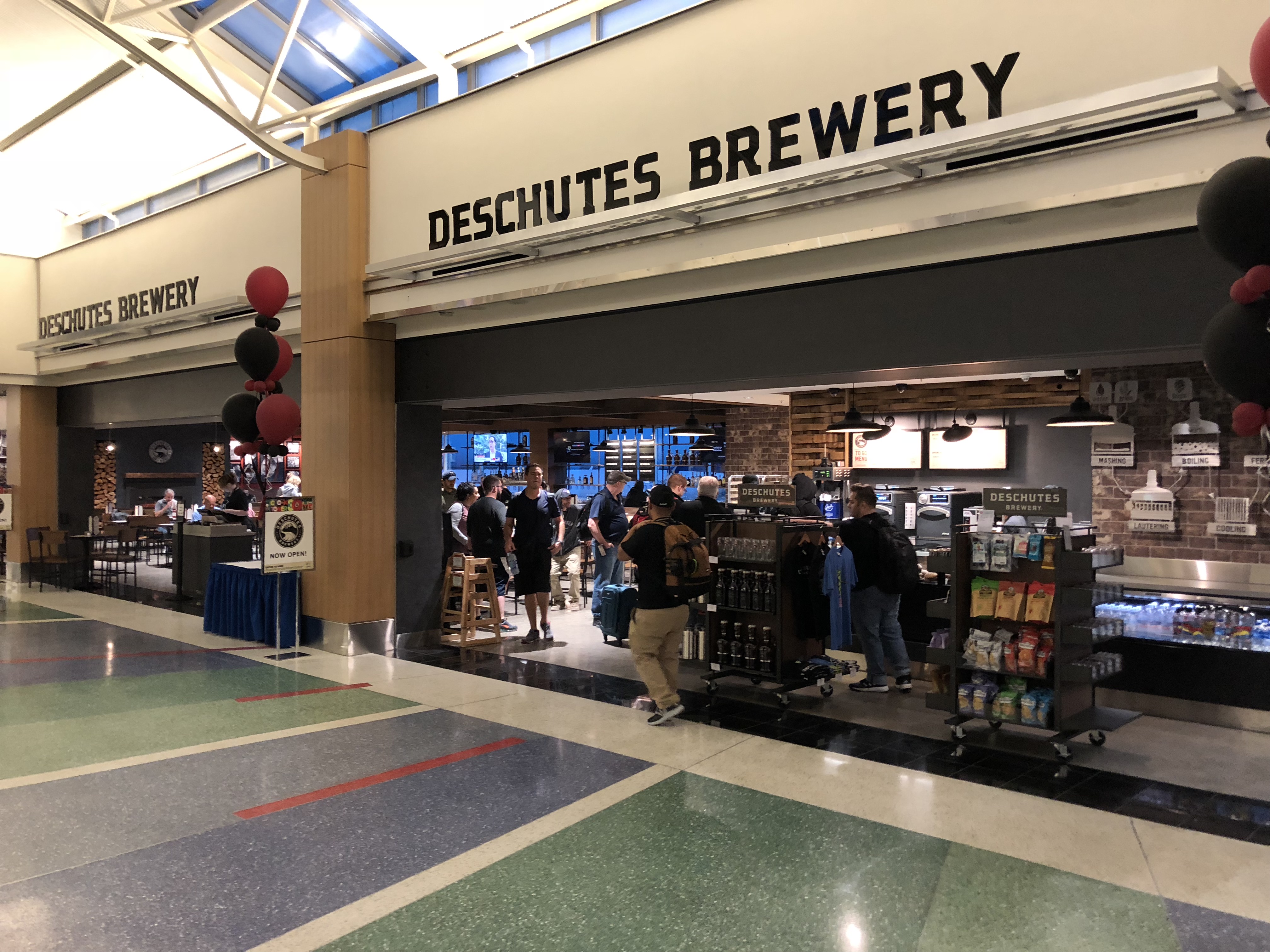 Nestled in Concourse D at the Portland International Airport is the brand new Deschutes Brewery Public House.
The Deschutes PDX Airport outpost is the first of two new breweries to open inside the top-rated airport in the United States. Deschutes has taken over the former home Rogue Ales next to Gate D5. Hopworks Urban Brewery will open its location yet this year in Concourse E taking over one of Laurelwood Brewing's locations as Laurelwood will continue with its second location in Concourse A. Both Hopworks and Deschutes will work with SSP America to operate each of the establishments.
After being awarded the project the contract to partner with SSP America this past August, Deschutes worked with MG2 Architecture on the design of the pub. The work completed gives an inviting feel for an open air restaurant located inside an airport.
Upon entering at its to-go counter a collage on the wall that shows the brewing process. As this wall wraps around a wall made of old barrel staves gives an airport establishment a warmer feel. On the far wall of the restaurant there's a digital fireplace surround but firewood nestled in the wall. On both sides of the firewood is a pictorial history of Deschutes that celebrates its 30-year history.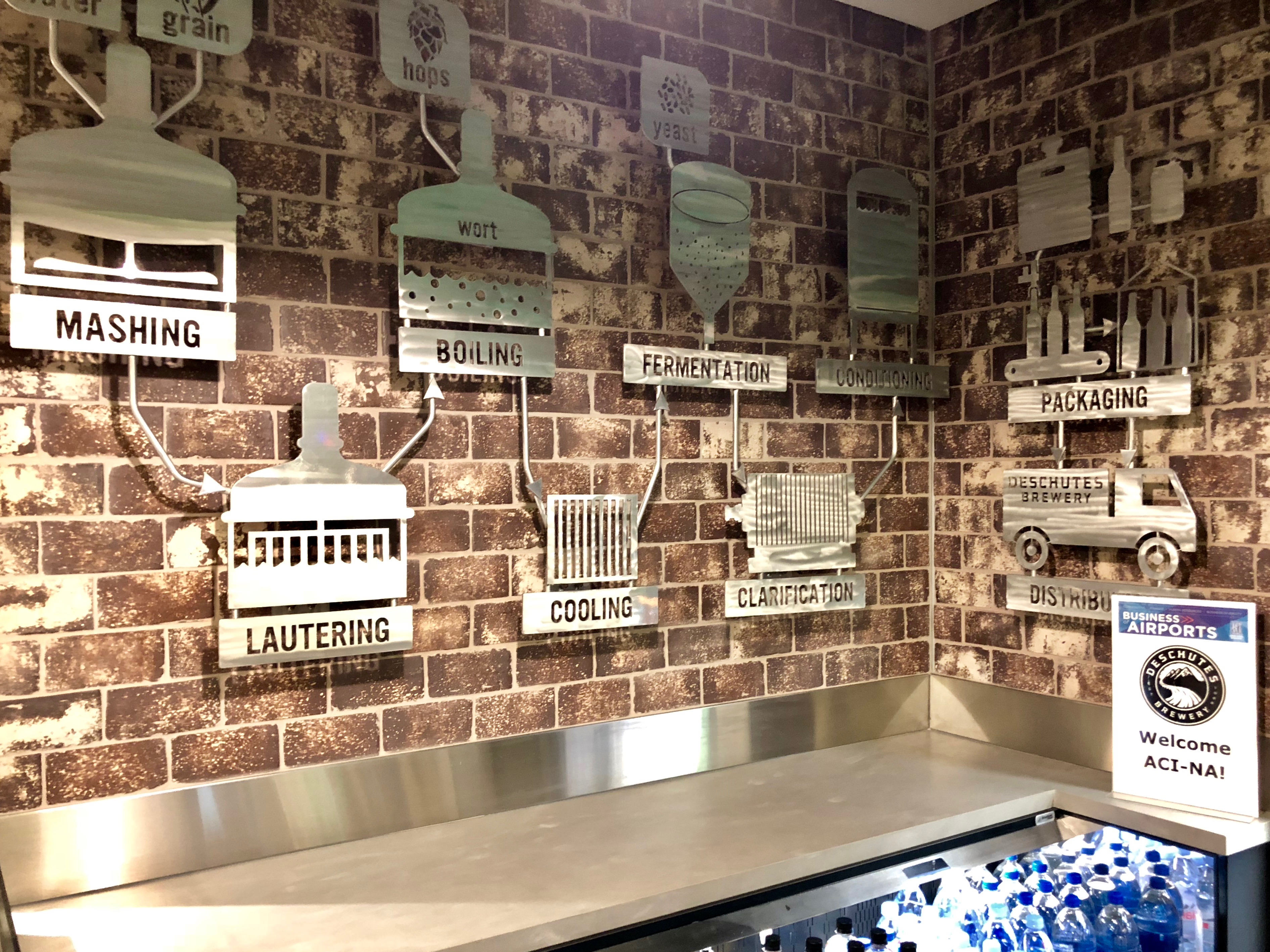 Grabbing a seat at the bar gives one the best vantage point. Of course you're closer to the 15 taps of Deschutes beers but you also have a clear view of Delta Air Lines planes taxing to and from the terminal. The tap list runs the gauntlet of Deschutes' most beers including Black Butte Porter and Mirror Pond Pale Ale but also includes more recent year-round offerings such as Fresh Squeezed IPA alongside a few Pub Exclusives and one cider, Wayfarer Cider. Oh, and since its location is at PDX International Airport all 20 ounce beers are just a mere $6.00! Gotta love our local airport, makes you want to arrive more than two hours early for a flight.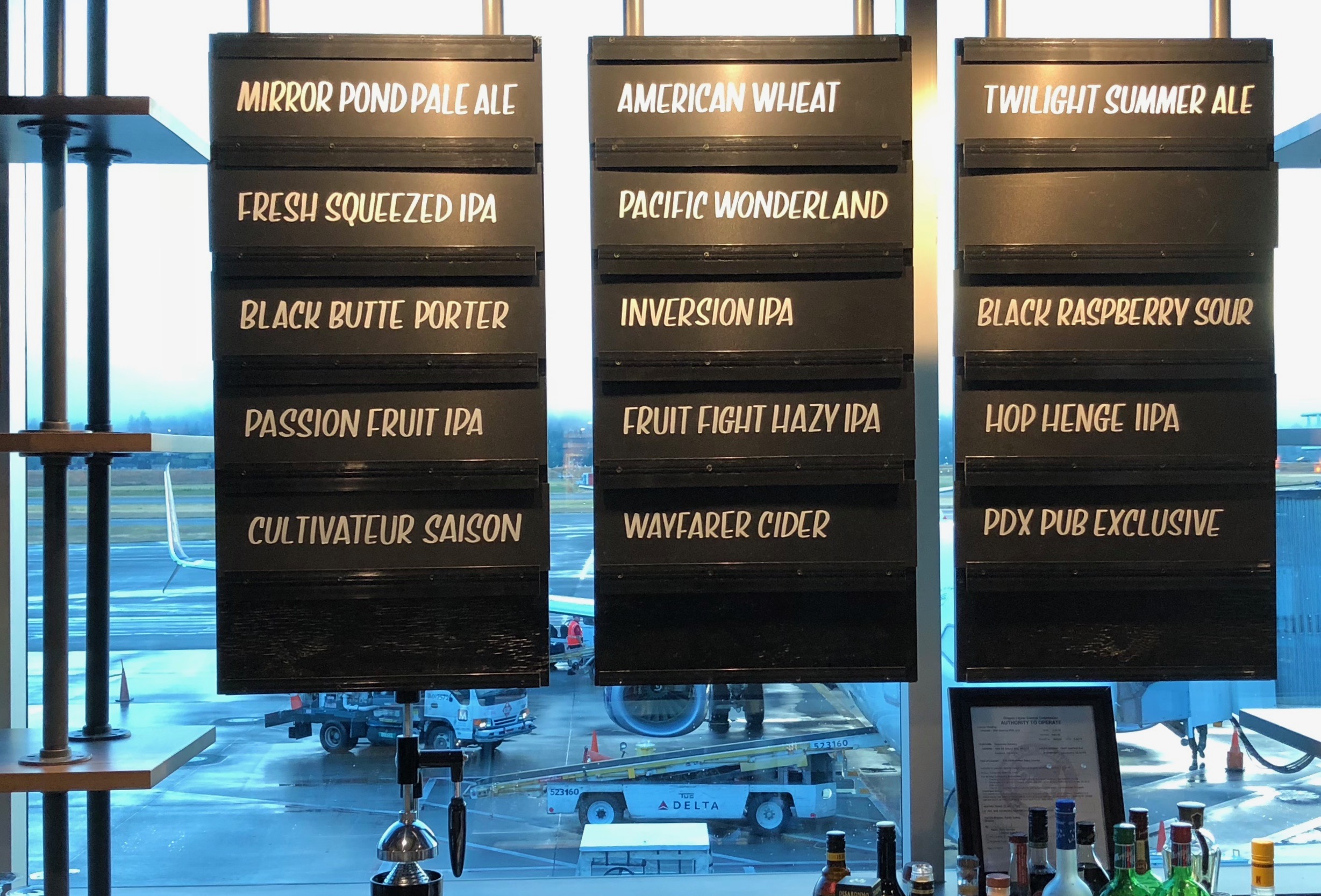 Beyond the Deschutes beer there's a full bar with a legitimate cocktail list that is highlighted by four different mule cocktails. There are also selection of red, white, and sparking wines.
Since SSP America operates the kitchen, Deschutes Brewery Corporate Executive Chef Jeff Usinowicz and his team worked with SSP to develop and exciting, yet affordable menu. Just as the other Deschutes locations do, the PDX outpost also uses beer in the food menu as much as possible from salad dressings to its burger and of course its beer battered N.W. Fish & Chips.
"Portland's airport is well-known for showcasing Oregon's most iconic, high quality brands to visitors," said Michael LaLonde, Deschutes Brewery president and CEO in a statement. "We're proud to be joining SSP America's select group of vendors to bring our unique pub culture, our amazing food and our damn tasty beer we've now been brewing for 30 years to the more than 19 million travellers who come through PDX every year."
"We enthusiastically welcome Deschutes Brewery to the PDX family as a cornerstone representation of our state's brewery culture," said Shane Andreasen, senior manager of concessions development for the Port of Portland in a statement.  "This partnership has been years in the making, and we are thrilled local travelers and visitors alike will be able to enjoy a Deschutes experience at the airport."
When Deschutes partnered with SSP America, the long-term operator at PDX, the opening of Deschutes is the latest example of the company's focus on bringing a 'taste of place' to North American airports.
"Our team has a tremendous commitment to the PDX community and share the airport's focus on local and regional concepts," said Scott Welding, vice president of business development in a statement. "Deschutes Brewery is an incredible partner and a committed member of the greater Portland community. We're going to work very hard to deliver an exceptional experience to PDX passengers."