Oregon's North Coast Craft Beer Trail Updates to a Mobile Passport
|
Breweries, bottle shops and beer bars on Oregon's North Coast are ready for the day when traveling is safe once again as the North Coast Craft Beer Trail updates to a new Mobile Passport.
Passport users can check-in at participating locations from Astoria to Cannon Beach by using redemption codes to earn exclusive offers or by purchasing to-go beers. After checking in to at least 10 breweries within a year, you'll be rewarded a commemorative Oregon's North Coast Craft Beer Trail glass! Prize is available for pick up in 3 locations: Cannon Beach, Astoria and Seaside. Its free to sign up and you can find the rules for the Beer Trail Passport here.
Here's a preview of the stops on Oregon's North Coast Craft Beer Trail.
Astoria Brewing Company
Astoria Brewing Company is Astoria's Oldest Microbrewery, operating since 1997. Stop in for a Pint or two while taking in the breathtaking views of the majestic Columbia River. We offer 12-16 house brews year around with a full lunch & dinner menu. Stop in for our specialty "Goonie Beer" while… Show more
Bridge & Tunnel Bottleshop & Taproom
A craft beer bar with 22 taps of craft beer, cider & wine. As well as hundreds of bottles and cans to go from around the world. 21 and over.
Buoy Beer Company
Astoria, OR overlooks the meeting of one of the West's most relentless rivers and the wilderness of an entire ocean – and it's here that Buoy Beer Company brews its beer. With balance always a priority, we focus on traditional lagers and NW ales to savor after a hard day's work and to share with friends.
Fort George Brewery
Fort George opened its doors to Astoria as both a brewery and a public house, and that desire to serve the community continues to this day. The brewers and pub staff here share a common goal, to create a welcoming space where anyone in town can pull up a stool and enjoy a pint and a bite to eat. We… Show more
Hondo's Brew Pub
Nano brewery with 19 tap handles, brewery on-site, brew supply store, and bottle shop!
$1.00 Off Tasting Flight
McMenamins Sand Trap Pub
After some golf or beachcombing, the Sand Trap is a welcome spot for a bite to eat or a hot or cool handcrafted beverage. Enjoy fresh salads, sandwiches, burgers and more, all paired with McMenamins' craft beers, wines, spirits and coffees. We're open daily for breakfast, lunch and dinner.
20% Off Food When You Purchase A Pint
Public Coast Brewing Co
Today, we're celebrating this landmark legislation anew – with beer. Lots of honest, great tasting beer. Locally brewed and enjoyed in Cannon Beach, Oregon – where forest meets sea and grey whales frolic. Where memories are made, and shoes are just a suggestion. Welcome to Public Coast… Show more
20% Off Entrée
Reach Break Brewing
Reach Break is a family-friendly craft brewery located in downtown Astoria. We are proud to be a favorite location for locals to meet friends and grab a pint. We have a continually evolving tap list, featuring stouts, IPAs, barrel-aged beers, and mixed-culture ales brewed with local PNW… Show more
Rogue Public House
Opened in July 2007 in the former Bumble Bee Tuna Cannery on Pier 39 over the Columbia River, our Astoria Public House has an impressive view of the river as well as a free-to-rent banquet event space, outdoor seating, a tasty menu, and 30 taps. Watch the Blazers or Timbers on our big screen inside… Show more
The Whet Spot
We offer 20 rotating taps of various beers and ciders from the great Pacific Northwest. Soon we will also offer Mead. We also have 200 labels in our cooler. Our offerings can be consumed on site or taken with you.
20% Off Any Purchase
Wine And Beer Haus
15 taps and 350 beers and ciders in addition to 800 wines. On premise consumption or off premise sales. Started in 1976, the oldest craft beer business on the coast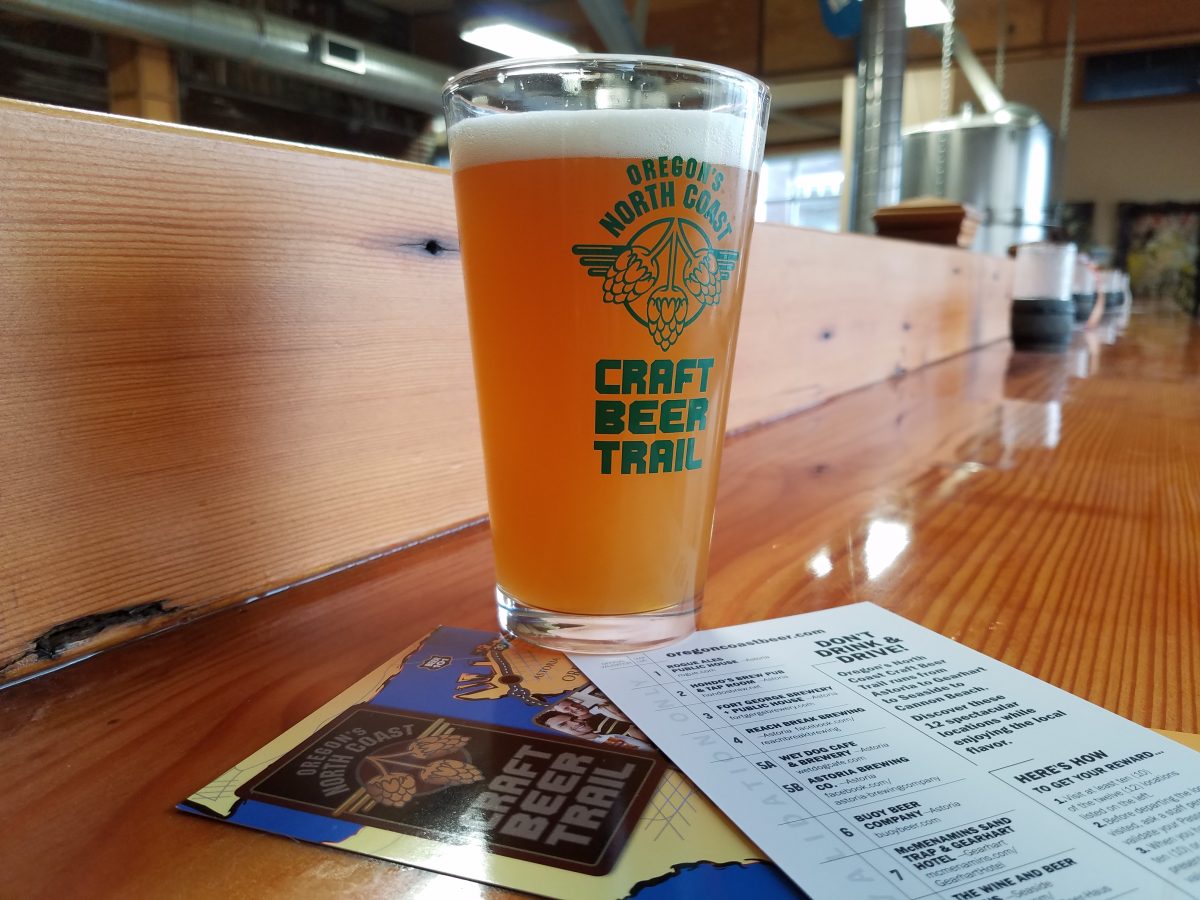 *Due to COVID-19 we are taking extra precautions to keep our customers and staff members safe. Please note that events, business hours, and local regulations are changing by the day. Please practice social distancing and wash your hands often. The Oregon Health Authority requires face coverings in indoor public spaces, and anytime you're in crowded parks or outdoor spaces. Each stop on the NCCBT may have additional requests for their establishment to help them adhere to state guidelines. Thanks for doing your part to stop the spread of COVID.