Skamania Lodge Enhances Its Golf Experience With Three New Beer Friendly Courses
|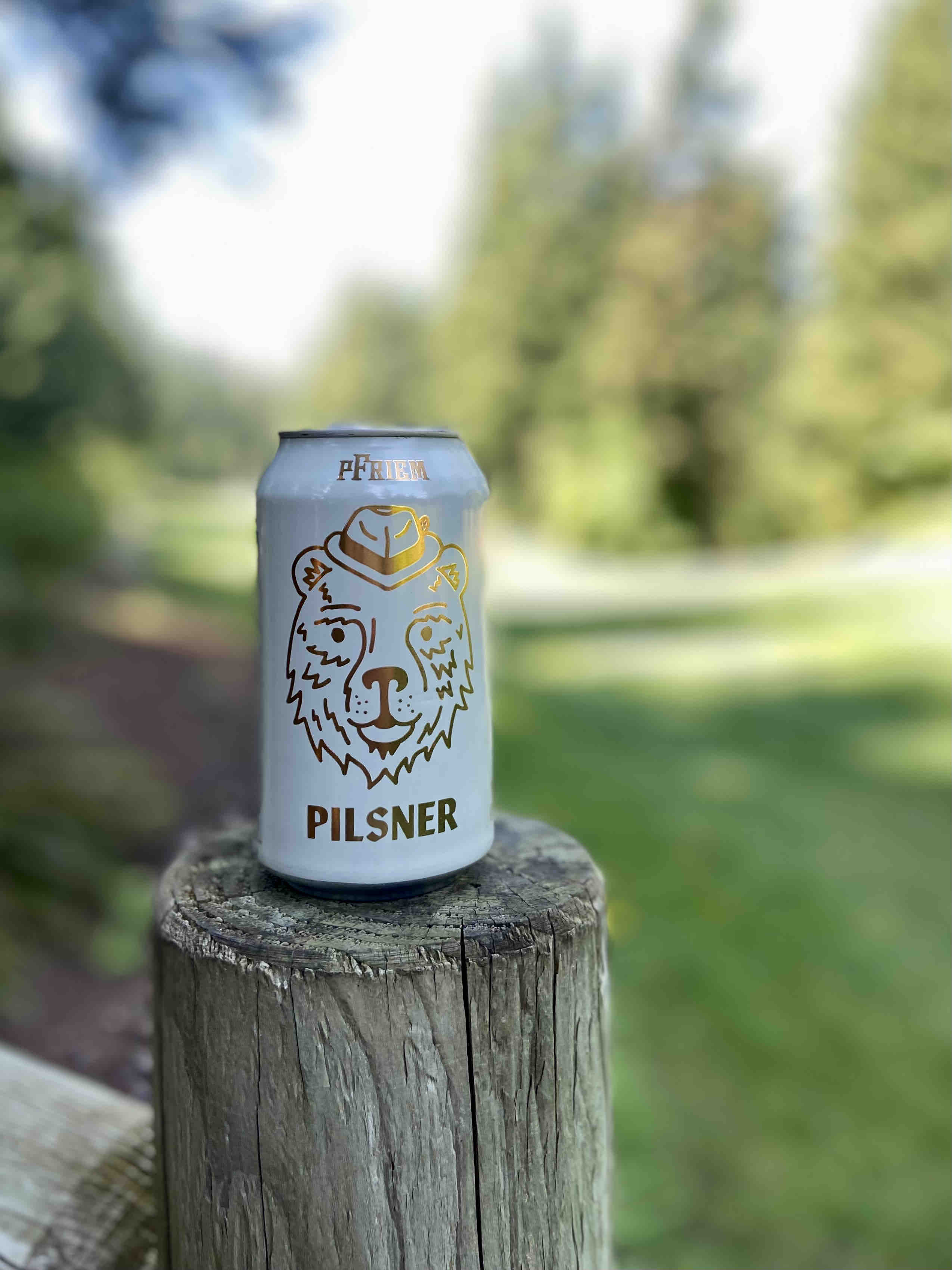 What was once an 18-hole golf course nestled into the 175 acres surrounding the Skamania Lodge has now been converted into three new, family friendly courses. There's The Gorge 9 – Par 3 Course, Little Eagle 18 Putting Course, and The Backyard Disc Course, all with majestic scenic views of the Columbia River Gorge.
Now these three new courses all fall under the new name of The Backyard at Skamania Lodge. The clubhouse is located just steps from the Skamania Lodge and offers anyone a chance to get outside to enjoy a game of golf, putting or disc golf with a few craft beers in tow. And when the game is over, swing on by The Backyard Grill for some food and beers to discuss your game.
The highlight of the renovation at The Backyard at Skamania Lodge is The Gorge 9. This Par 3 course is not like many other executive courses as it utilizes many of the holes that were once part of the former 18-hole course. Plus, the majestic Pacific Northwest views remain intact, just in a shorter, quicker course.
This update at Skamania Lodge was led by award-winning Golf Course Architect Brian Costello. He was tasked with reinventing the course to make it play quicker and in less time as this is what many golfers want these days.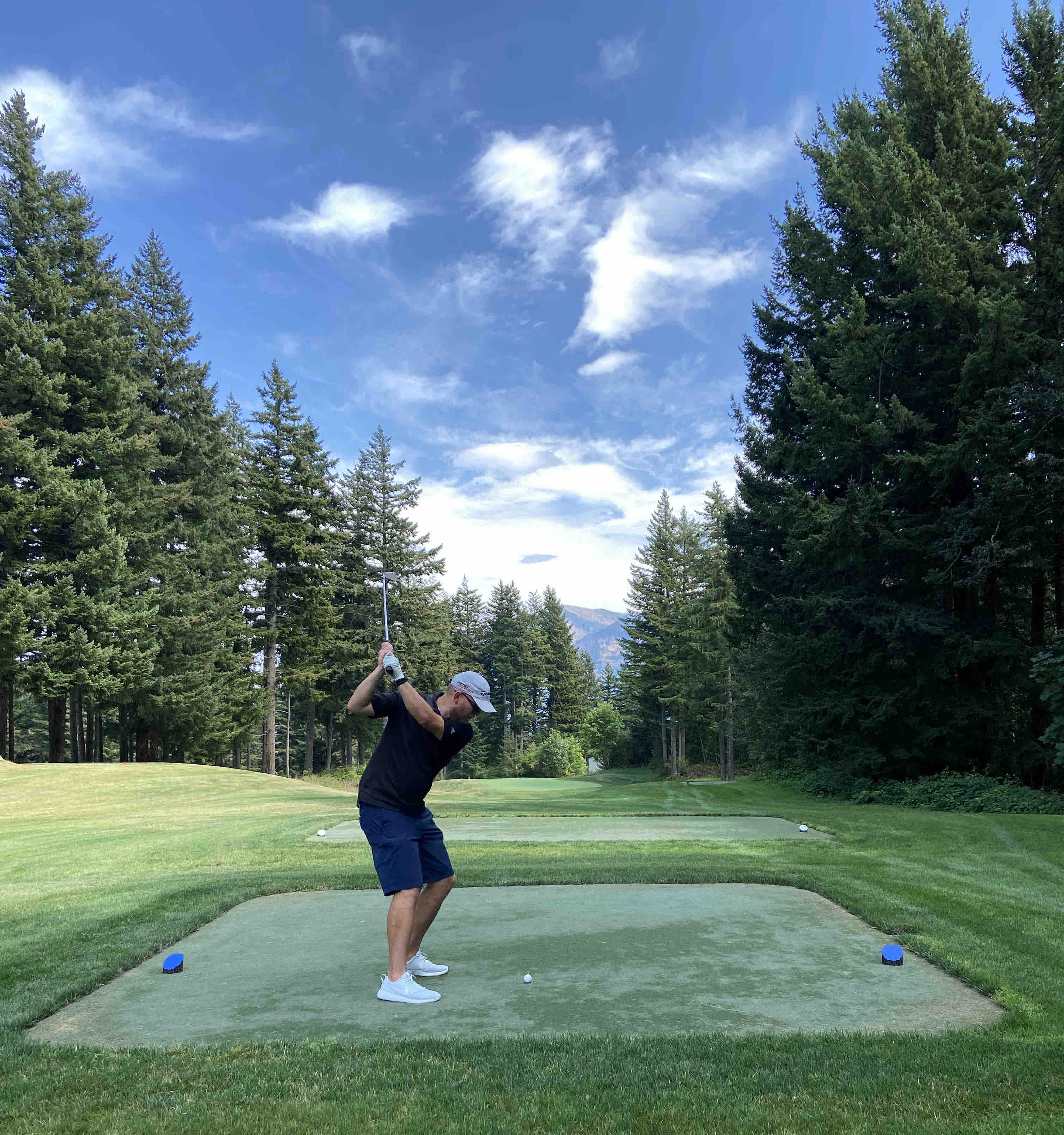 "Folks don't want to spend 5-6 hours golfing," said Costello, in a statement. "This lodge-course redesign was a fun challenge for me personally, and I'm excited about the look and the feel of the new course that fits perfectly in the serene Stevenson, Washington setting."
The tee boxes and greens have been replaced with synthetic ones. Surprisingly, the greens play nice, yet challenging with the new surface. This will allow the course to be utilized all year round with much less maintenance. It also allows for better sustainability as it'll use less water and chemicals to maintain.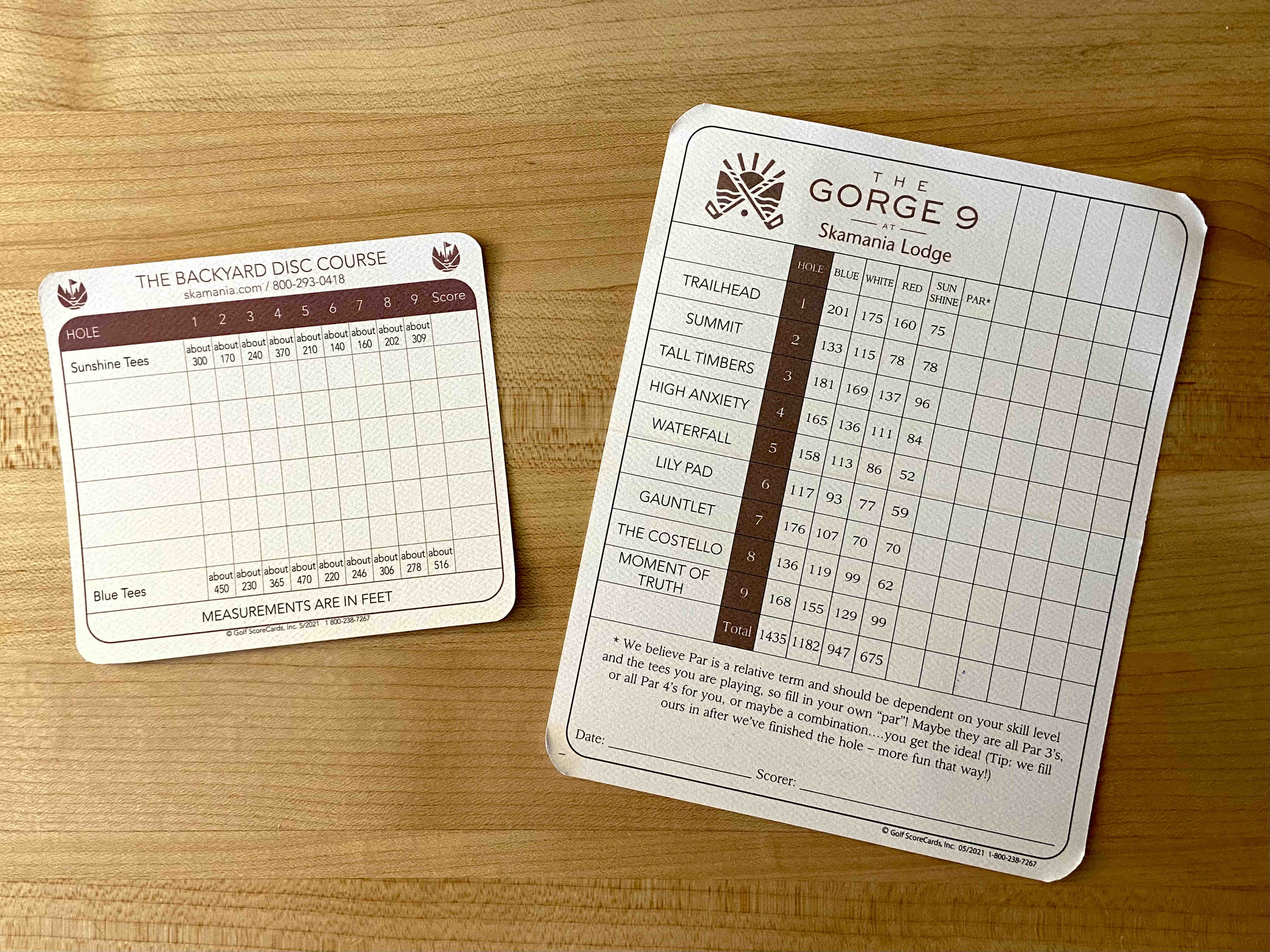 From teeing off at Hole 1 – Trailhead, the fairways are still narrow and full of lush, thick grass. If you choose to tee off from the blues, it's a 201-yard Par 3 hole. The shortest yardage from the blues is 117, but the average yardage is 160. Therefore you may want to keep a driver in your bag when playing The Gorge 9.
In addition to the blue tee boxes, The Gorge 9 offers white, red and sunshine boxes. All perfect for any skill level and is a great way to improve your short game. A round of golf at The Gorge 9 costs $30 while Junior/Senior (12 and under, 62 and over) rate is $25.00.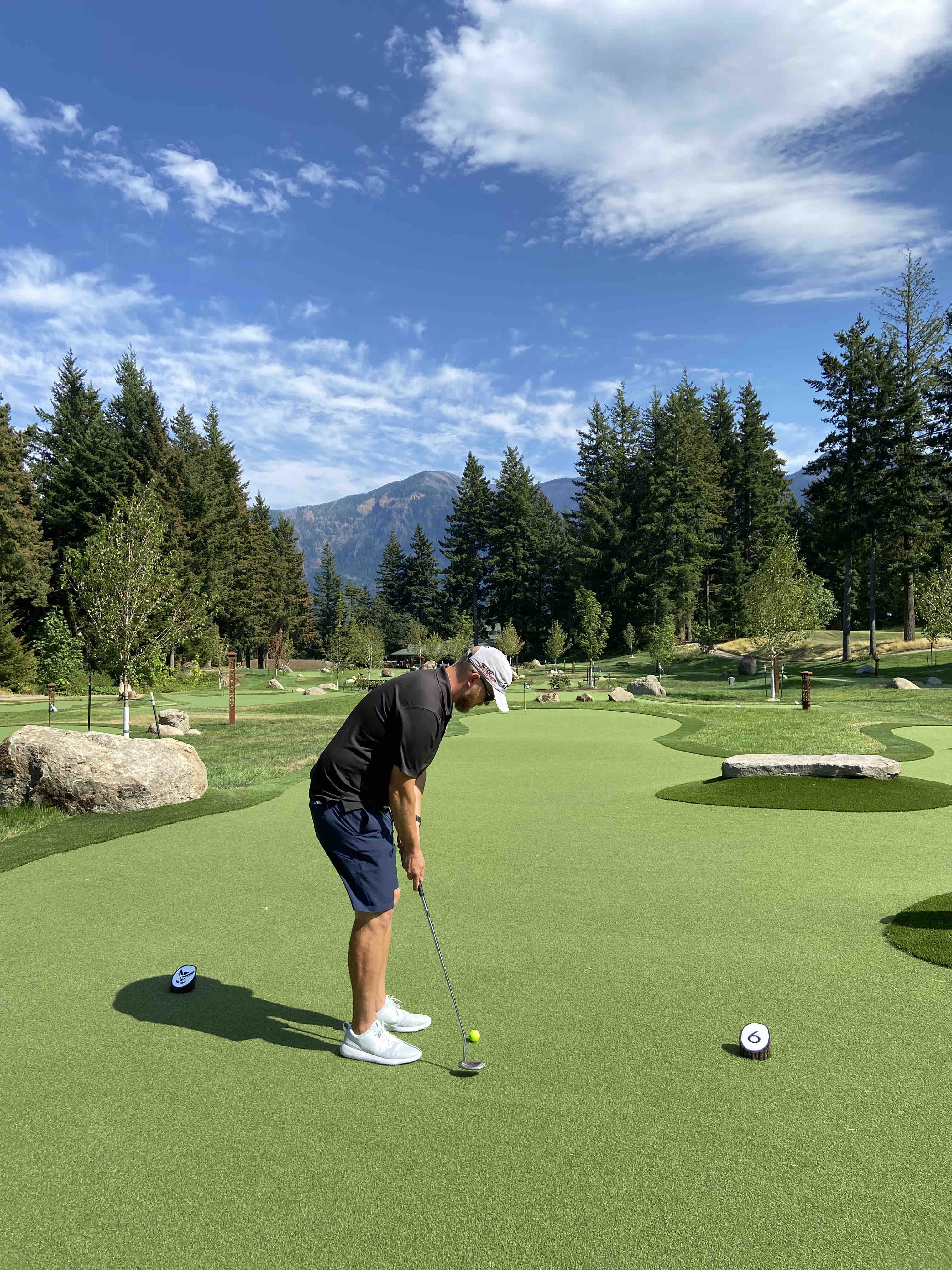 Taking over the former home of the driving range that once stood at Skamania Lodge is Little Eagle 18. This 18-hole putting course tees up a fun, real-course experience with challenging 2 to 4-par holes that emulate high-end greens and boast challenging impediments throughout the course. The cost to play Little Eagle 18 is $20.00 while the Junior/Senior (12 and under, 62 and over) rate is $15.00 and includes a putter and golf ball.
These changes are exciting to the staff at Skamania Lodge and its guests that have been playing the course over the past month. "There's excitement about this change – the 9-hole course will still provide a unique challenge and sweeping views of the Columbia River Gorge; and the putting course will bring a fun, new element for guests to enjoy an 18-hole golf experience with only a putter," Skamania Lodge PGA Pro Guy Puddefoot, in a statement.
Also part of the renovation is the addition of The Backyard Disc Golf Course. This 9-hole course offers two tee boxes, Sunshine and Blue, that'll satisfy many various skill levels. The scenic course has challenging baskets placed strategically through stunning forest and beautiful mountain terrain of the Gorge. The disc course costs $5.00 to play and to rent a set of discs, that's another $5.00.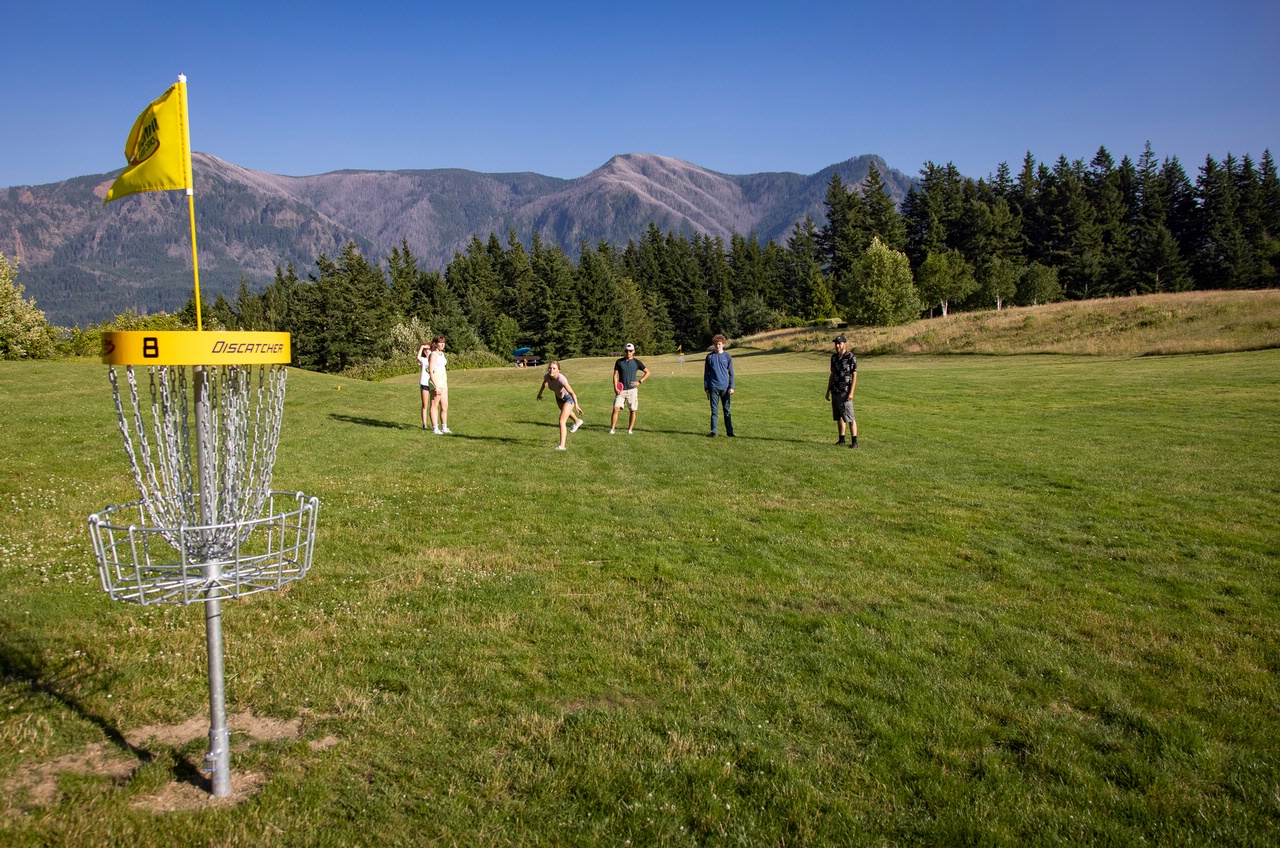 "These new golfing options welcome a new generation of golfer," said Ken Daugherty, Skamania Lodge's General Manager, in a statement. "It also continues our strong run of adding popular attractions for our guests to experience: We recently opened the pavilion, aerial park and axe throwing; the addition of both a short course and a world-class putting experience, along with disc golf, is just the latest in the development and expansion of our outdoor offerings. We know time is important to everyone, so the ability to finish a round in just over an hour allows our guests and visitors to really savor every moment at Skamania."
To kick off these new updates, The Backyard at Skamania Lodge will be hosting its Golf Grand Opening this weekend on July 30 and 31, 2021. These three new courses will be the spotlight of the event that will also include raffle drawings throughout the weekend. To book a tee time, call (800) 293-0418.
Here's a rundown on the events taking place this weekend.
FRIDAY – JULY 30
6:00pm-7:00pm
HAPPY HOUR AT THE BACKYARD GRILL
Enjoy beverage specials and fun pub snacks while relaxing in the Backyard.
SATURDAY – JULY 31
8:00am-10:30am
MIMOSAS & BREAKFAST BURRITOS
Enjoy refreshing mimosas and our delicious breakfast burritos that will be available with one round of our brand new golf experiences (The Gorge 9, Little Eagle 18 or Disc Golf).
*Subject to availability
10:30am-4:00pm
STAY HYDRATED
Grab a complimentary snack and bottled water throughout the day to keep hydrated and your energy high for the perfect golf game.
4:00pm -6:00pm
LIVE MUSIC WITH MOE DIXON
Experience live music from a local Pacific Northwest artist, Moe Dixon!
8:00pm-9:30pm
EVENING PUTTING
Enjoy an evening on the putting course.  Drinks available at its pop-up bar and ice cream cart.
The updated golf experiences will be part of a new lodge undertaking that is highlighted with all-new branding. "The logos were inspired by the magnificent surroundings of Skamania Lodge," said Thomas Morris, the group creative director at Sasquatch Agency, whose team designed the logos, in a statement. "The Backyard branding pays tribute to a one-of-a-kind golfing experience along the Columbia River Gorge."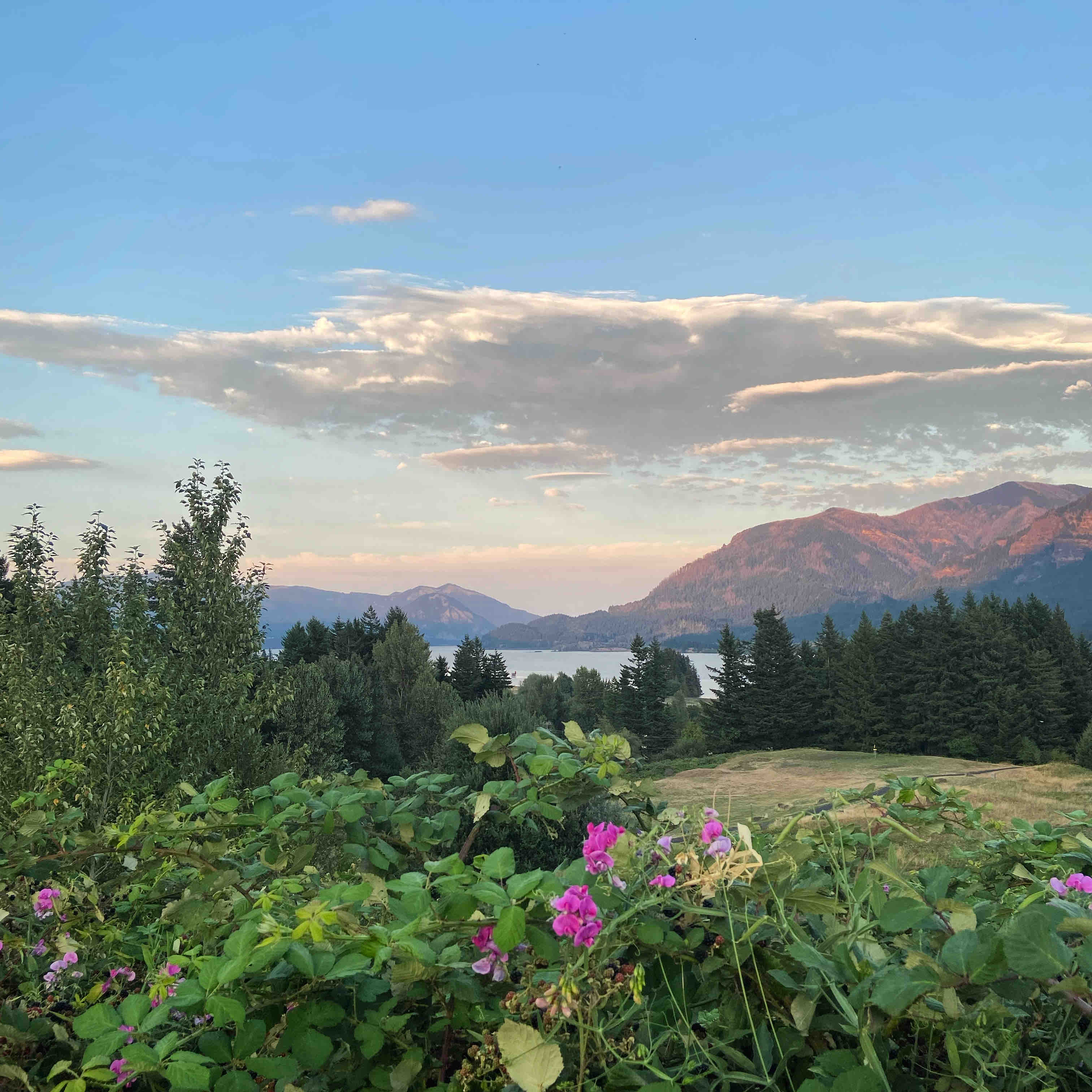 Situated over 175 acres, the Skamania Lodge is an all-season vacation destination with activities outside their door that's just 45 minutes from Portland. Follow Skamania Lodge on Facebook, Instagram and Twitter or visit its website at www.skamania.com.
The Backyard at Skamania Lodge
1131 SW Skamania Lodge Way
Stevenson, WA 98648