2 Towns Ciderhouse Cellar Series – Oak Aged Honey, Apricot & Nectarine Imperial
|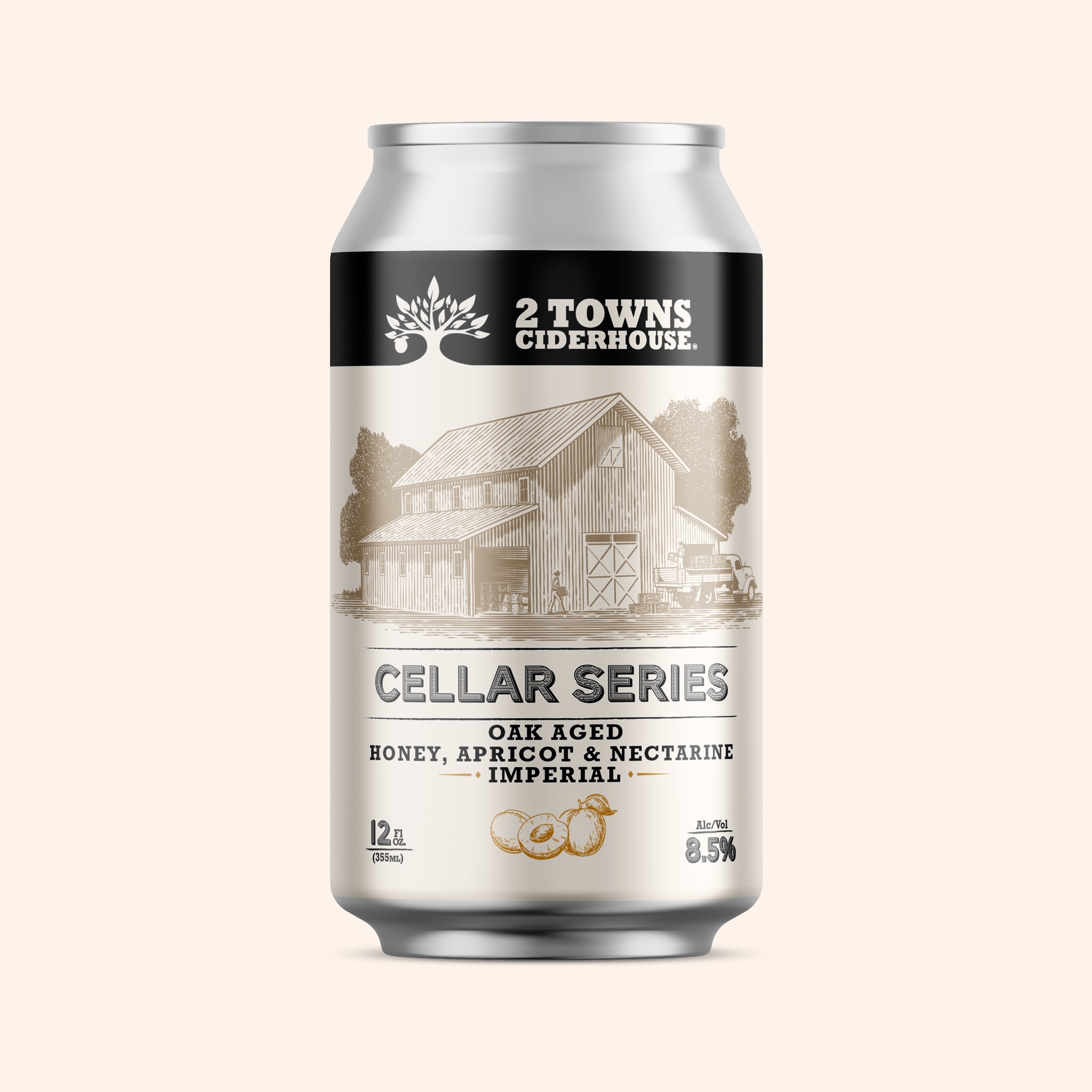 Corvallis, Ore. – February 10, 2023 –Spanning from the traditional to the unique, 2 Towns Ciderhouse relaunches its Cellar Series line with an Oak Aged Honey, Apricot & Nectarine Imperial cider, packaged with a new look and format that makes it more accessible to uber craft fans across the country.
The Cellar Series is a rotating line of one-off ciders created in limited quantities by our award-winning cidermasters. Inspired by the rich history of cider making, these ciders hold nothing back. Utilizing rare heirloom fruit from the Pacific Northwest and made in small batches, these ciders are ever-changing, but always pioneering beyond the modern palate.
The first in the series, Oak Aged Honey, Apricot & Nectarine Imperial, is crafted with a tangy little nectarine spin on it! Acidity from ripe nectarines and apricots is softened by the sweetness of local honey and rounded out on the finish by the mellow tannins of toasted french oak. Sharp, bright aromatics of stone fruit give way to dry oak and honey as it warms in the glass.
"The Cellar Series line takes us back to our roots–these are ciders created from passion that embody the joy of cider making," said Dave Takush, head cider maker. "The Oak Aged Honey, Apricot & Nectarine Imperial cider is simply delightful – it's a beautiful balance of ripe stone fruit, sweet honey, and toasted oak."
Specs
8.5% ABV | Oak Aged Honey, Apricot & Nectarine Imperial cider
Made with NW apples, Apricots, Nectarines, NW  honey, toasted oak
Oak Aged Honey, Apricot & Nectarine Imperial will be available in 12oz cans through limited distribution throughout Oregon, and  ½ bbl & ⅙ bbl kegs through distributors in Oregon, Washington, California, and North Dakota.
About 2 Towns Ciderhouse
2 Towns Ciderhouse was founded on the belief that the long history of cidermaking demands respect and deserves to be done right. Starting with the highest quality, whole ingredients from local farms, we take no shortcuts in crafting our ciders. Over the years our company has retained these core values to branch out into different segments within the alcohol beverage space to become a premium total beverage company. Our goal is to create the best craft beverages on the market and continue to develop and evolve the beverage space in innovative new ways.
From humble beginning in 2010 in an old 900 sq. ft. 2 car garage we have grown into one of the largest craft beverage companies in the northwest now employing over 100 individuals, distributing to 15+ states and running 3 different production facilities totaling almost 100,000 sq. feet. As a family-owned company, we are committed to the growth of our team and enrichment of our communities. We take pride in producing true Northwest craft beverages. For more information on 2 Towns Ciderhouse, visit www.2townsciderhouse.com.