2022 Portland International Cider Cup Winning Cider Makers
|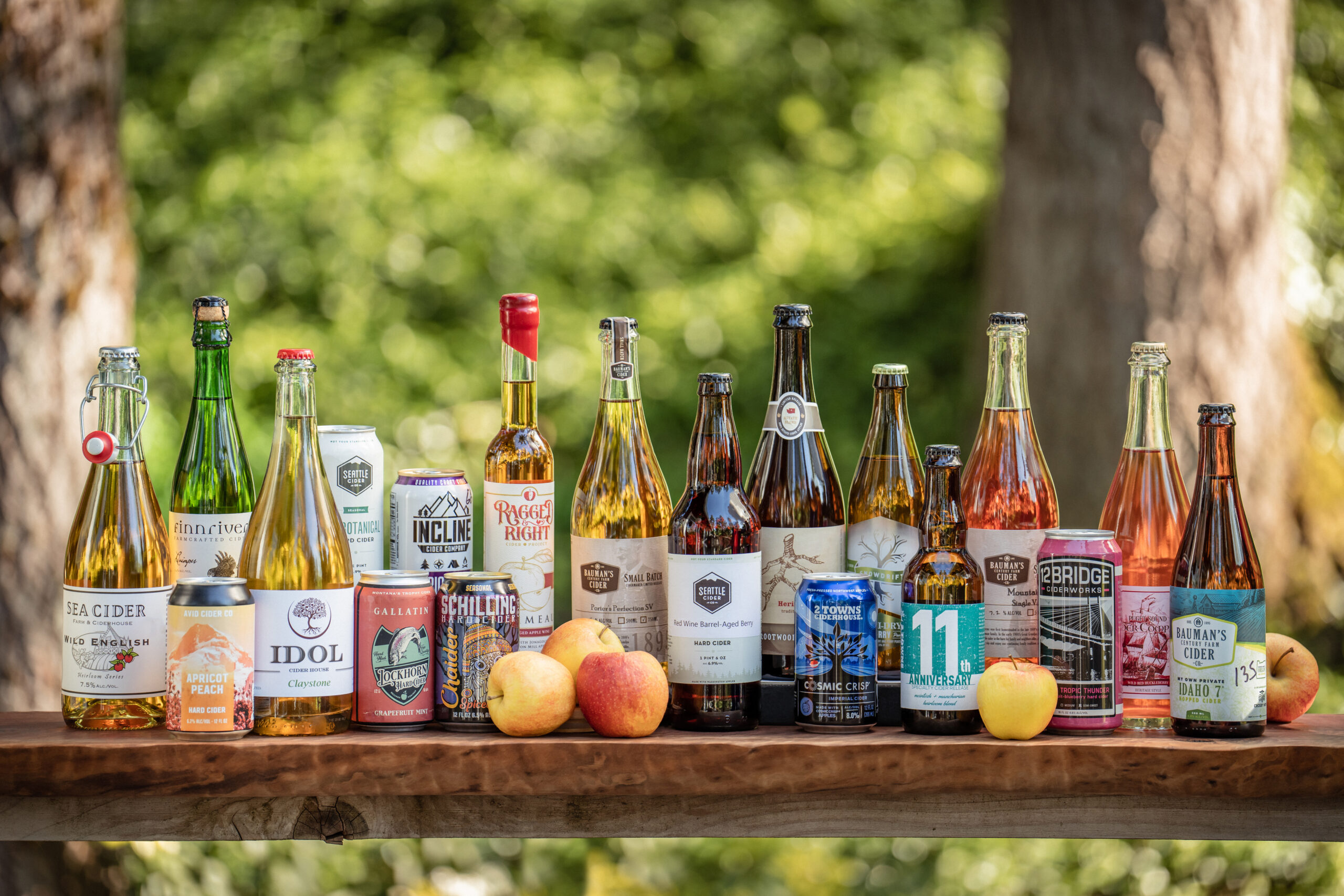 PORTLAND, OR (May 27, 2022) – The Northwest Cider Association (NWCA) proudly announced the 2022 winners of their 9th annual Portland International Cider Cup (PICC) competition last night at a sold-out awards party, hosted at Swift Cider in NE Portland.
"Cider was the only craft beverage that grew in the Northwest last year, so this year's competition was very exciting," says Northwest Cider Association's Executive Director, Emily Ritchie. "We had nearly 60% more entries than last year, and also created some interesting new categories like Red-Fleshed Ciders, as well as subcategories for the booming Fruit Cider section."
NWCA unveiled 57 Gold, Silver and Bronze medal winning ciders from Pacific Northwest cidermakers across 20 distinct categories and seven subcategories – ranging from Modern Dry to Traditional Perries. Entries come from OR, WA, MT, ID and British Columbia – the continent's largest apple growing region. The competition is strict and not all categories take medals if the quality is not there, an unusual approach for cider competitions. Ciders are judged by trained industry experts looking for excellence, flaws and determined style qualities.
The Big Winners Are…
Small Cidery of the Year – Puget Sound Cider (WA)
Medium Cidery of the Year – Bauman's Cider Co (OR)
Large Cidery of the Year – Seattle Cider Co (WA)
Best New Cidery – RAW Cider Company (OR)
Best In Show – Seattle Cider (WA) "Honeycrisp"
Other Noteworthy Medal Winners…
New Cideries
Gold: RAW Cider Company (OR) for "Semi Dy" in French Category
Silver: Idol Cider House (OR) for "Claystone" in Heirloom Dry Cider Category
Bronze: Victoria Cider Co (BC) for "Keeved" in French Category
Established Cideries
Gold: Finnriver Cidery (WA) for "Golden Russet" in Single Varietal Bittersweet/Bittersharp Category
Gold: Liberty (WA) for "Garratza" in Wild/Non-Sac Category
Gold: Bauman's (OR) for "Farmer's Old Fashioned" in Wood Oaked Category
Gold: 2 Towns (OR) for "Pacific Pineapple" in Fruit/Tropical Category
Gold: Scenic Road (BC) for "Peary" in Modern Perry Category
Silver: 12 Bridge (OR) for "Tilikum Tropic Thunder" in Fruit/Tropical Category
Silver: Avid (OR) for "Apricot Peach" in Fruit/Stone Category
Silver: Lockhorn (MT) for "Gallatin Grapefruit Mint" in Fruit/Citrus Category
Silver: Ragged & Right (WA) for "Pommeau" in Specialty Category
Silver: Sea Cider (BC) for "Wild English" in Wild/Non-Sac Category
Bronze: Tieton (WA) for "Lavender Honey" in Botanical Category
Bronze: Riley's (BC) "Sip & Tell Single Varietal Mac" in Single Varietal – dessert/culinary Category
Bronze: Incline (WA) "Blood Orange" in Fruit/Citrus Category
Bronze: Archibald James Wine & Cider (WA) "Rubus Wild Raspberry" in Wild/Non-Sac Category
Bronze: Swift (OR) "Blueberry" in Fruit/Other Category
2022 Fun Facts:
57 Total Medals were awarded (17 Bronze, 21 Silver and 19 Gold).
Best in Show went to Seattle Cider (WA) Honeycrisp, which won gold in both Modern Sweet and Single Varietal Cider – dessert/culinary category.
Best in Show Runner Up went to Peak Light Cider (OR) for their Orchard Reserve Quince Cider, which took Gold for the second year running in the Specialty category.
Best New Cidery went to RAW Cider Company (OR). RAW earned Gold for their Semi Dry in the French Cider category.
For a full listing of winners visit nwcider.com/news
The Northwest is home to 150 orchard-based, small, independent, and mid-sized makers, and Portland International Cider Cup is the region's premier judged competition.
This year, PICC received more cider entries than ever before, up nearly 100 entries from 2021. In the 2022 competition, nearly 50 cideries from OR, WA, MT, ID and British Columbia entered 241 unique offerings, judged by just under 50 professional cider judges who traveled from around the region to Portland, Oregon for the all-day judging event in early May.
"We expected growth from last year, but the enthusiasm of established cideries entering multiple ciders, alongside new cideries and those who had never entered the cup before totally exceeded our expectations," says Northwest Cider Association's Executive Director, Emily Ritchie. NWCA, who runs the competition, is a non-profit supporting cidermakers in four Northwest states and British Columbia – an area recognized as one of the most innovative cider regions in the nation.
PICC History…
Started nearly a decade ago by a handful of local makers, Portland International Cider Cup is still a bit of an industry insider secret. Born from the founders' desire to solicit valuable, blind product feedback from judges, the cup has been an engine, driving quality and fostering healthy competition and community. PICC has gradually grown in size and visibility as the cider category becomes more known and more cideries open their doors. In 2021, 45 medals were awarded. In 2022, the number rose to 57 medals, in concert with a sizable increase in competitive entries.
As the competition continues to grow, medaling at PICC remains a challenge and is a respected accolade. "Less than a quarter of ciders entered this year won a medal, so these wins really count," adds Ritchie. "Cidermaking in the Northwest is a celebrated and respected craft, and our ciders continue earning recognition both at home and internationally." NWCA has been running the competition since 2016, and training judges is something the Association takes seriously.