2nd Annual Snakebite Showdown Hosted at Widmer Brothers Beer Garden
|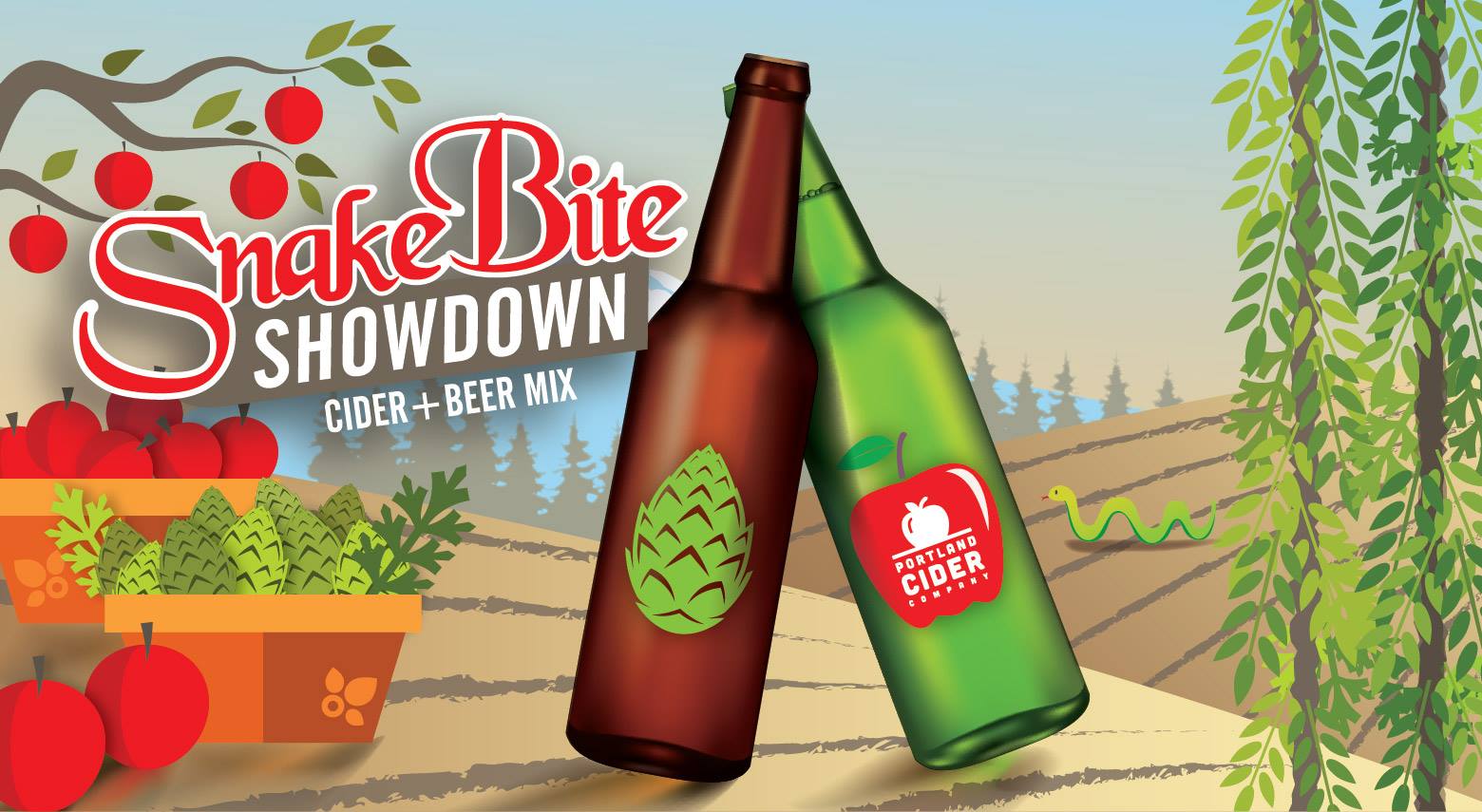 The blending of beer and cider will come to the forefront at the 2nd annual Snakebite Showdown on Saturday, June 16, 2018. The annual event that brings together snakebites will be held at the Widmer Brothers Beer Garden in North Portland from 1:00-7:00pm.
Snakebite Showdown focuses solely on Snakebites, a popular English refreshment that blends equal parts beer and cider. Attendees can choose fro 16 different pre-determined snakebites from regional breweries and cideries.
Advance admission costs $20.00 ($2.23 after fees) that includes a commemorative glass and six drink tickets that yield 24 ounces of snakebites. Additional tasting tickets will be available for $2.00 each. All snakebite blends will be one ticket per four-ounce sample. Entry at the gate will be $25.00 for the same package mentioned above. Purchase advance tickets by clicking HERE.
Snakebite Descriptions:
Portland Cider Co. + Widmer Bros. Brewing: Pineapple Pursuit––The pursuit to fruit forward happiness starts with our blend of Portland Cider Co. Pineapple Cider and Widmer Brothers Fruitless Pursuit IPA. A classic IPA finish with lots of fruitiness fun to undermine the efforts of Widmer's brewers to not use fruit in a fruit forward IPA.
Portland Cider Co. + Widmer Bros. Brewing: Limey Lager––Two traditions in one glass – Helles Lager and a Moscow Mule with Portland Cider Co.'s Ginger Limey Cider. Refreshing, bright + citrusy, with an added layer of complexity from the barrel aging process of Widmer's Holz Helles.
2 Towns Ciderhouse + Flat Tail Brewing: Surf & Sour––A collaboration between two Corvallis icons, Surf & Sour blends Flattail Brewing's 2017 GABF Gold Medal winning Lemon Verbena & Hops Dam Wild Sour with 2 Towns Ciderhouse's summer hit, Pacific Pineapple made with 100% Costa Rican Golden Pineapples. Extremely complex, tangy, with just the perfect amount of sweetness.
Cider Riot! + Kells Brewery: Battle of the Bogside ––A classic take on an Irish Black Velvet snakebite, Battle of the Bogside is a blend of Kells Dry Irish Stout and Cider Riot! Burncider Dry Draught Cider, roastiness from the stout blends nicely with the toffee and fruit notes from the traditional cider apples used in the Burncider.
HUB Cider + Hopworks Urban Brewery: Piña Chillada––You put the Totally Chill in the Pineapple Cider, and you drink them both up. This tropical and refreshing cider mixes perfectly with our seasonal Hazy IPA. Sit back, drink up and enjoy this easy drinking Snakebite
New West Cider + Sasquatch Brewery: Legless Lizard––A special blend of house sours, our Pure Guava Gose and Wild Boysenberry Pinot barrel-aged sour cider; blend to make a super tart, super juicy Snakebite for the ages.
Anthem Cider + Santiam Brewing: Ivan the Berryble––A blend of 30% Santiam Brewing Impersky Russian Imperial Stout, 100% aged in bourbon barrels for eight months, and 70% Anthem Blackberry Pear Cider. Bourbon nose, slight roast, smooth blackberry, pear and apple finish.
Square Mile Cider + Ecliptic Brewing: Space Grenade––Ecliptic Brewing and Square Mile Cider Co. teamed up to blend Ecliptic's flavor packed citrusy, fruity, and piney Starburst IPA with a semi-dry apple cider with pomegranate and vanilla added from Square Mile. The result is Space Grenade – the only snakebite needed for exploring the galaxy, or a Saturday afternoon in Portland.
Swift Cider + Wild Ride Brewing: Dank & Fly––A blend of Electri-Fly IPA & Pineapple Hop Cider provides a juicy tropical aroma that transitions well to notes of citrus in the flavor. This stems from a variety of hops, including southern hemisphere hops, used in the brews.
12 Bridge Ciderworks + Shattered Oak Brewing: Cuppa Maple Joe'd Brit (Nitro)––Pours a hazy gold with aromas of Mt. Hood Roasters beans and toasted biscuits, drizzled with maple syrup and honey. Smooth mouth feel and a delightful mapley malt flavor. Finishes clean and crisp leaving you ready for the next pint! Cheers mate!
Finnriver Farm & Cidery + Ground Breaker Brewing: Black Shore––A complex, immensely drinkable blend of Finnriver's Farm & Cidery's botanical Lavender Black Currant Cider and Ground Breaker Brewing's Paddy Porter. Bright, organic crisp WA apple gains color and character with additions of tart, black currant and herbatous local lavender. Roasted chestnuts, roasted lentils, cacao nibs, and dark roasted rice malt from Eckert Malting & Brewing round out this blend with depth and a delightful mouthfeel. The Black Shore, where the river meets the ground, is 100% gluten free.
McMenamins Edgefield Cider + McMenamins Edgefield Brewery: Belgian Fields Forever––Belgian flavors of bubble gum and clove from our Rooster Rock Dubbel precede a light strawberry sweetness and soft herbal notes from Edgefield Cider's Strawberry Spring Fling. A light effervescence leads to a crisp, dry finish.
Reverend Nat's Hard Cider + Modern Times Beer: TBA
Bauman's Cider Co. + Culmination Brewing: TBA
Reveille Ciderworks + Reach Break Brewing: TBA
Double Mountain Brewery + Double Mountain Brewery: TBA
Also taking place during the six-hour event will be random performances from bagpipers and dancers with the Portland Highland Games. The event is for those of legal drinking age and is a benefit for the Oregon Brewshed Alliance.
Widmer Brothers Brewing Beer Garden
929 N Russell Street
Portland, OR 97227