4th Annual Hood River Hard-Pressed Cider Fest Returns On April 22nd
|
Just an hour east of Portland the Hood River Valley is a source of apples, pears and other fruits that help make cider the influence it has today. The area boasts over 440 orchardists that assist in the today's cider making.
To celebrate this bounty, the 4th annual Hood River Hard-Pressed Cider Fest returns on Saturday, April 22 from Noon until 7:00pm. This day will feature ciders from Hood River and beyond from over 25 cideries serving over 50 ciders.
The daylong event also features a lineup of local music, and a kids' area, complete with a bouncy house. And if the weather does not cooperate there's a covered hall for the tasting area.
Participating Cideries:
2 Towns Ciderhouse – Corvallis, OR
Made Marion, Flight of the Kiwi
ATLAS Cider Co – Bend, OR
Blackberry, Apricot
Bauman's Cider Company – Gervais, OR
Clyde's Dry, Peach Raspberry
Bull Run – Forest Grove, OR
Bramble Berry, Dry Hop
Crush Cider Café – Hood River, OR
Mutt, Scruff
Double Mountain Brewery & Taproom – Hood River, OR
Double Mountain Dry Cider
Portland Cider Company – Portland, OR
Sangria, Passion Fruit
Finnriver Farm Cidery – Chimacum, WA
Black Currant, Habanero
Fox-Tail Cider – Hood River, OR
Strawberry Rheum, Fuzzy Haven
Jester & Judge – Stevenson, WA
Gunslinger Earl, Pineapple Express
La Familia Cider – Salem, OR
Jamaica, Tamarindo
Legend Cider Company – The Dalles, OR
Coastal Cranberry, Alpine Apple
Nectar Creek – Corvallis
TBD
Rack & Cloth – Mosier, OR
TBD
Pear UP – Wenatchee, WA
Watermelon Pear, Pear Essentials
Red Tank Cider – Bend, OR
Pie, Mountain Raspberry
Reverend Nat's Hard Cider – Portland, OR
Revival Hard Cider, New Mountain Mandarin
Runcible Cider – Mosier, OR
Light of the Moon, Cherry Twang
Schilling Cider – Seattle, WA
Emerald City Blackberry Pear, Grapefruit and Chill
Seattle Cider Company – Seattle, WA
Basil Mint, Dry
Slopeswell – Hood River, OR
Emperium, Pear
Swift – Portland, OR
Dank Hop, Marion Berry
The Gorge White House – Hood River, OR
Cherry, Lemon Pear
Tumalo Cider Co – Bend, OR
Prickly Passion, Ginger Barrel
Wandering Aengus and Anthem Cider – Salem, OR
Anthem, Wandering Aengus
WildCraft Cider Works – Eugene, OR
Farmhouse #8 Scrumpy, TBD
Woodbox Cider – Portland, OR
Heritage 8 Heirloom Dry, Pippin Dry
Tickets:
Advance tickets can be purchased here.
$20 – Full event pass (includes entry into Cider Fest, 5- 2 oz taste tokens, and commemorative glass.)
$15 – Presale event pass (includes entry into Cider Fest, 5- 2 oz taste tokens, and commemorative glass.)
$10 – Entry only (entry into Cider Fest event; does not include commemorative glass and tokens)
Free – Under 21

Live Music:
Noon: The Mesa Reynolds Band
1:45pm: Quiet American
3:30pm: The Antonyms
5pm: Briana Renea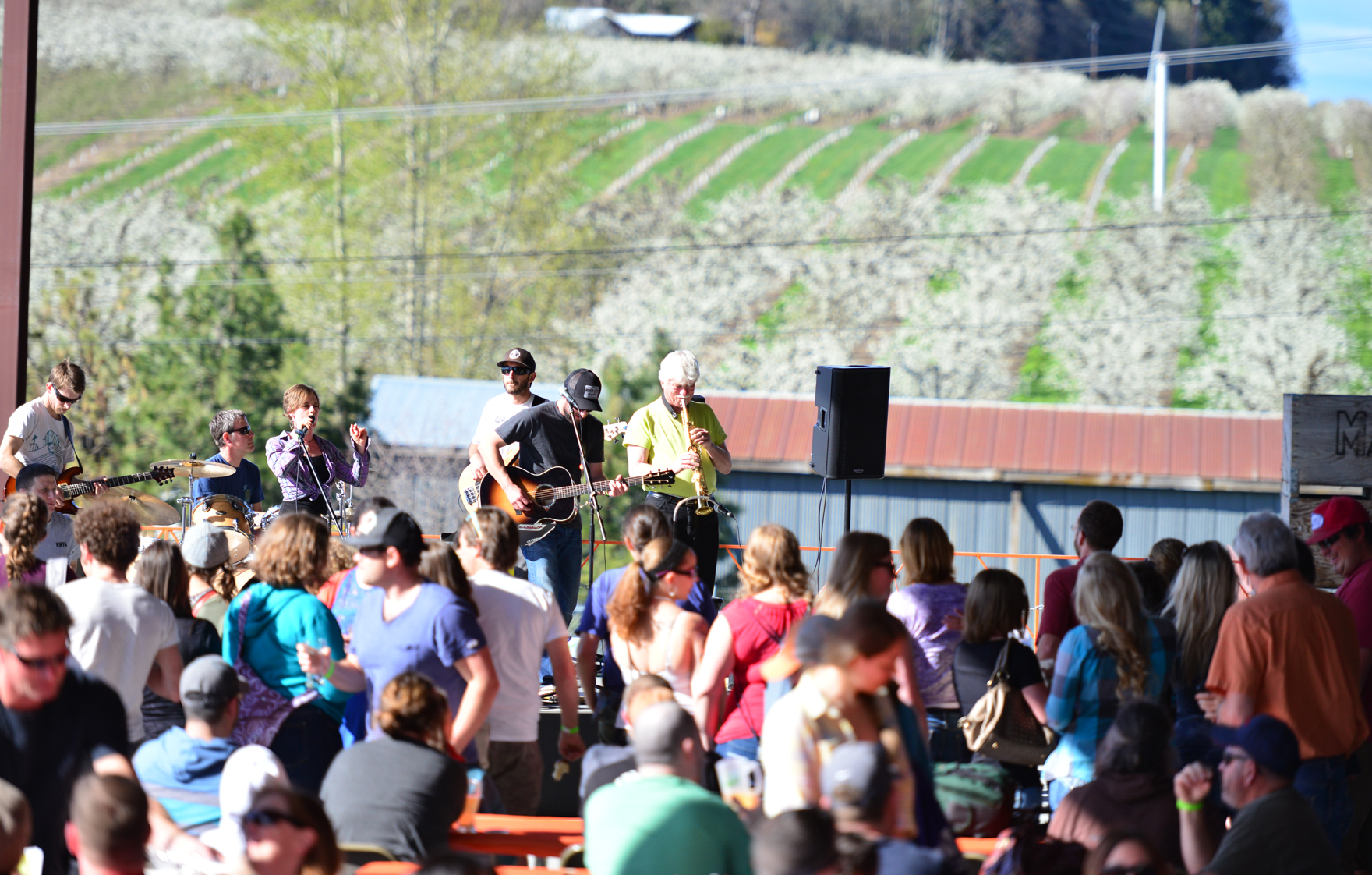 Hood River Hard-Pressed Cider Fest
3315 Stadelman Drive
Hood River, OR 97031