American Cider Association Presents Open That Cider Bottle
|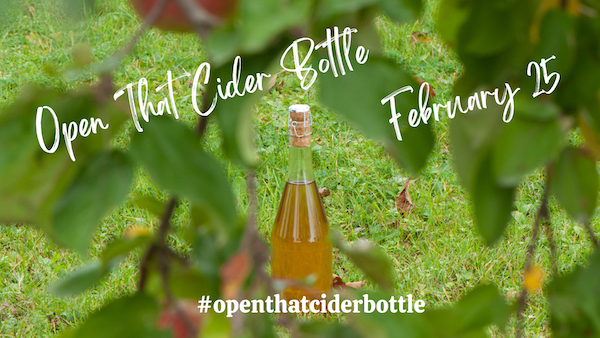 It's time to reach into your cellar or visit your favorite bottle shop to grab a bottle of cider. On Saturday, February 25, 2023, the American Cider Association (ACA) will host Open That Cider Bottle with various ways to win some fun prizes, including a cider suitcase!
Now in its second year, the ACA took the idea to celebrate Open That Cider Bottle from an event that dates back to the year 2000 when two Wall Street Journal columnists, Dorothy J. Gaiter and John Brecher, created the event, Open That Bottle Night. Held on the last Saturday of February each year, this day encourages folks to finally open up that special bottle and share some memories.
So come Saturday, it's time to select that special bottle of cider that you've been sheltering away for a special occasion and finally open it. Consider sharing it with a friend and ask them to do the same so you can cherish this special occasion.
So what's the deal on the prizes? The grand prize is a cider suitcase, designed to make traveling with your favorite cider bottles a bit less stressful. There will also be additional prizes awarded from the following four categories.
Most likely to make you…
Most likely to warm your…
Most likely to…
Most likely to make you…
Just tell the ACA and the rest of the social media world your cider bottle story and post it to Instagram with the hashtag #openthatciderbottle and tag the ACA at @pickcider on Saturday, February 25, 2023!