Avid Cider Co. Cider House Opens In Portland's Pearl District
|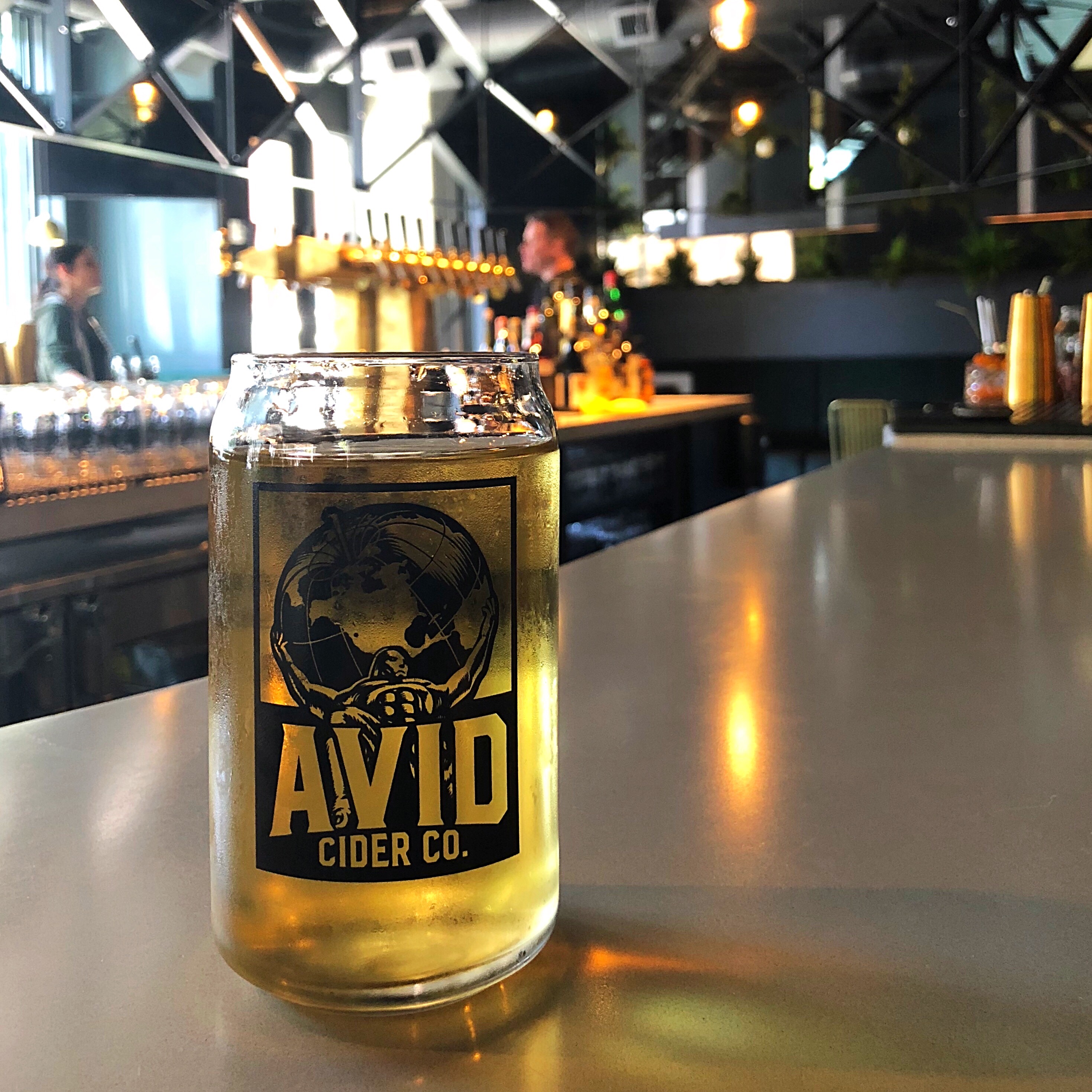 After changing its name from Atlas Cider to Avid Cider Co. in May of this year, the Bend based cider maker opened its long awaited Avid Cider Co. Cider House in Portland's Pearl District.
In early May of this year it was confirmed that Atlas Cider and Atlas Brew Works from Washington DC settled on a change in name of the cider. Now with the change of name behind them, Avid Cider Co. discretely opened its Pearl District taproom and restaurant in time for the extended Labor Day Weekend.
It was announced a year ago in July that the then Atlas Cider would be taking over the prime retail spot of the newly build Couch 9 Building located on the Northeast Corner of NW Couch and NW 9th Avenue. This location offers up 3,598 square feet of ground floor retail below the 135 new apartment units above the cider house.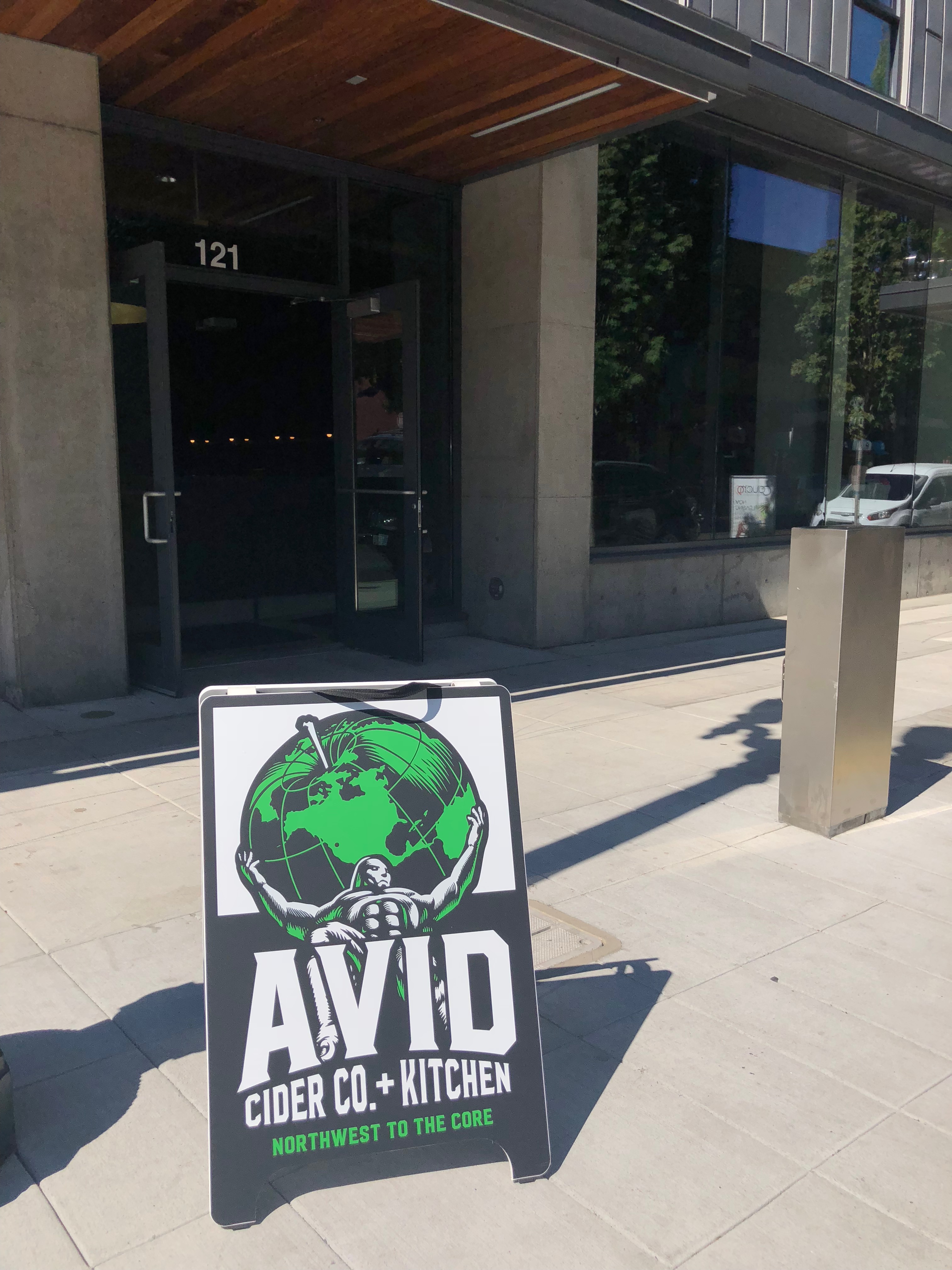 Due to this recent name change, the new Avid Cider House has very limited exterior signage except for a sidewalk A-Frame sign. This will surely change in the coming weeks.
Once inside this new space a strong sense of retro, yet modern décor radiates from the interior. The bar is a feature focal point with its elongated u-shaped design. It's here where six Avid Cider Co. ciders pour next to ten guest taps of craft beer. Yes, that's correct as Avid features a rotating list of 10 craft beers! There are even USB ports under the bar for bar seating to recharge your smart phone.
Out from the bar area is the dining seating that offers up both tables and bench seating. Then along Couch Street there are larger booths that sit next to large windows that open to the sidewalk. On the other side of the windows is outdoor seating that overlooks the revamped Splash Ultra Lounge that sits across the street.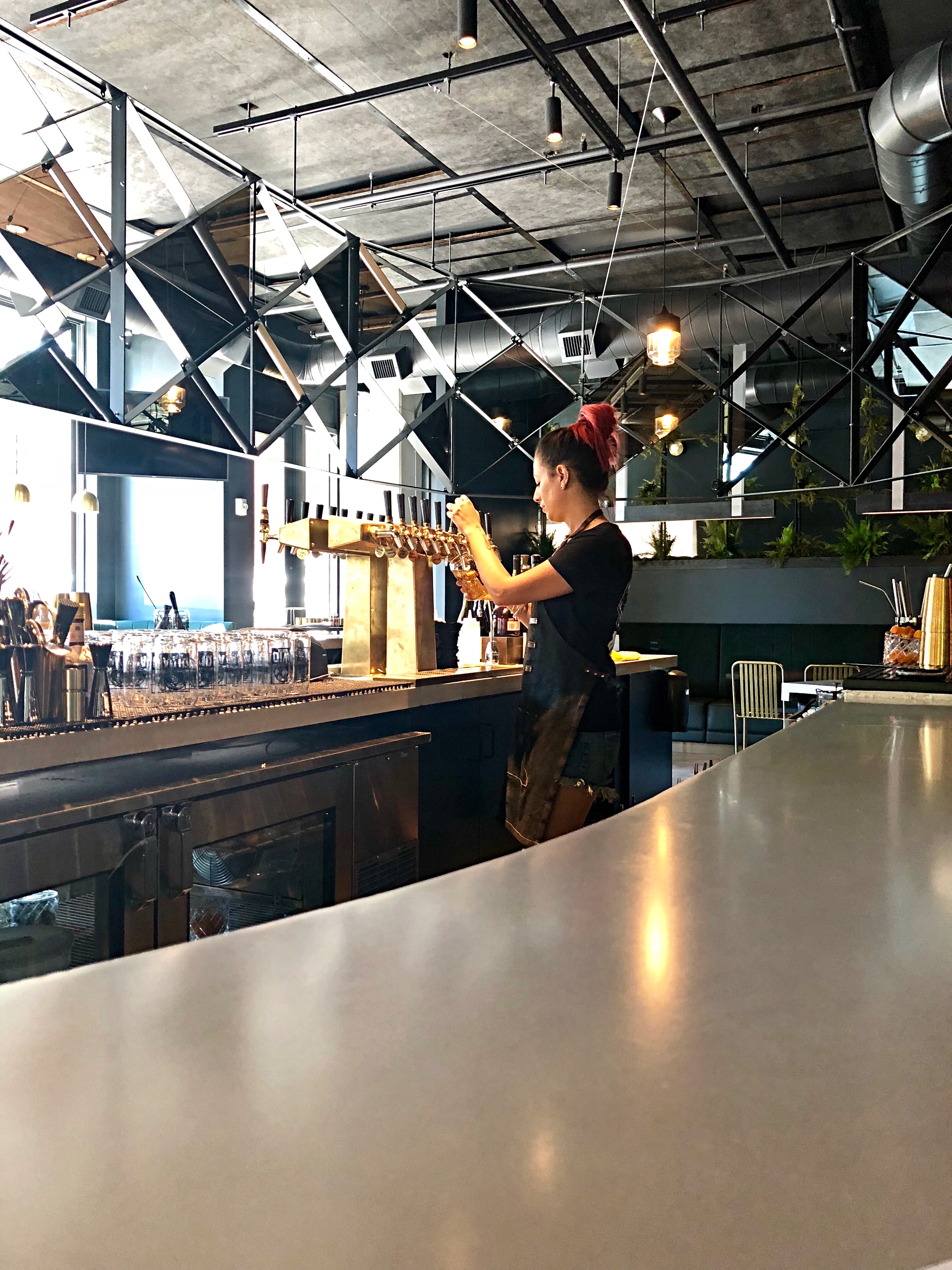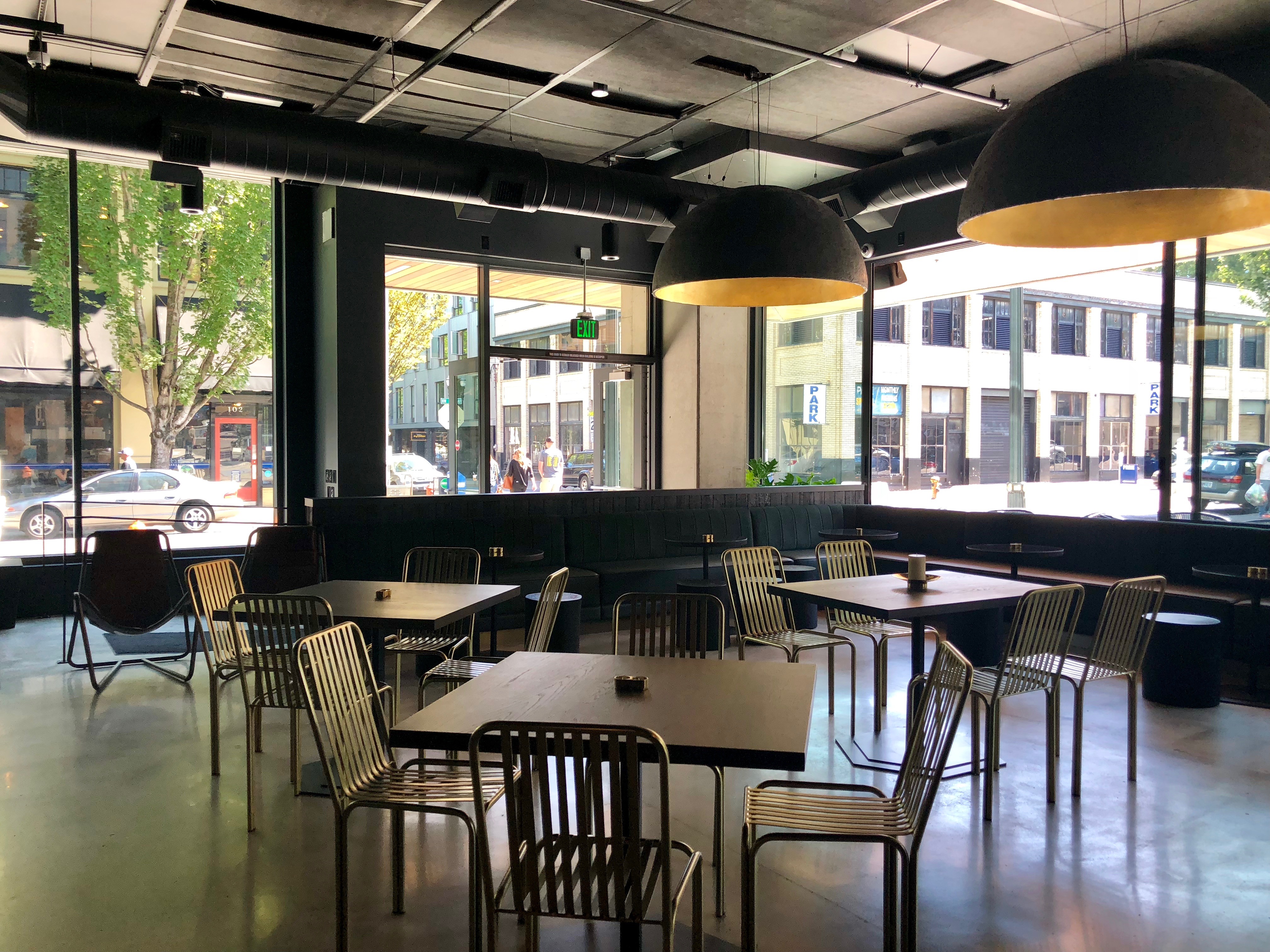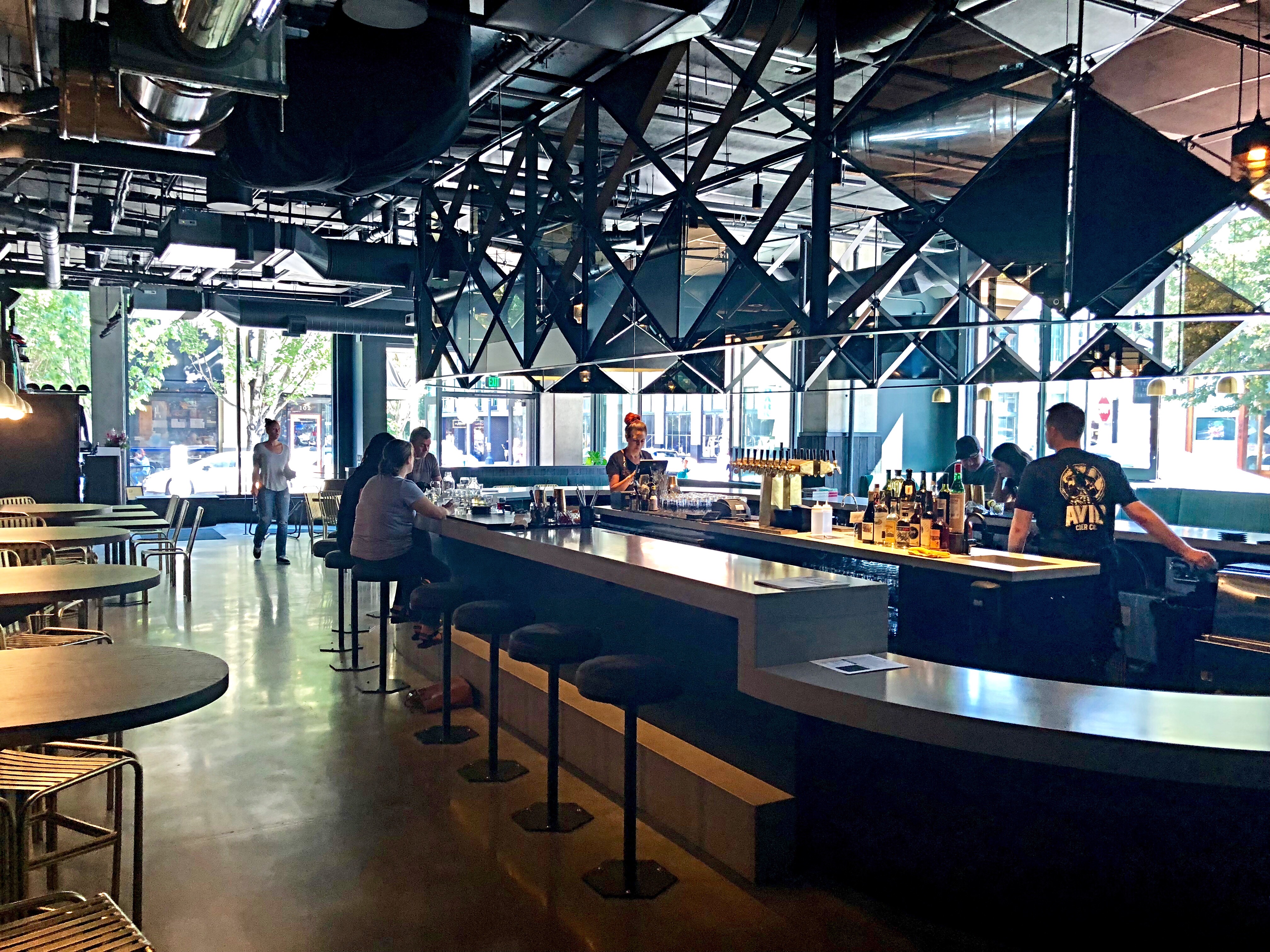 For sporting events Avid Cider boasts two TVs and one large screen. When asked if they'd be showing Timbers matches we were told that this is in the plans. We also imagine them showing Trail Blazer games as Avid Cider is the NBA team's official cider.
In addition to the pints of beer and cider, Avid Cider also offers up a 6 cider and/or beer taster tray. Once can also get a bit creative by ordering a cider blend such as a Blackberry Dragon or blend a cider and a beer for a snakebite. The bar also features a limited spirits menu that is mainly used for its intriguing list of six cider cocktails.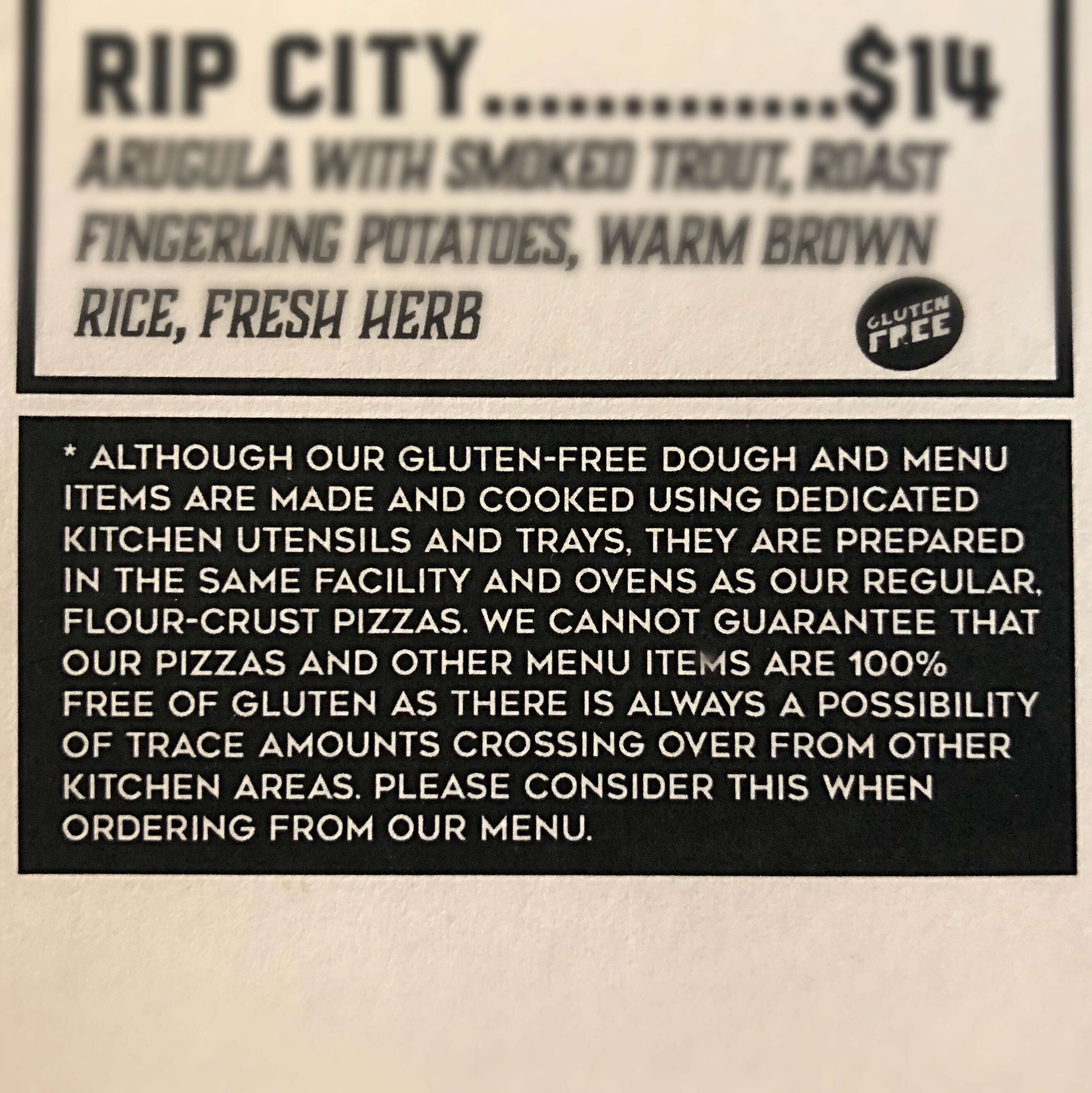 The food menu focuses on pizza, salads and a few appetizers. Since it's a cider house it's a bit strange to feature pizza as its main food item as many cider drinkers seek out a gluten-free lifestyle. That said, Avid Cider does offer a gluten-free pizza crust.
During our visit we ordered the meatless Manama pizza and were impressed. This 16" pizza was perfect for sharing and featured a nicely done charred crust. The arugula draped across the mozzarella, roasted red peppers and garlic cloves, onions and mushrooms led to a delightful lunch. Only aspect of the pie that could use a bit of improvement is with the sauce as it could use a bit more zest to it!
Avid Cider Co. Cider House is open in Portland's Pearl District daily from 11:00am-11:00pm. All ages are welcome in the dining area.
Avid Cider Co. Cider House – Pearl District
121 NW 9th Avenue
Portland, Oregon 97209