Celebrate Oregon Cider Week with Cider Riot!
|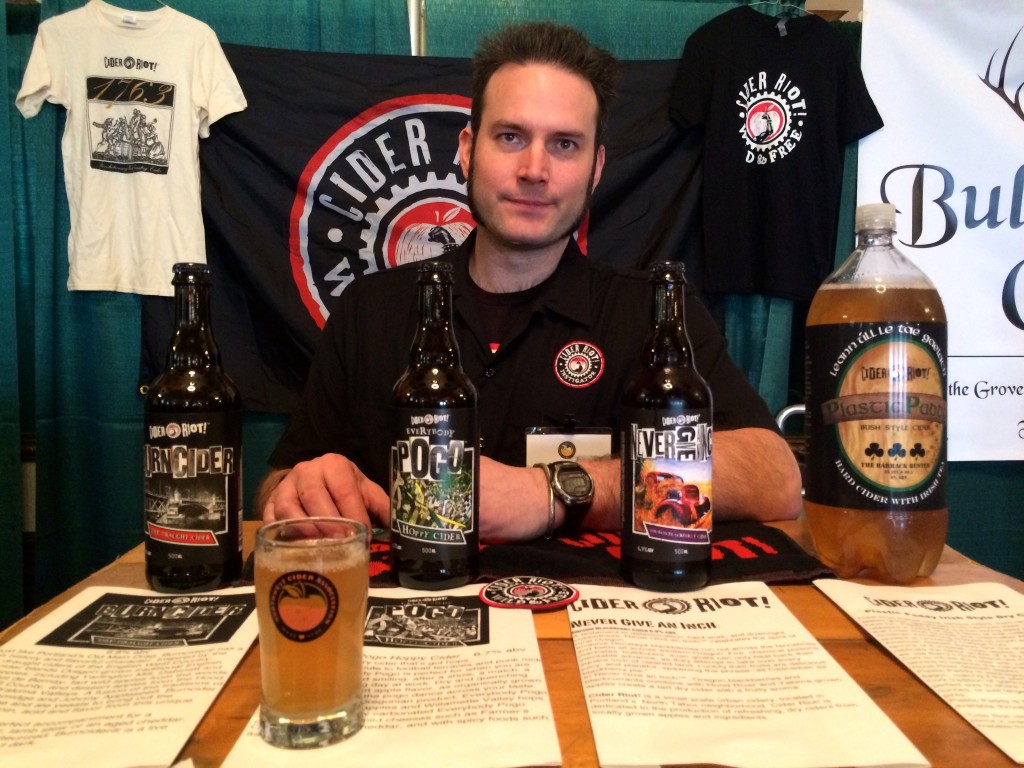 With the 4th Annual Oregon Cider Week upon us, Cider Riot! has a few events lined up during this 11 day celebration that takes place from June 18-28. This week will be a busy one for cider lovers as well as for the folks at Cider Riot! as they are part of Cider Summit PDX, a dinner at Bushwhacker Cider, OMSI After Dark, Women's World Cup Beer Garden at Bazi and many more events.
Here's a rundown on where Cider Riot! will be over the coming Oregon Cider Week.
Cider Summit Portland
Friday June 19, 2-8pm, and Saturday, June 20, 12-6pm, The Fields Park NW 9th and Overton
Cider Riot! and 50 other cidermakers from around the world will pour their wares at this two day festival. Cider Riot unveils a limited release Cherry Brettanomyces cider aged on Bogmyrtle, in addition to our standard and seasonal offerings.
Cider Riot! Dinner at Bushwhacker Cider Woodlawn
Tuesday, June 23rd Bushwhacker Woodlawn. 6.30pm. $50/ticket
Tickets available at Bushwhacker Cider- limited to 25 seats.
Join Cider Riot! at Bushwhacker Woodlawn for their first Cider Dinner
Menu:
Amuse Bouche
Kingston Black cider vinegar with Olive Oil and Baguette
paired with Cider Riot! Burncider Dry Draught Cider
Course the First
Salmon Tartare with Grilled Honey vegetables
Paired with Cider Riot! Lavender Cider
Course the Second
Grilled Romaine Caesar Salad
paired with Cider Riot! Lemmy's Summer Camp
Course the Third
Smoked Grilled Pork Belly with Grilled Polenta Cakes
paired with Cider Riot! 1763
Afters
Gorgonzola Cheese Cake
paired with Cider Riot! Never Give an Inch Oregon Blackberry Cider
OMSI After Dark-Cider Night
Wednesday, June 24th, 7-11pm OMSI,
Join Cider Riot! and other Northwest cidermakers for samples and informational presentations, including the History of Cidermaking, presented by Cider Riot!'s Abram Goldman-Armstrong, and Cider Tasting 101, by Swift Cider's Aidan Currie.
Women's World Cup Quarterfinal Cider Riot! tap takeover at Bierbrasserie,
Hawthorne and 32nd Ave.
Friday June 26th, 3-8pm
Watch the Women's World Cup while enjoying Cider Riot! ciders and house-made cider cocktails, at Portland's premiere Belgian bar. A drawing will be held for a Cider Riot! soccer scarf.
Corvallis Brewing Supply- Cider Riot! Sampling
Corvallis Brewing Supply, 119 SW 4th St, Corvallis, OR 97333
Saturday June 27th, 2-5 pm
Join Cider Riot!'s Izaak Butler as he samples limited edition ciders and our latest 2-liter offering, Lemmy's Summer Camp Meyer Lemon Cider.
The 9th Annual Clackamas County Lavender Festival
June 27-28th, 10am-5pm
Oregon Lavender Farm, 20949 S. Harris Road, Oregon City, Oregon 97045
Enjoy pints of a limited edition lavender cider made with lavender from the Oregon Lavender Farm and Everybody Pogo Hoppy cider.