Cider Riot! Pub Opens To The Public Today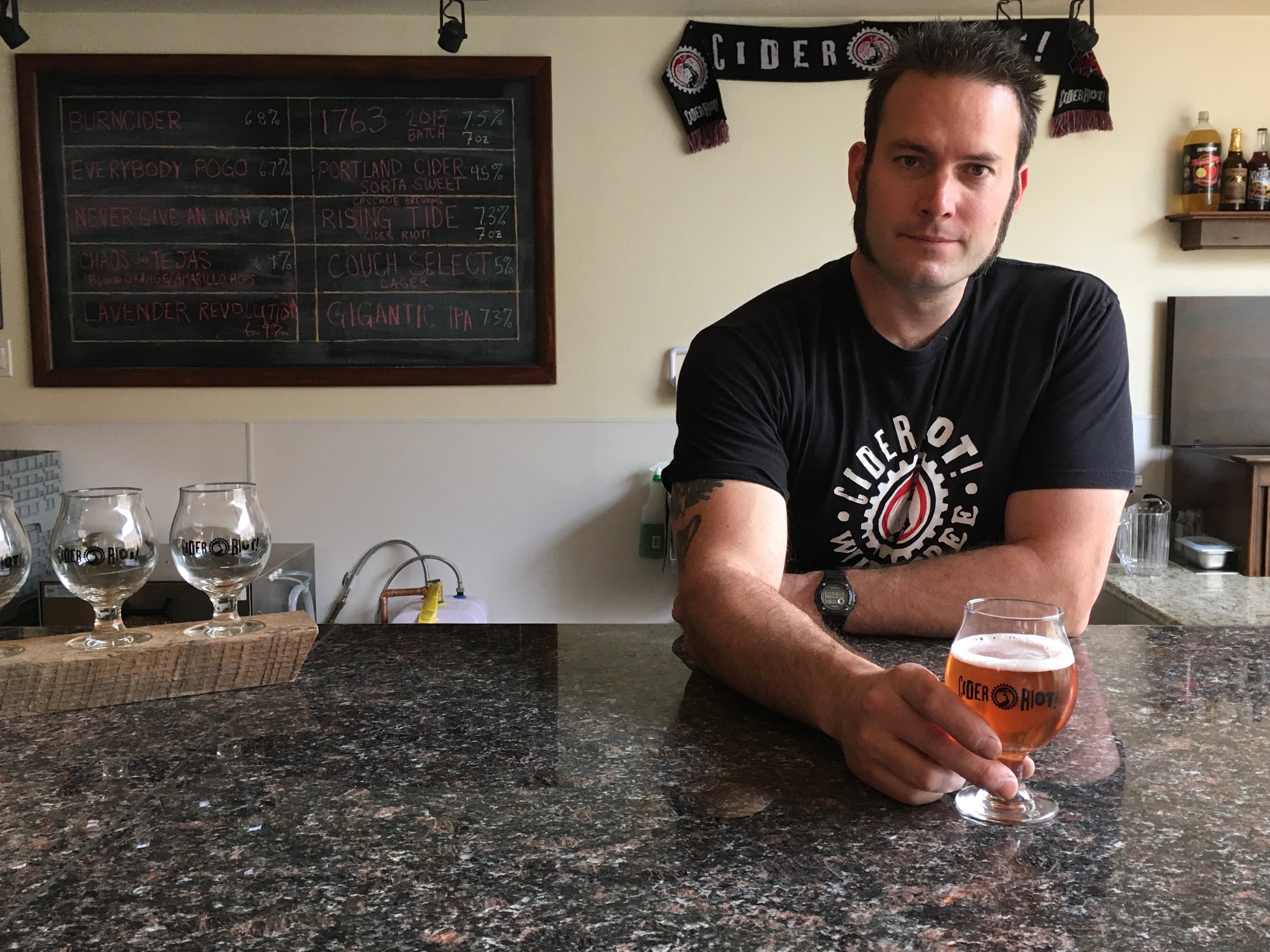 Fresh off its recent Best of Show – Runner Up for its 1763 Revolutionary West Country Cider at the 2016 Portland International Cider Cup, Cider Riot! will open its Cider Riot! Pub today at 4:00pm. After more than two years of producing its cider inside his back garage, founder and owner Abram Goldman-Armstrong will open to the pubic at his soon to be operating expanded cidery located at 807 NE Couch Street.
This past January, Cider Riot! took possession of this 7,300 square feet property in inner Northeast Portland. The cidery will soon begin production here but prior to that it will open its very own Cider Riot! Pub. Open from Thursday through Sunday, Cider Riot Pub! will be home to a newly remodeled 49 seat pub. Inside cider fans will find eight taps of cider and two taps of local craft beer from breweries that serve Cider Riot! either on draft or in bottles.
Armstrong is excited to finally offer his cider to the public in a space that is inviting and one that allows his friends with children to attend as minors are allowed until 7:00pm.
"We're elated to be able to share our ciders directly with our customers," stated Cider Riot! founder Goldman-Armstrong in a news release. "The pub will allow us to showcase our limited release and small batch ciders, along with the core lineup and beers and ciders from some of our favorite local producers."
The pub space is very open and features a lot of re-salvaged wood. The re-salvaging of wood is something that Armstrong did has a career prior to opening Cider Riot!. There are a good amount of tables and a bar that takes up this space in a converted film studio space and offices. Music will be provided from a turntable in an old stereo and TV cabinet that also features an 8-Track Player. And up front there will be two English style dartboards to give the place a nice pub vibe.
Outside, Cider Riot! Pub offers up even more space on its patio. This area is also home to its resident food cart, Ramy's Lamb Shack that features local organic lamb kebabs, gyros, and falafel with vegan and gluten free options.
On the production side, Cider Riot! is weeks away from producing its cider at its new home. The cidery will continue with its 500 ml bottles and 2-liter bottle offerings and quite possibly a 12 oz. can in the future. Once online this will allow for Cider Riot! to reach more cider drinkers in the Pacific Northwest.
"We're very happy to be walking distance from a half-rack of breweries and distilleries," writes Goldman-Armstrong. Cider Riot! Pub is located across the street from Burnside Brewing and within a fifteen-minute walk from a dozen more breweries.
Swing by Cider Riot! Public House on Saturday, August 13, as the cidery will host the KBOO Book and Record Sale that benefits its nearby neighbors, KBOO Community Radio Station. The KBOO Book and Record Sale will take place from Noon until 7:00pm.
Cider Riot! Pub Hours:
Thursday: 4:00 – 9:00pm
Friday: 4:00 – 9:00pm
Saturday: Noon – 9:00pm
Sunday: Noon – 6:00pm
Here are more photos from Cider Riot! Pub.
Cider Riot! Pub
807 NE Couch
Portland, OR 97232
About The Author
DJ
D.J. is a Portland, Oregon based writer that spent his formative years in the Midwest. With over 25 years under his belt of drinking beer at festivals across America and the world, he has developed a strong appreciation and understanding of craft beer and the industry that surrounds it. He can be found in any of the great breweries or beer bars that make Portland the best beer city in the world. His writing can also be found in the archives of Northwest Brewing News and can be followed on Twitter and Instagram at @hopapalooza.