Cider Summit Seattle Announces Its 2017 Cider Lineup
|
Seattle, WA (Aug. 16, 2017) – Cider Summit Seattle today announced the final lineup of 200 selections of cider from 57 producers, including regional favorites and international classics. Cider fans will have the chance to taste a vast majority of ciders from the NW region, as well as ciders from seven different states and five countries, with 80 selections never poured at previous events. Guests will also be able to discover new and unique ciders, as well as cider cocktails, and food from various local vendors, click here for the full list of producers.
The 8th annual, Cider Summit SEA, the region's largest hard cider tasting festival, takes place Sept. 8th and 9th at the South Lake Union Discovery Center Lawn, 101 Westlake Ave. N. near Westlake & Denny. Event hours are Sept. 8 from 3pm to 8pm (VIP session starts at 2pm) and Sept. 9th from noon to 5pm.
Final Programming & Event Highlights:
Sip from 200 cider selections poured from 57 cider vendor booths
Taste 12 new cider makers, and 80 selections never previously poured at the event
Showcasing ciders produced in 7 different states and 5 countries
Ciders presented are 75% from Northwest region
Sip 18 ciders created for the Oregon Fruit Products Fruit Cider Challenge. Winner determined by attendee text voting during event hours.
Enjoy the featured cider: Finnriver Cider Summit Collaboration Farm Crafted Saison Cider, created to celebrate the 2017 series of Cider Summit festivals.
Sample cider whiskey and cider cocktails from Seeds Cider Whiskey & Rendle's Original Gin
Indulge on specially paired food selections, available for purchase from Whole Foods Market & Capitol Cider
Savor small bites from Krave Jerky, SUSU rolled ice cream, Simply Kettle Corn, Alaska Bug Bites & more!
Enjoy apple juice samples from Hood River Juice Company
Hang out in the "Dog Lounge", with spa services sponsored by Downtown Dog Lounge & Seattle Humane
Shop the event store, featuring bottles-to-go, extra tasting tickets, t-shirts, dog collars & leashes, cider books & more!
ReachNow will provide free rides home on Sept. 9th from 3p-5p, for those that sign up for their service during the event.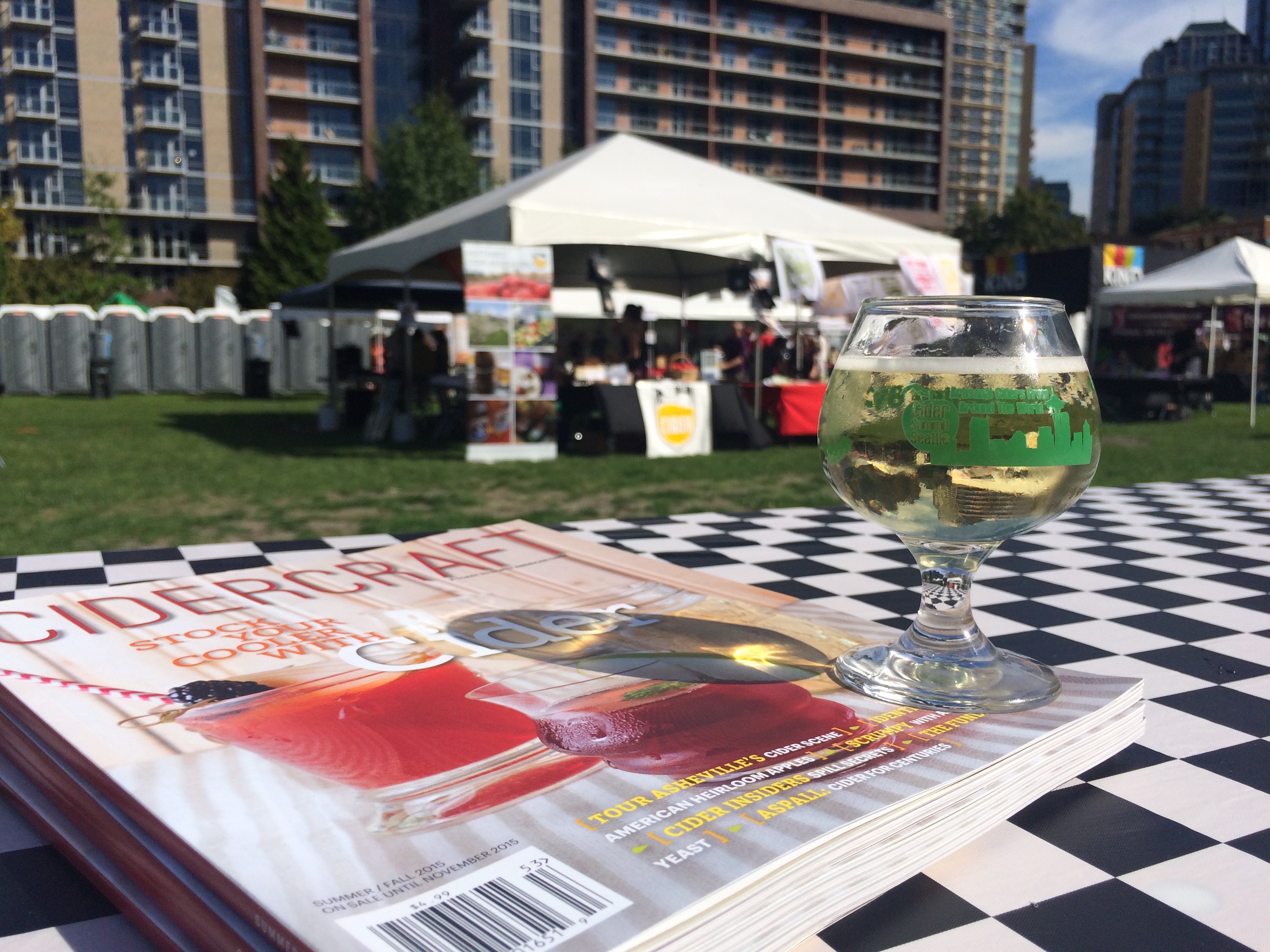 General admission tickets include a souvenir tasting glass and eight tasting tickets, purchase tickets at Capitol Cider or online for $30 plus taxes & fees. Online ticket sales end at 11:59pm on Thurs., Sept. 7th, or tickets will be available at the gate for $45 cash, all taxes & fees included. VIP tickets include a souvenir tasting glass, exclusive entry from 2pm-3pm on Sept. 8th, and 12 tasting tickets, costs $40 plus taxes & fees, purchase exclusively online, with limited quantities. Additional tasting tickets are available onsite for $2 each.
Designated Driver tickets are available at the gate for $5, and include a bottle of water. No alcohol may be consumed with a Designated Driver ticket. Attendees have full in-out privileges throughout Friday and Saturday, as long as they keep their event wristband on, and have their event glass.
Cider Summit SEA is presented by Whole Foods Market.  Supporting sponsors include Capital Cider, Amazon.com, Oregon Fruit Products, Hood River Juice, KRAVE Jerky, Downtown Dog Lounge, ReachNow, Umpqua Bank (SLU), and Click Wholesale. Media partners include CIDERCRAFT Magazine, The Stranger and KEXP. The event is a benefit for the Northwest Cider Association, Seattle Humane, and The Institute for Myeloma & Bone Cancer Research.
Please note: dogs of any age are welcome, but humans must be 21 & over – no exceptions.
For the full lineup of cidermakers and ciders available for tastings at the event, visit: cidersummit.com and stay up to date on additional details on Facebook and Twitter #CiderSummitSE