CiderCon 2021 Goes Virtual In February 2021
|
The American Cider Association is thrilled to celebrate the return of their annual global cider conference—​ ​CiderCon®—​ ​taking place February 3-5, 2021. In its 11th year, CiderCon® is taking advantage of the opportunity to debut a virtual event that will adapt many of the beloved CiderCon® traditions to the virtual landscape. CiderCon® is the largest professional cider conference in the world and event organizers expect this year to attract even more global attendance thanks to the virtual platform.
With three full days of online programming, highlights for CiderCon® 2021 include:
30+ educational sessions from cutting edge beverage, business and cider experts from all over the world.
A Virtual Trade Show, sponsored by F​ruitsmart,​ with the impressive vendors that attendees have come to expect from CiderCon® and some new additions.
A special VIP CiderCon® swag bag sale will help raise funds for the C​ider Production Education Fund​ set up by the C​ider Institute of North America (CINA).​ CINA will match all donations until they meet their goal of three full scholarships for their online Foundation class in 2021.
Bulk discounts for companies purchasing multiple tickets for CiderCon®, not to mention a lower price tag for the conference due to its online format.
CiderCon® 2021 will host many speakers including four to be featured on the main stage sponsored by Fintech:
Anna Nadasdy of Fintech's InfoSource® will be the opening speaker discussing key market data insights relevant to the cider industry.
Justin Doggett of Kyoto Black Coffee will share his insights as a small-scale beverage producer during Covid-19.
Dr. J Nikol Jackson-Beckham of Crafted For All will address the many ways in which to improve equity and inclusion in the cider industry and beyond.
Michael Uhrich of Seventh Point Analytic will share economic insights that are critical to business planning in today's market.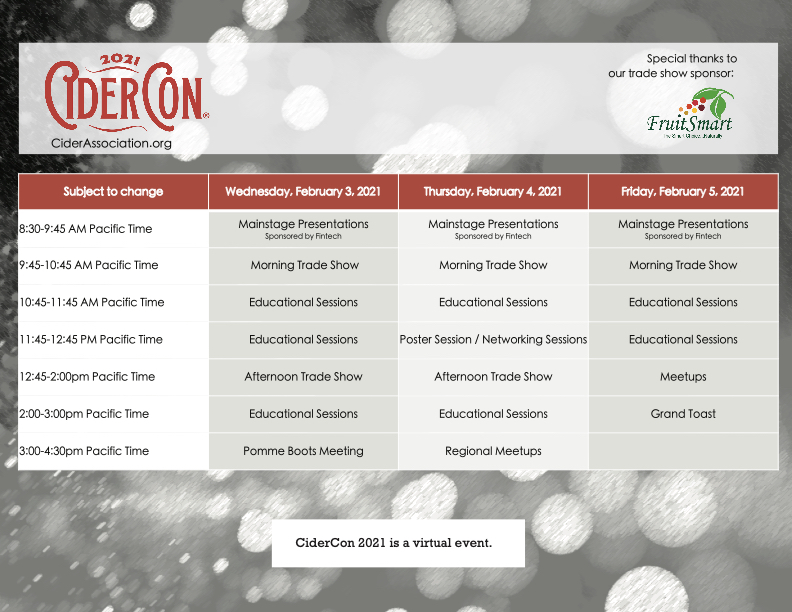 Beyond the main stage educational workshops offer a range of topics. The conference production track, co-sponsored by ​CINA,​ will include talks on carbonation methods, cider blending, co-fermentation and canning issues. Additionally, attendees can expect sessions on HR, apples, market trends, compliance and more.
It's been a longstanding tradition for the beloved festival called Cider Summit to happen the Saturday following CiderCon® when it is held in Chicago. Since this year's Chicago CiderCon has transitioned to a virtual event, Cider Summit has done the same. ​Cider Summit created two festival to-go tasting kits. The assortment of eight ciders from Vermont to California is available for purchase and shipping on their w​ebsite​.
CiderCon® 2021 is open to everyone, including cideries, cider enthusiasts, supporting businesses and more. Those interested can learn more about CiderCon® and the American Cider Association on its w​ebsite​.