Double Mountain Releases Iris Ice Cider and Little Martha Old World Perry
|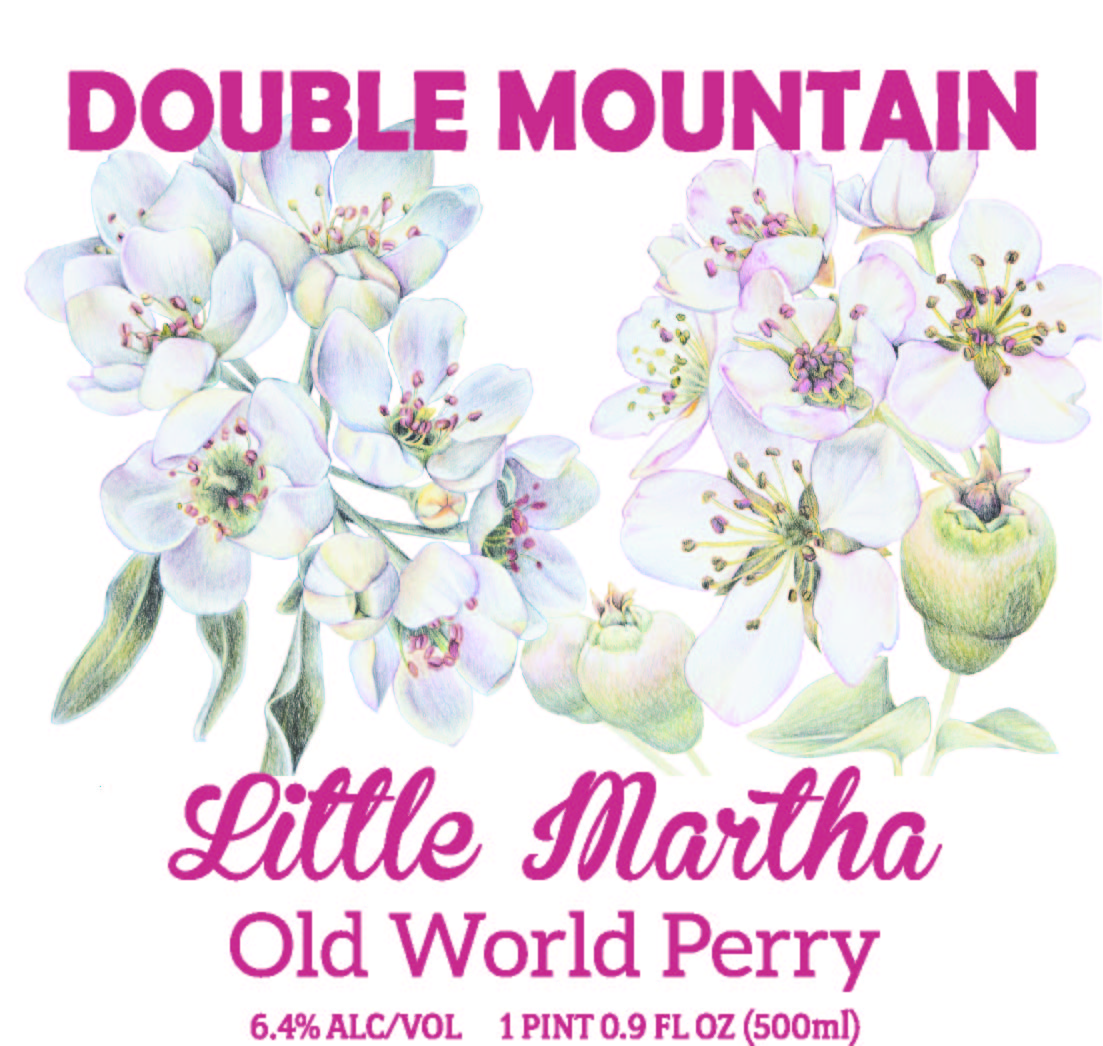 Hood River, OR – February 2022 – Double Mountain Brewery & Cidery is excited to release two special, limited-release ciders. We've had a chance to experiment with all things apples and pears in our hard-working cider and are thrilled to share our creations.
First up is Iris Ice Cider. In the extreme northern latitudes of North America and Europe, traditional ice cider takes either fruit that has frozen on the tree, or freshly pressed juice and freeze crystallized to concentrate the natural sugars in the apples. We juiced a blend of 20 local heirloom apple varieties and partially froze the press to create a wine strength cider with deepened and intensified flavors. After a long cool fermentation, the ice cider was aged in new Missouri oak barrels for up to a year, giving the cider some natural vanilla notes and light oakiness. The resulting cider is akin to a light Riesling or Chardonnay that is packaged still and uncarbonated. Sublime and rich with fruit aromas and natural tannins.
Our cousin offering is Little Martha, Old World Perry. Traditional Perrys are made from heirloom pear varieties from England and France. The pears are small misfits of the pear world, tannic, astringent, rustic and aggressive in their flavors. Lucky for us, we have a partner orchardist in Parkdale Oregon that is experimenting with these varieties and is helping us develop our own unique approach to Old World Perrys with his transplanted European varieties. Little Martha offers aromas of cherry blossom, wildflower, light vanilla, and fresh applewood. Dry tropical citrus and Meyer lemon aromas round out this clean pear cider, making it lightly tannic and slightly tart.
The amazing label art was created by the very talented Audrey Bernhardt (ig @audreymaeart). Local to Hood River, Audrey's art can be seen all around the area and is the perfect match for Double Mountain ciders.
Double Mountain Ciders and Perries are gluten-free and available in refillable 500ML bottles and draft at our Hood River Taproom, SE Portland Taproom in the Woodstock neighborhood, and throughout the Northwest.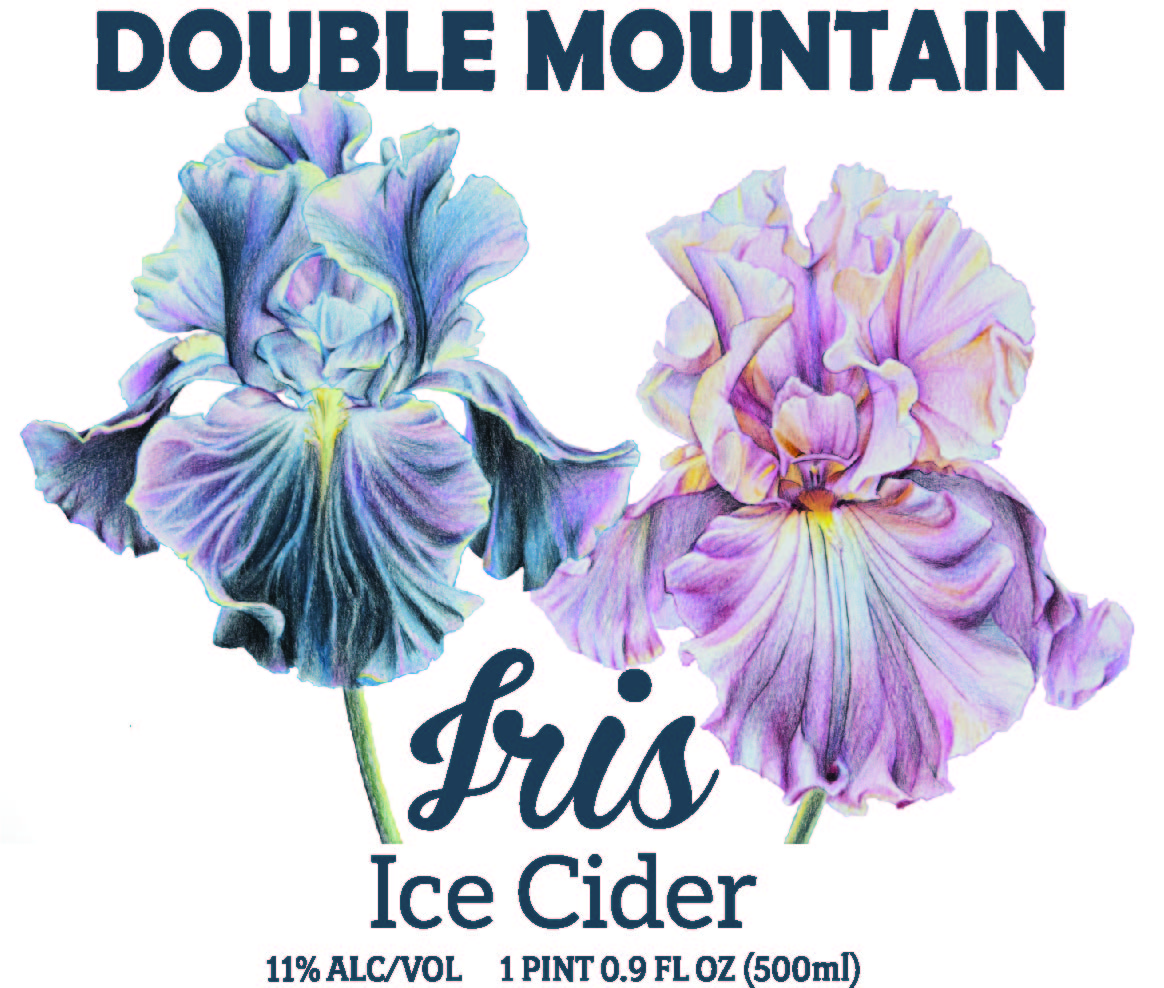 Iris Ice Cider 11%
"With each passing growing season, I get closer and closer to being a winemaker. The Iris Ice Cider is our most unique cider to date and I'm looking forward to many years of exploring the great possibilities of the cider arts ". Matt Swihart, Brewmaster.
Little Martha Old World Perry 6.4%
"An English perry pear might be too tannic or acidic to even take a bite out of, but blimey they make a great perry! Usually hard and small, these varieties were not bred to be baked into pies or eaten fresh off the tree; they were bred to ferment and make complex unique Perry!" Ryan Carnall, Lead Cidermaker
About Double Mountain Brewery and Cidery:
Double Mountain Brewery and Cidery was established in 2007 in the heart of downtown Hood River, OR. Founder, Matt Swihart, opened the brewery with a clear mission: make great beer for craft beer fans. The unique location of Double Mountain provides the use of pure and clean glacial water
for beers and ciders, while also taking advantage of regionally grown hops. Reusable bottles allow customers to partake in a softer environmental footprint, affirming they are part of a sustainable future. Double Mountain may be found on tap and in bottles throughout the Pacific Northwest.