English Pub Cider is Now Available in Cans from Portland Cider Co.
|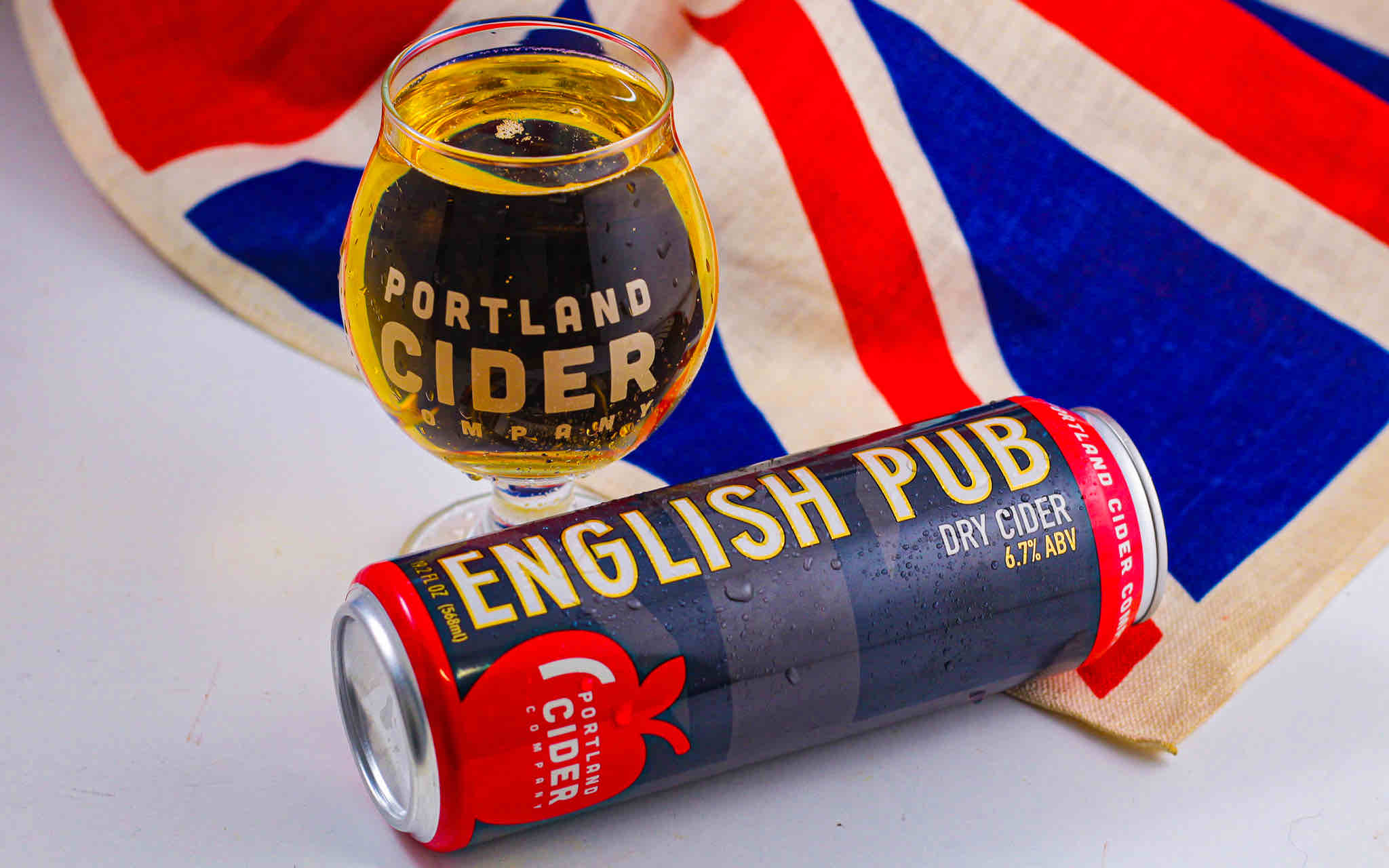 CLACKAMAS, Ore. – December 2, 2021 – A fan and crew favorite at Portland Cider Co. has made the leap from tap to cans, and is now available for cider fans throughout the Western states to enjoy. The company's English Pub Cider has been a taproom exclusive for the past five years, and is now available in 19.2 oz "Proper Pint" cans.
This cider was inspired by the roots of Portland Cider itself, the marriage between traditional West Country English-style cider and Pacific Northwest apples mirroring the union of Portland Cider co-owners Lynda Parrish, a Somerset native, and Jeff Parrish, born and raised in Eugene, Oregon. The result is a unique, tannic dry cider, bursting with the flavors of more than 30 traditional cider apple varieties grown in Oregon's Yamhill County. The cider has been aged for more than two years, giving it a taste that is complex but smooth.
"If you ask our production and sales teams what their favorite cider is, English Pub is always at the top of their list—and with good reason," shared Deron Davenport, head cider maker at Portland Cider Co. "It's distinctively dry and rich in tannins, and the aging process really sets it apart. You know it's special when the crew is this excited to have it in cans!"
The cider weighs in with an ABV of 6.7%, pouring a light golden color.
"It's quite rare to find this style in anything but a 750 ml bottle," said Lynda Parrish. "The portable, convenient 19.2 oz cans will help introduce one of our own favorite styles to a whole new segment of cider fans."
Portland Cider Co.'s English Pub Cider is available in 19.2-oz. cans and limited draft kegs. As always, it's available at both of the company's two taprooms and will soon be on the shelves at select retailers in Oregon, Washington, Northern Idaho, and Northern California. Learn more at PortlandCider.com/English-pub, and use the company's Cider Finder to locate English Pub Cider retailers.
About Portland Cider Company
Portland Cider Company was started in 2013 by an Oregonian and a family of British expats with the mission of bringing cider, handcrafted in the English tradition, to the Northwest. Portland Cider has two taproom locations, including the Portland Cider House at 3638 SE Hawthorne Blvd., Portland, OR 97214 and the Clackamas Pub & Cidery at 8925 SE Jannsen Rd, Bldg. F, Clackamas, OR 97015.