Fall Is Around the Corner with the release of Pumpkin Spice Cider from Portland Cider Company
|
CLACKAMAS, Ore. – August 26, 2021 – There's a feeling of fall in the air, the sunlight is a little more golden, and the Pumpkin Spice Cider is ripe and ready to drink at Portland Cider Company. This fan-favorite release contains crisp Northwest apples paired with warm autumn spices like cinnamon, clove, nutmeg, ginger and allspice, incorporating all the best flavors of the season.
The overwhelming popularity of Pumpkin Spice Cider last fall prompted the company to add 12-ounce six-packs to the lineup this year, joining the previous year's draft and 19.2 oz can options. The semi-dry cider has an ABV of 6%, and pairs well with pork chops, roasted sweet potatoes, and cinnamon sugar donuts.
"We think these Pumpkin Spice six-packs will be perfect for sharing at fall holiday celebrations with family and friends," said Lynda Parrish, co-owner at Portland Cider Co. "This is a cider that sets a cozy autumnal mood, whether enjoyed with a hearty feast, around a backyard fire pit, or indoors on a chilly evening with your favorite blanket and a book."
When the cider first debuted in 2017, it was awarded Double Gold at the Cidercraft Annual Awards and Gold in the U.S. Cider Open. Just this year, it was also awarded a silver medal in the 2021 New York International Cider Competition.
The limited seasonal Pumpkin Spice Cider is available through October at Portland Cider Co.'s two taprooms and will be on the shelves at select retailers in Oregon, Washington, Northern Idaho, and Northern California. Learn more at PortlandCider.com/pumpkinspice, and use the Cider Finder to locate Pumpkin Spice retailers.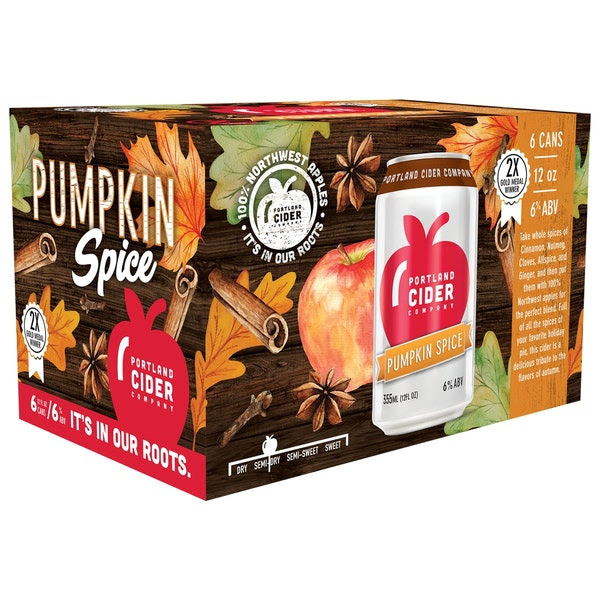 About Portland Cider Company
Portland Cider Company was started in 2013 by an Oregonian and a family of British expats with the mission of bringing cider, handcrafted in the English tradition, to the Northwest. Portland Cider has two taproom locations: the Portland Cider House at 3638 SE Hawthorne Blvd. and the Clackamas Taproom and Cidery at 8925 SE Jannsen Rd, Bldg. F, in Clackamas. Since opening, the cidery has won more than 100 awards for its products and taprooms, including being named Best Cider House and Best Cidery in Portland.