NW Cider Club Launches Fruits of the Harvest Cider Box
|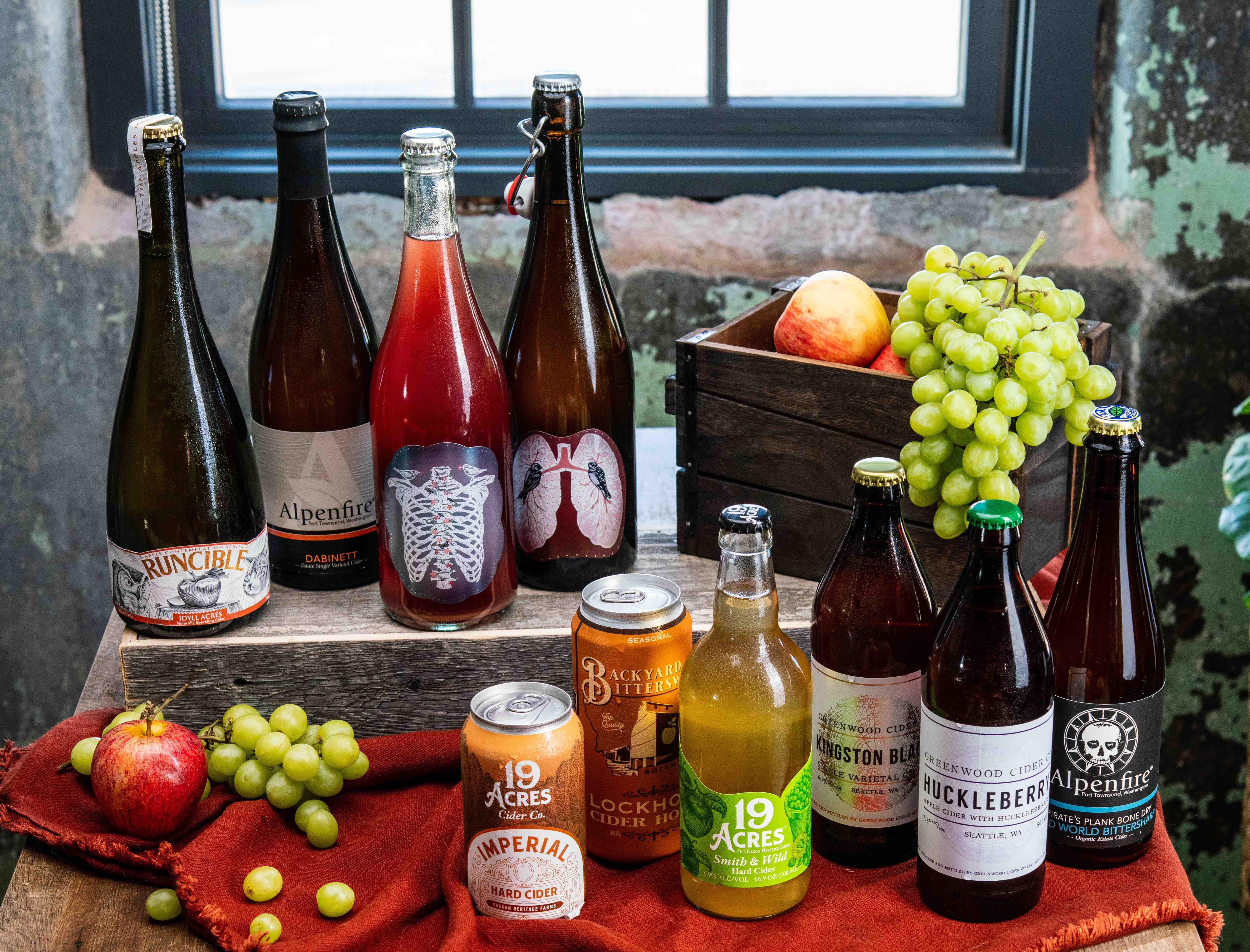 PORTLAND, OR. (July 22, 2022) – For those looking to discover cider styles and brands they love, this box is for you. The Northwest Cider Club's newest box release, "Fruits of the Harvest," is a collection of top ciders, unique styles and compelling fruit blends from the country's largest apple growing region – the Pacific Northwest.
Curated by industry professionals and geared toward both the cider curious and aficionados alike, this season's autumn themed collection of hard-to-find ciders highlights fruit blends with classics – a variety that showcases cider's versatility and growing popularity.
From branch to stem, bush to berry, and vine to cluster, this gathering of ciders celebrates a variety of fruit harvested in the region. The Cider Club subscription – or one-time box – features 10 unique sippers from six craft makers in Oregon, Washington and Montana, all delivered to the door. People can join the club, give a membership or order a one-time box by 8/15 for early September shipping.
Each box is curated by a professional team of cider experts and includes four to ten ciders (see below for club options), tasting notes and cheese pairing ideas from Whole Foods' fromager. Subscriptions can be held or stopped anytime with no cancellation fees, and shipping is available to most states in the US. Shipping and handling not included in prices below.
Elevated Fruits of the Harvest Club ($89):
This cider collection invites you to taste the harvest like never before, gathering four sharable (750ml sized) bottles from Oregon and Washington. Cider and wine lovers are treated to Willamette Valley grown apples, pears, plums and grapes in Art + Science Fruit Nat; treated to the flavors of a single orchard blended at harvest in Runcible Idyll Acres; given opportunity to hone appreciation for a single apple varietal with Alpenfire Dabinett; and marvel in the magic of apples and grapes co-fermented with a 50/50 blend of Gruner Veltliner white wine from Johan Vineyards and foraged Willamette Valley apples in Art + Science Symbiosis.
Discover Fruits of the Harvest ($59):
Harvest in the Pacific Northwest is a beautiful patchwork of ripe fruit reaching readiness in the orchards and mountains, across coastlines and in the valleys of the region. Always a mixed-six selection of cider bottles and cans, the Discover Club current release is a harvest-themed cider collection. Discover Fruits of the Harvest gathers a cornucopia of tastes, inviting you to sip Willamette Valley grown Honeycrisps in 19 Acres Imperial and hand-picked wild crab apples in their Smith & Wild. Cider adventures take new heights when foraging in Washington's conifer covered mountains for Greenwood Huckleberry and travel along the Olympic Peninsula coastline where Alpenfire's Pirate's Plank is grown in a maritime climate orchard. Seattle based Greenwood ferments Snoqualmie grown Kingston Black apples into a traditional, single varietal cider. Harvest brings the community together in Montana's Gallatin Valley near Bozeman, where a collection of apples are crafted into Lockhorn's Backyard Bittersweet, a cider that also gives back with 10% of sales being donated to local nonprofits.
How does the club work?
Each subscription box is delivered quarterly in September, December, April & June. There are four club choices with varying costs:
Elevated Club includes four 750ml (wine sized!) bottles – ($89)
Discover Club offers six, hand-selected Northwest-made ciders in 12 to 16.9oz cans and bottles – ($59)
Discover 12 Club: doubles up on the Discover ciders, receiving two of each selection (a total of twelve ciders!) – ($118)
Elevated + Discover Club: includes all 10 ciders! This newer club option is the fastest growing favorite as it includes the full flight from both clubs. – ($148)
NW Cider Club is available for delivery in 39 states. Cider fans can join anytime, but should note the quantity of each selection is limited and may sell out. Join or order by Aug 15th for Fall Release, shipping in early Sept. Sign up at nwciderclub.com
NW Cider Club was launched in fall 2020 by the NWCA, a non-profit, member trade association that supports and promotes Pacific Northwest ciders to people across the nation. Cideries, who were hit hard by closures early in the pandemic, had to act fast and bring their shops online. The NWCA worked nimbly and created the club as a new direct sales opportunity for members. In little over a year the club has grown to aprox 500 members across the country.
About Northwest Cider Association 
Founded in 2010, the Northwest Cider Association (NWCA) brings cideries and cider lovers together to learn, experience and enjoy the Northwest cider culture. Representing orchardists and nearly 100 commercial cidermakers from throughout Washington, Oregon, Idaho, Montana and British Columbia, the group is dedicated to supporting, promoting and growing its thriving industry. NWCA hosts Portland International Cider Cup (PICC), Cider Symposium and runs NW Cider Club. For more information, visit NWCider.com and follow @nwcider on social media.