Portland Cider Co. Releases Strawberry Ciderade
|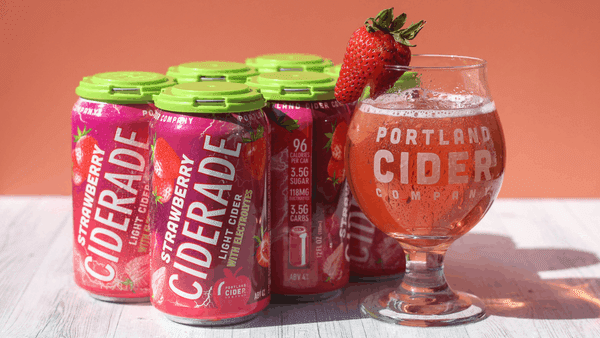 After a successful launch of its Ciderade Series, Portland Cider Co. has released its second cider in this series with the freshly canned Strawberry Ciderade. Taking over with Lemon-Limon Ciderade left off, Strawberry Ciderade will be available through August 2021 before it's replaced with Orange Ciderade in September to close out the year.
Strawberry Ciderade is made with Northwest apples and strawberries as it also incorporates electrolytes from locally sourced sea salt from Jacobsen Sea Salt Company. The cider is described as being light, refreshing, lightly tart, a splash of sweet that full of strawberry flavor at only 4% ABV.
At only 96 calories, 3.5g of sugar, and 118mg of electrolytes per 12oz can, Strawberry Ciderade is perfect for any summer activity. The new cider pairs perfectly with strawberry spinach salad, smoked salmon, stuffed bell peppers, and dark chocolate.
Look for Strawberry Ciderade in 6-pack, 12oz cans and 19.2oz stovepipe cans.