Portland's Cider Riot! is For Sale
|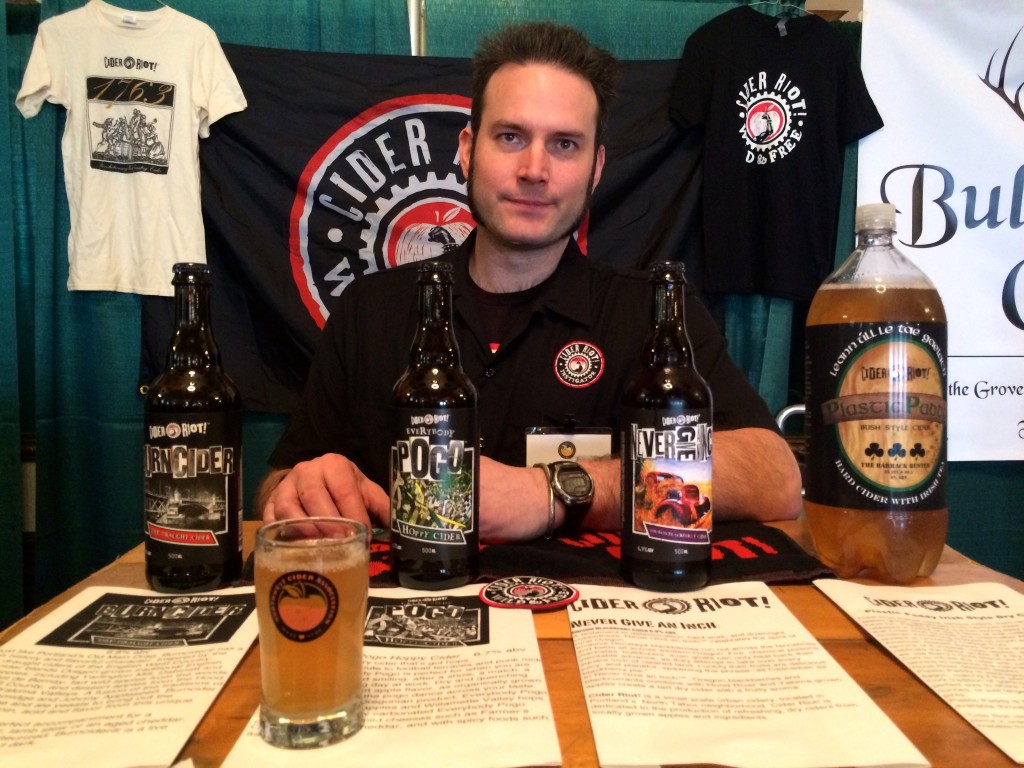 Back in 2013, Abram Goldman-Armstrong incorporated his new cider venture, Cider Riot!. That same year he successfully raised over $20K in a Kickstarter to assist in the build out of his home garage to turn it into a full fledged cidery. His brand took off and he signed to Maletis Beverage, the local Anheuser-Busch distributor that took his brand to market in full force.
He soon outgrew this space outside his house and in 2016 found a new home for Cider Riot! in Northeast Portland. This took his cidery into large 9,800 sq. ft. building that includes a 5,000 sq. ft. production space and a 2,000 sq. ft. taproom.
Since opening the Cider Riot! Pub, the cidery has hosted various events, including live music shows over the course of the pub's three years. Then earlier this year the cidery made national news on May Day (May 1, 2019) as it hosted members of Antifa when this group clashed with members of Patriot Prayer. Since this incident six affiliates of Patriot Prayer have been arrested.
UPDATE (9-21-19) – According to an article on Sept. 20, 2019 in the The Oregonian/OregonLive, an OLCC investigation states that Abram Goldman-Armstrong, the owner of Cider Riot!, "knowingly allowed his patrons to use "illegal weapons" against right-wing agitators during a May Day brawl and refused to remove unruly customers from his property".
Unfortunately the growth at Cider Riot! happened during the time that many other new cidermakers entered the market, while a few other big ones grew even larger. Then most recently, the rapid growth of hard seltzer hit the cider market in a negative way, mainly when it comes to shelf space at retailers. Go into any major supermarket and most of the facings of hard seltzer arrived on the shelf at the expense of cidermakers.
Then earlier this summer in a plea to gain additional business from cider customers to gain much needed additional business, Abram posted the following on his personal Facebook page…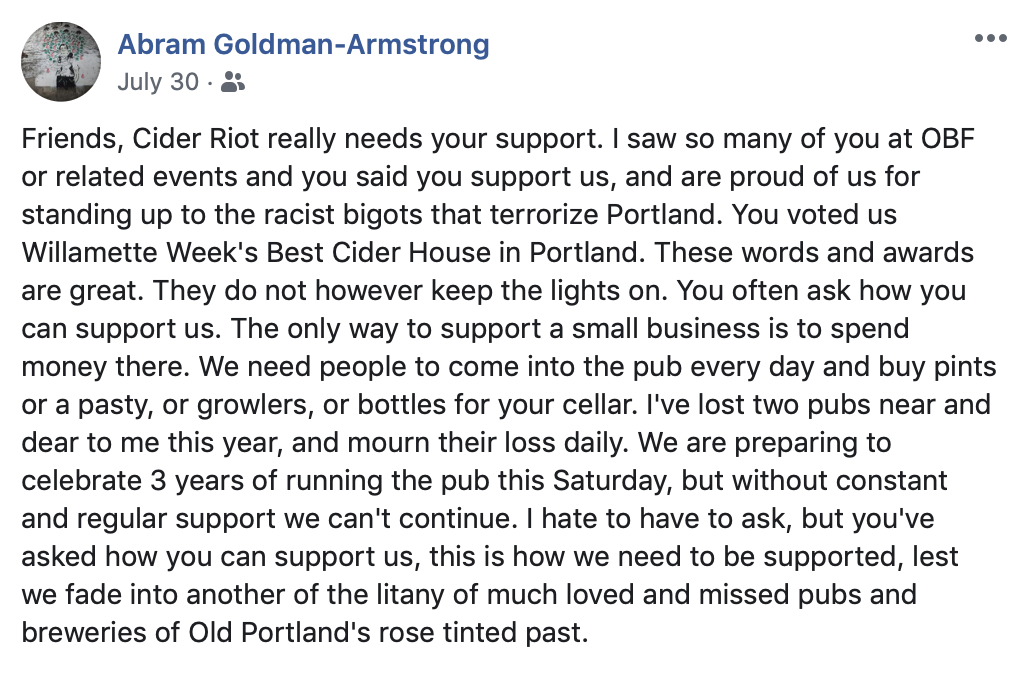 Today, Abram listed his cidery and brand Cider Riot! for sale on Probrewer.com. This cidery was listed a while back on the same website, but at that time the advertisement never displayed the name of the business.
Learn more about what went wrong at Cider Riot! from Sanjay at The Not So Professional Beer Blog where he gives some additional insight from an email that he and other investors received from the cidery.
For sale is the equipment and facility listed at $700K. If a prospective buyer wants the Cider Riot! brand and intellectual property along with the facility its listed at $875K. He is also willing to stay on with new ownership.
Cider Riot! currently ferments 1000 barrels per year in a facility built for 5000 barrels per year, with six years left on the lease. There is definitely room for someone to take this space and grow the business, thought it'll be a challenge in today's market.
Learn more about the sale here: https://www.probrewer.com/classified-ad/turnkey-production-cidery-in-close-in-portland-oregon/