Washington Cider Week Returns September 10-20, 2020
|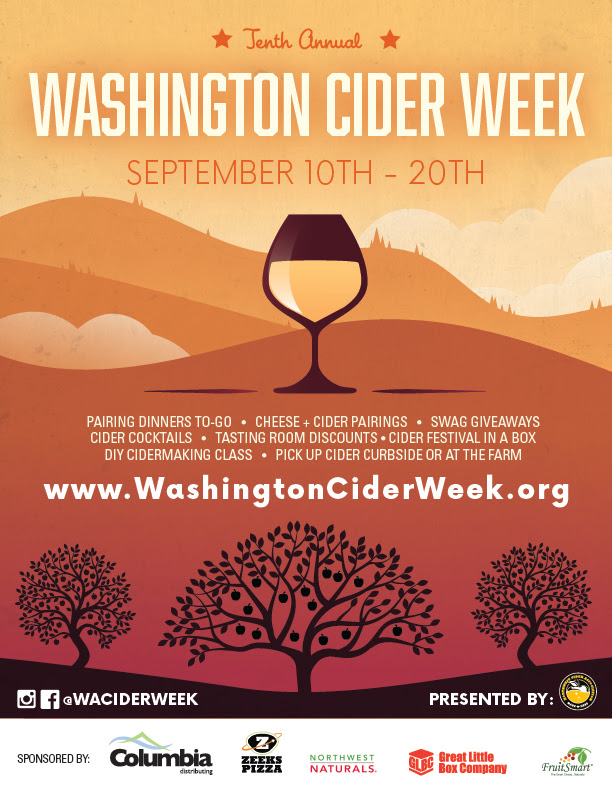 Ten years strong, this year will be a bit different when the 10th Annual Washington Cider Week returns next month. This year's cider week will take place over 11 days from September 10-20, 2020. Look for pickup pairing dinners for your late summer picnic, virtual cidermaking and cider cocktail classes to kick off conversation and even take home tasting packs to share with your pod.
Cidermakers across the state are finding ways to create connection and community, from Liberty Ciderworks' take-home tastings in Spokane to video tours of the idyllic fields at Finnriver Cidery on the Peninsula. Cider lovers can also try new fall seasonal releases from Locust Cider, Spin Cider and more! Many cidermakers, including Tieton Ciderworks and Westcott Bay, are now shipping right to your door. And even tasting kits for the biggest event of all – the Seattle Cider Summit Virtual Festival – can be delivered this year!
Washington Cider Week 2020 events are coming online now and more are being posted as we inch closer to Cider Week. Check out the week's website https://www.washingtonciderweek.org/ and follow https://www.facebook.com/WaCiderWeek/ to keep abreast of the week's happenings.

Washington Cider Week is made possible with the support of Columbia Distributing, Zeek's Pizza, Northwest Naturals, Great Little Box Company and FruitSmart.