503 Distilling Releases Peppermint La Vida Mocha – Holiday in a Can!
|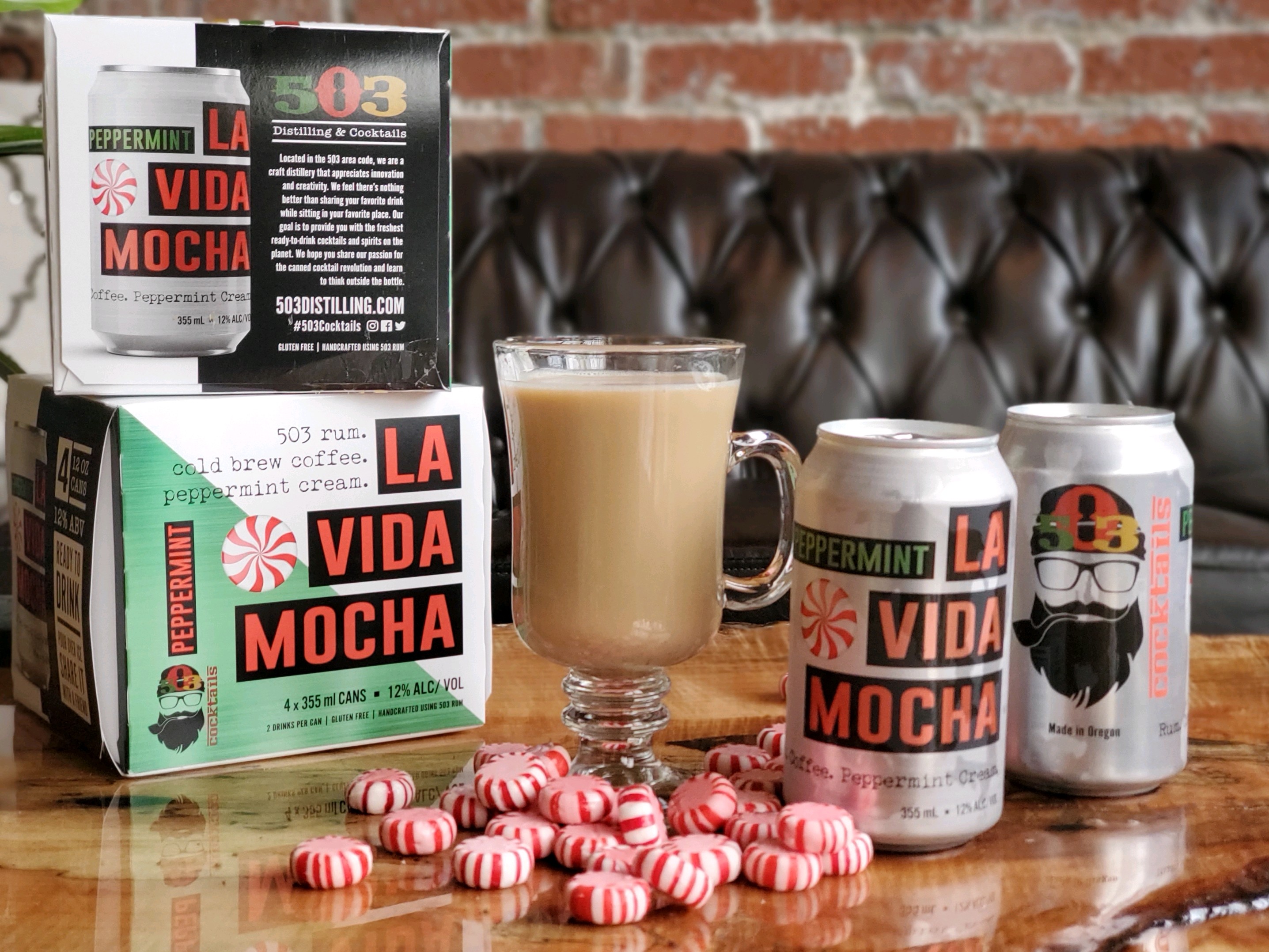 PORTLAND, Ore. — November 22, 2021 — Portland's award-winning 503 Distilling has released Peppermint La Vida Mocha, a new limited-run canned cocktail, just in time for the holidays. Based on the brand's popular La Vida Mocha cocktail-in-a-can, this winter warmer is a festive blend of 503 Rum, cream infused with natural peppermint, cold brew coffee and chocolate.
"There are surprisingly few holiday-season canned cocktails available on the market, and the feedback from our tasting panels has been outstanding," said Dave Schleef, president of 503 Distilling. "The beauty of this cocktail is that it tastes great over ice, but it can also be enjoyed warm–perfect for winter days spent outside."
503 Distilling makes a full line of craft canned cocktails as well as spirits, including the 503 Rum that serves as the base for Peppermint La Vida Mocha. The blanco rum is made from grade A sugar cane and twice distilled for a smooth, full-bodied flavor.
"When we first considered which of our lineup to adapt for wintertime, La Vida Mocha was an easy choice for us," continued Schleef. "The original version has been a hit since day one, and there's nothing like a little peppermint to infuse some holiday spirit into your beverage."
1000 cases of Peppermint La Vida Mocha are on their way to Fred Meyer stores in Washington and Idaho, as well as select liquor stores in Oregon. The seasonal beverage, sold in 4-packs of 12-ounce ready-to-drink cans, is also available direct from the distillery.
Visit 503 Distilling's website for a full list of the company's award-winning canned cocktails and spirits.
About 503 Distilling: 503 Distilling is a small artisanal distillery located in Southeast Portland's Brooklyn neighborhood.  Founded in 2017 by three local, long-time beverage industry professionals, 503 Distilling's mission is to deliver unique spirit-based cocktails in a can and handcrafted traditional spirits to the world. For more information on the company, visit www.503distilling.com or follow @503Distilling on social media.