Ewing Young Distillery – New Spirits Pay Homage to Rich History
|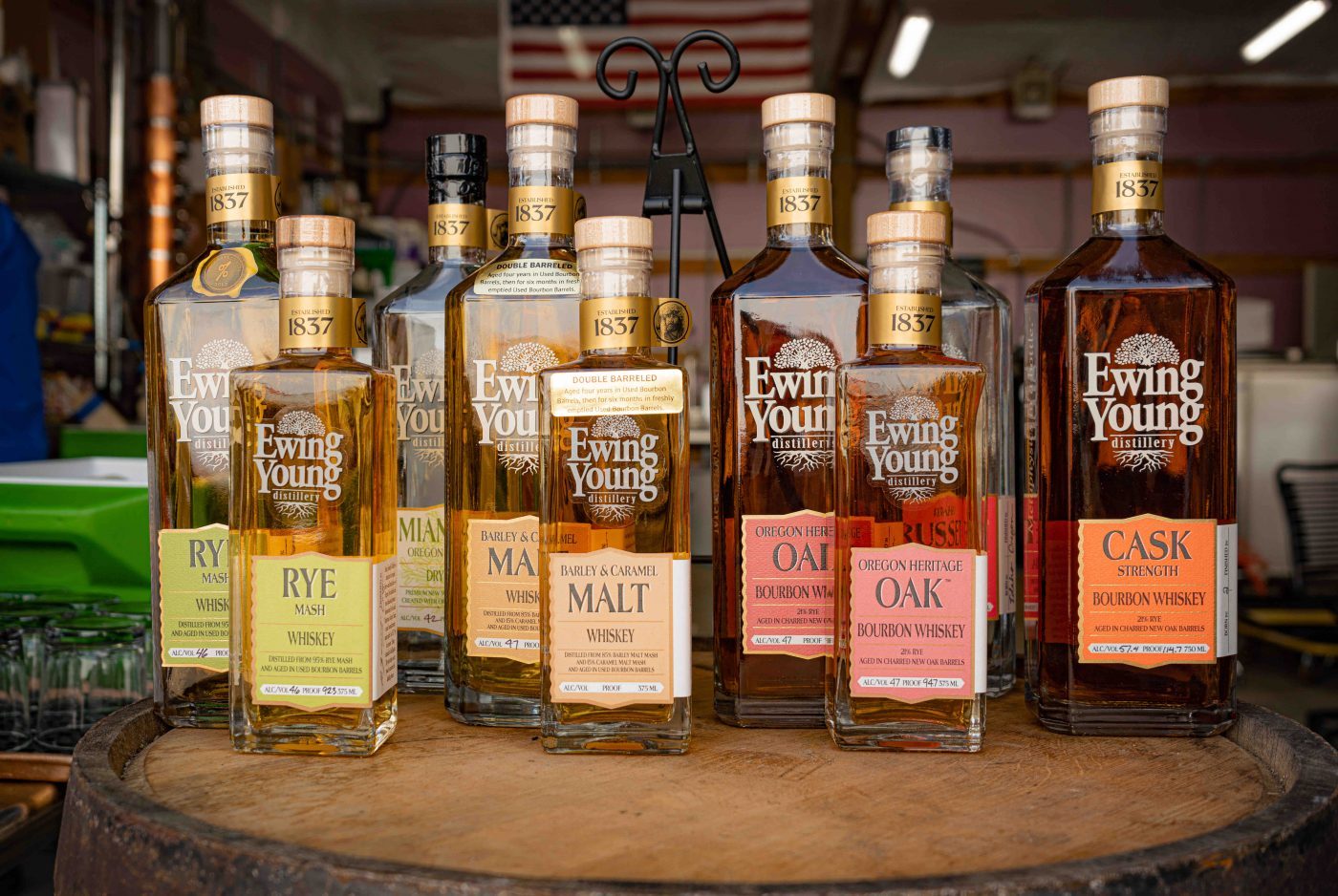 Some call it magic, the Roots call it metaphysics.
Bev Root was living a very different life before the inspiration of a lesser-known fur trapper and pioneer, Ewing Young, drew her to the life of spirits.
In her pre-distilling life, Bev was a COO at a major Portland law office and after 26 years in the biz, was feeling the need for change.
At the same time, Doug Root, Bev's husband, was constantly encouraging her to leave the law world and pursue her own venture. Finally tired of the "soul-sucking" career she had been in, she left the law office and her high-heels behind, and made the leap into the beverage industry.
The couple initially tossed a few different business ideas around, but after learning that Ewing Young, who died in 1841, was buried on the farm of Doug's brother, was integral in establishing the Santa Fe Trail and the state of Oregon, and was also Oregon's first distiller, it became obvious what they should do.
"It was metaphysics," says Doug.
That farm, which is a thoroughbred and livestock farm, is where the Roots set up shop. The distillery and tasting area itself are just a stone's throw from the giant oak tree that shelters Ewing Young's headstone.
"One motivation to get into distilling and name it after Ewing Young was to bring his story to life," said Bev. "He was an important figure who deserves to be known."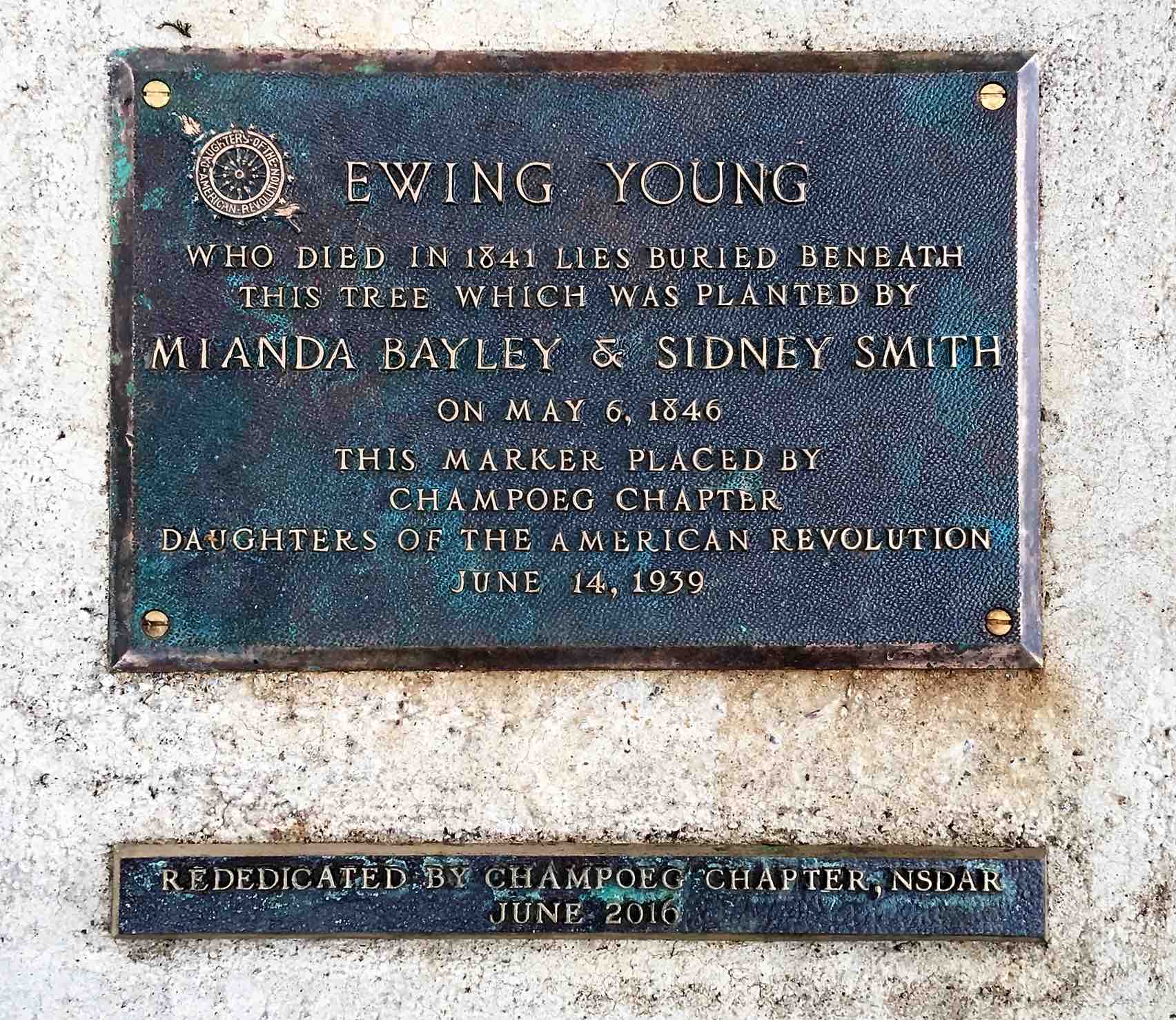 The Ewing Young Distillery is nestled in the hills of the Willamette Valley, just outside the town of Newberg. Although surrounded by vineyards and wine tasting rooms, Bev has never been much of a wine connoisseur. For her, whiskey or beer have been her go-tos.
"I'm not a big drinker, which is a good thing because that can be a big problem in this industry," says Bev. "But I have a good palate and a broad range of business skills, and when I do drink it's whiskey; so that all made sense to get into distilling for me."
Not having any prior distilling experience, Bev went straight to the mecca of American distilling, Kentucky.
There she enrolled in a week-long distilling course taught entirely by industry leaders. Although long and tiring, she was satisfied with what she learned and was especially excited about the relationships she was able to form with master distillers around the country.
"It was exhausting, but I learned so much and met so many people that I continue to call on with questions or to get spirits," says Bev. "That's how I met the guy who I source all my brown spirits from!"
One such connection was with the master distiller of Midwest Grains Product based in Lawrenceburg, IN. Through him Bev was able to get not just any brown spirits but access to some of his experimental, high-end stuff that only a few people in the country have access to.
For example, Bev's Double Barrel Single Malt is a small-batch, experimental blend of 85% malted barley and 15% caramel malted barley. Aged four years in used barrels, then finished in freshly emptied bourbon barrels for six months, the single malt has a sweet nose of honey and caramel and is great in cocktails, Bev noted.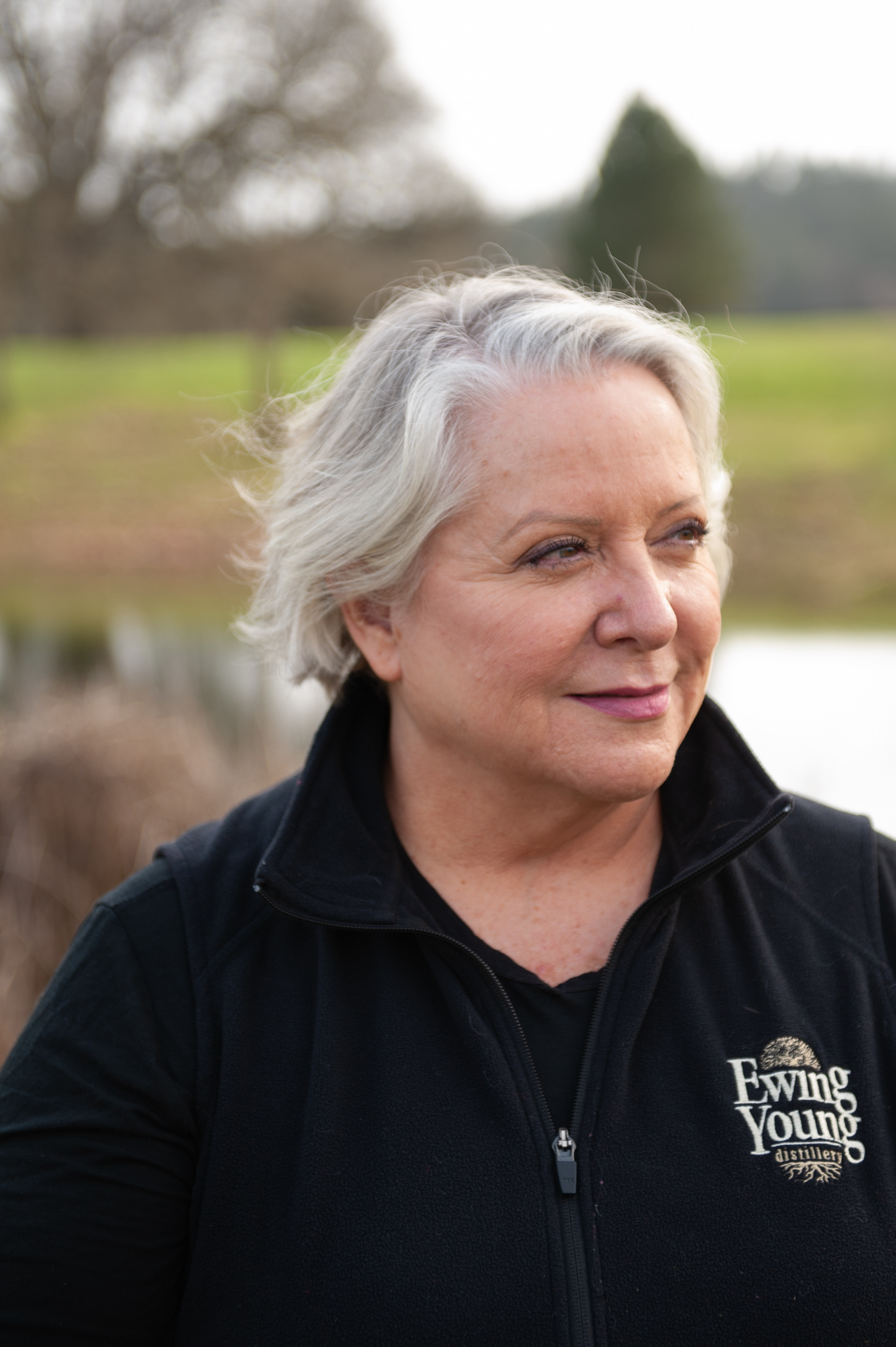 For the palate craving something lighter in the brown spirit realm, Bev recommends her rye which she was also able to get from her MGP source. Because rye is a finicky grain to work with and expensive to make, Bev was particularly excited to let the master work his magic. Made up of 95% rye and 5% barley, it was aged 5 and a half years in used bourbon barrels and finished in Oregon oak. The rye is light, less oaky and shows spicy notes of pepper and herbs balanced by tropical fruit and banana on the nose and palate.
While the single malt and rye are popular, the top seller among the brown spirits consistently stays the Bourbon Oak Heritage. This, Bev describes, "as the everyday sipper." A blend of 75% corn, 21% rye, and 5% barley, this bourbon is a smooth sip of toffee and caramel with a nutty, spicy finish. Blended from whiskey aged 3 or 5 years in new American oak barrels, it has a classic bourbon profile that is enjoyable neat or in a cocktail.
For the real bourbon aficionados, however, the Cask Strength Bourbon is the highlight, Bev pointed out. With the same blend of corn, rye and barley as the Oak Heritage, the Cask Strength is blended from 86% five-year barrels and 14% from a top-tier three-year barrel. Coming in at 114.7 proof, the Cask Strength is full-bodied, deliciously rich, yet smoothly sippable.
With four whiskeys to sample and choose from, visitors to Ewing Young Distillery always seem to leave with a bottle, or at least a smile.
"I never have any fear about anyone liking our whiskey," says Bev. "In the beginning I wasn't sure if people would like it, but everyone always does so I'm completely confident in it now."
Being on a farm, they have power and water restrictions, which puts limits on what and how much they can distill. This sparked Bev to really hone in on the finishing side, and put more focus on blending.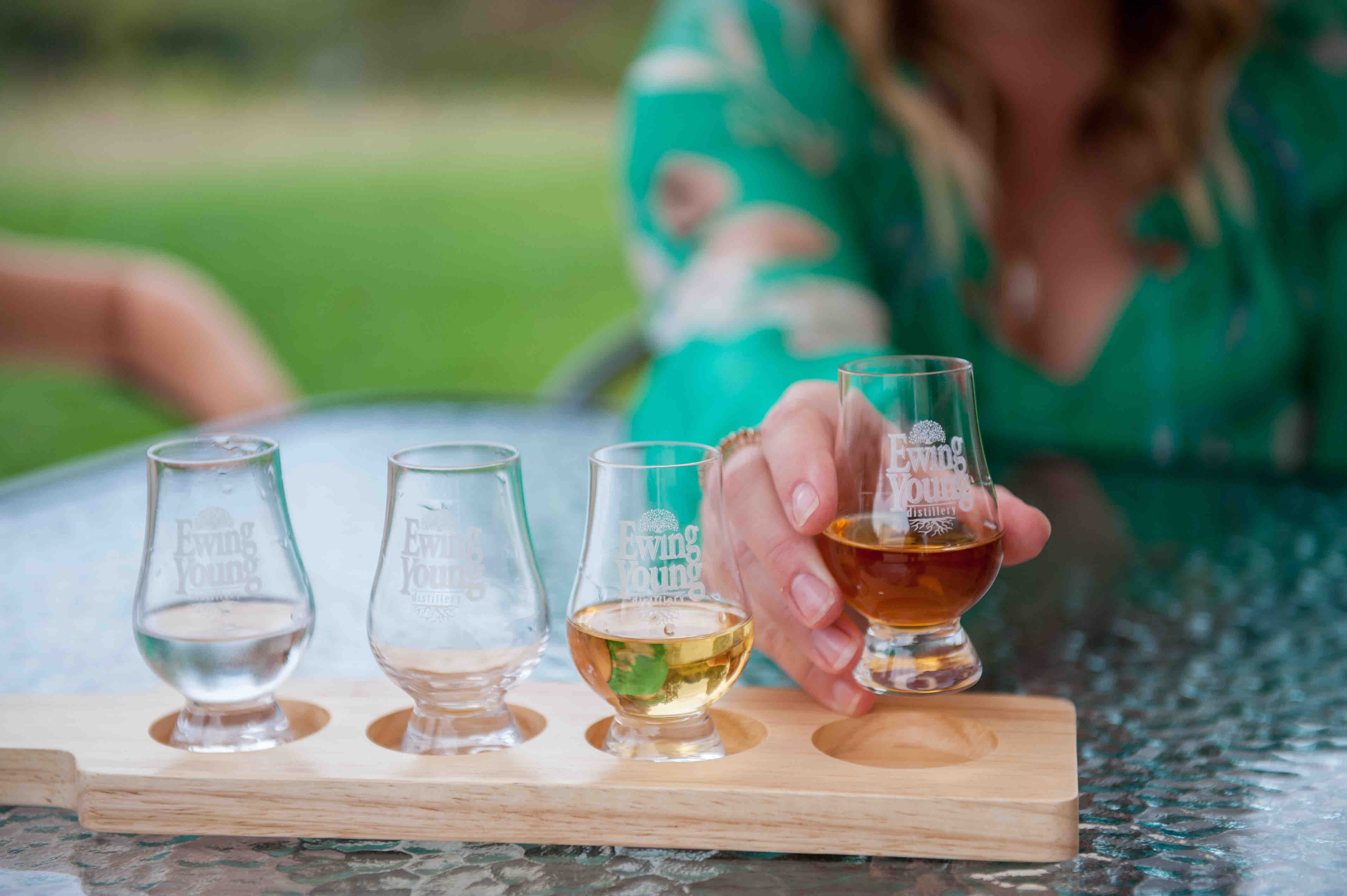 "We start with a top-notch product and spend time getting the flavor profile right," said Bev. "It's really the most fun and what can make a big difference in the end."
In their blending they shy from traditional notions when it comes to aging. The Roots choose to blend solely on taste without focusing too largely on barrel ages.
"People say longer in barrel is better, but I don't think so with American barrels," said Bev.
Because whiskey extracts from the barrel through temperature change and the liquid moving in and out of the barrel, she thinks up to 8 years is the ideal length of aging. This is particularly true at their site where the barrel room is an old semi-trailer and isn't climatized through the changing seasons. The oldest whisky she has on premise at the moment is a seven-year barrel.
But whiskeys aren't the only thing in production at the Ewing Young farm. Although somewhat limited, they are able to distill their own gin. As a 'New Western' style gin, the Mianda's Summer Gin is botanical forward with a citrusy summer zing. Bev specifically uses only Italian juniper for it's fruitier, floral notes and less piney, coriander character. She also swears by Greek hyssop and always uses plenty of fresh citrus including grapefruit, orange, and lemon. Being in wine country, Bev notes that the gin is often the most popular among wine drinkers.
In addition to gin, there is also a Russet Potato Vodka, and a Spicy Pepper Vodka that sat for a week infused with peppers. Both are smooth, easy drinkers and very cocktail friendly.
Paying a visit to the distillery is an experience in itself. Set on the thoroughbred farm next to a pond with rolling hills in either direction, patrons often comment on the overall feeling of tranquility. With a plethora of activities including axe throwing and corn hole, it is entertaining and suitable for families and larger groups.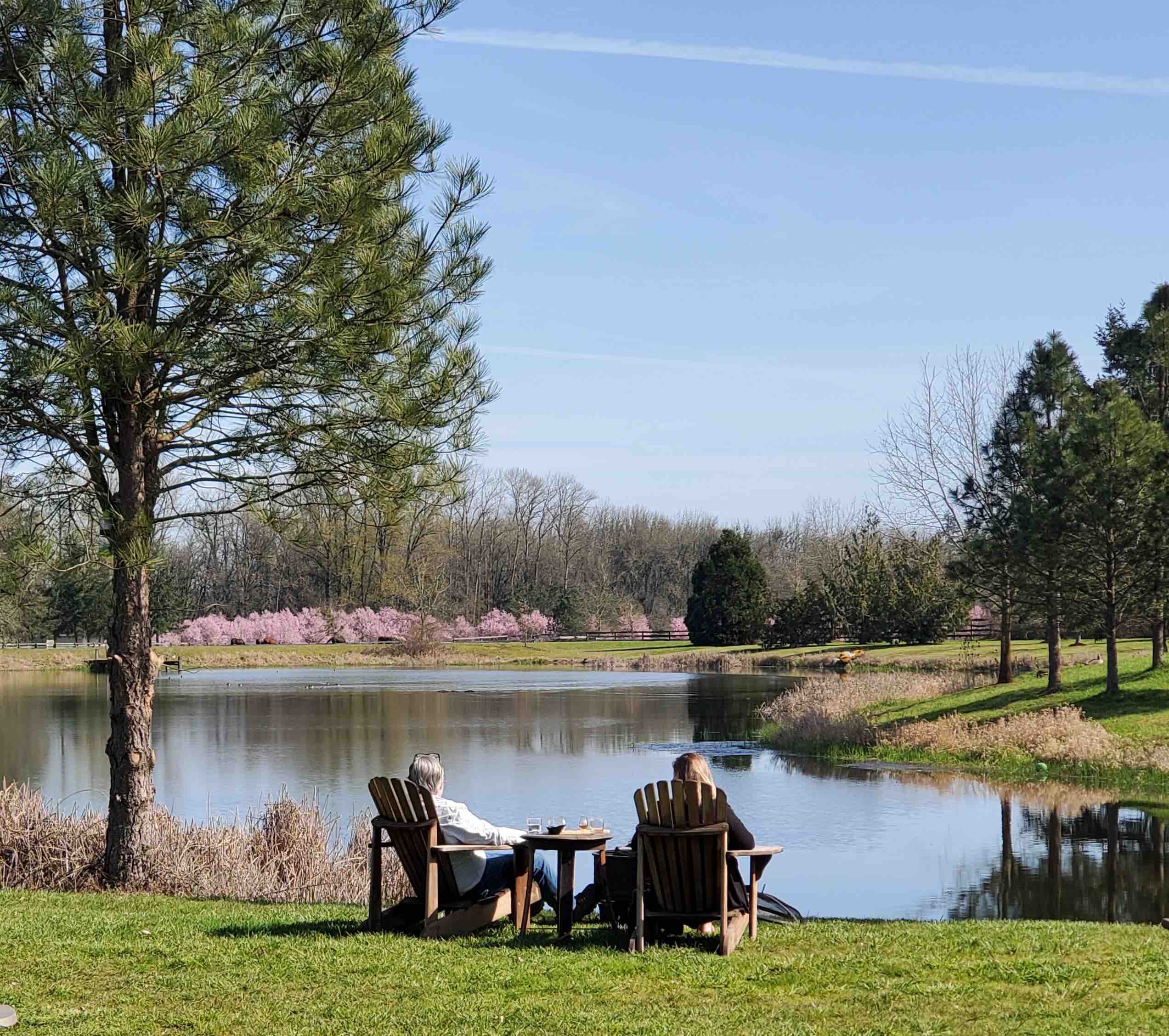 Having just opened their doors in September of 2018, word is really starting to spread about the small Oregon distillery, and the team at Ewing Young is gearing up for a busy season this spring and summer.
Ewing Young Distillery is open from Noon – 5:00pm on Saturday and Sunday and is located at 18715 NE Highway 240 in Newberg, Oregon. Additional details on visiting the distillery and for tours can be found here.