Hopworks Urban Brewery New HUB Brewer's Whiskey Debuts Today
|
"I really like this," stated local whiskey expert Stuart MacLean Ramsay when describing HUB Brewer's Whiskey at last week's media preview. Four years in the making, Hopworks Urban Brewery will release its first ever whiskey today, November 16th at both Hopworks pubs beginning at 5:00pm.
Hopworks partnered with New Deal Distillery three years ago to distill this run of its new HUB Brewer's Whiskey. However the first attempt at this whiskey was done over four years ago with the assistance of Clear Creek Distillery. This partnership came to an abrupt end when Hood River Distillers purchased the longtime Portland based distillery in early 2014.
It was during this time that HUB connected with New Deal Distillery to distill a whiskey from a wash of Organic HUB Lager that did not contain any hops. The wash was brewed at Hopworks on its 20 barrel brewhouse. This first run of HUB Brewer's Whiskey is only 80 or so cases so this whiskey is going to be very limited and sold only in house at Hopworks.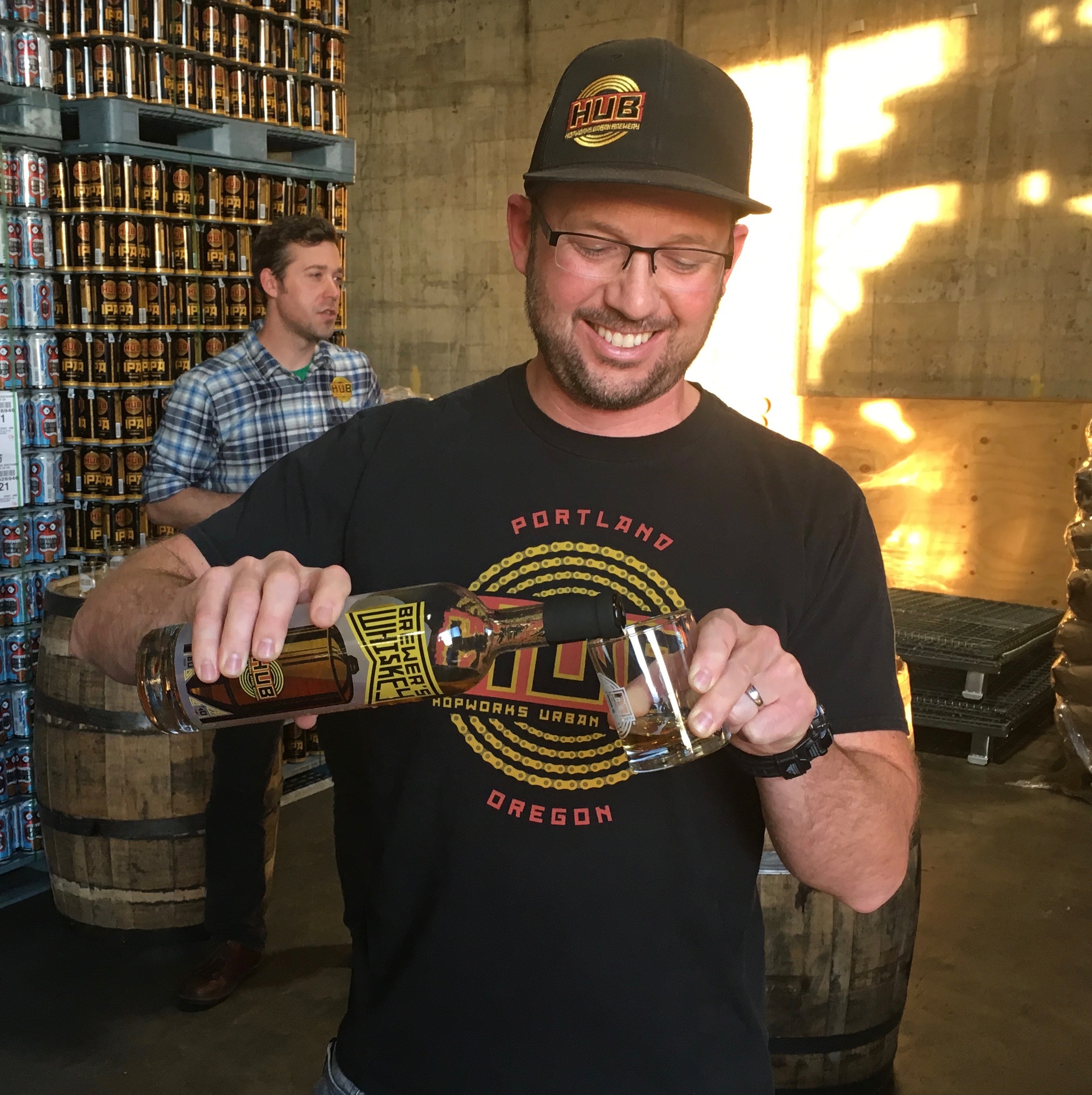 "What really sets our Brewer's Whiskey apart is the use of our beautiful, finished and filtered organic beer in the still," said Hopworks Brewmaster and Founder, Christian Ettinger in a statement. "We get a smooth spirit that exhibits characteristics well beyond its years. Making whiskey is a natural extension of our passion for craft beer. Our Brewer's Whiskey is a product of our playfulness and our commitment to push the limits of what we can do as fermentation experts."
"We're used to working in a fast-paced brewing facility. It was an exciting challenge to make a whiskey based off organic beer and give it the love, patience, and neglect it needs to age well," said Hopworks Head Brewer, Trever Bass in a news release. "We did just that and we're truly proud of the results."
Hopworks' Organic HUB Lager received a traditional double pot still distillation and was aged in a variety of American oak barrels where it picked up flavors of brown sugar, dark currant, chocolate, and leather. Much like Organic HUB Lager, the whiskey has a clean honey flavor, restrained ester profile and a smooth finish. The final whiskey comes in at 80 proof.
"We had a lot of fun working with Hopworks to create a single malt whiskey," said Tom Burkleaux, New Deal Distillery owner and distiller in a statement. "Being brewers, the Hopworks team excels at working with all malt fermentations. We wanted the deeper notes of the malt to carry through. Once distilled the malt had a pleasant nutty character, which mellowed nicely in the barrel. Of course the best part was finally tasting it after several years!"
Of the partnership with New Deal Distillery, Christian Ettinger wrote, "We found a great partner in New Deal. Their decisions to use organic ingredients resonates with us, and they have been excellent in helping us bring to fruition a product that is made with the same skill and care as our beer."
Since HUB Brewer's Whiskey is in limited production, the whiskey will be available primarily by the glass at Hopworks pubs, with an upcoming bottle sale on December 17th. At tonight's release Hopworks will be using HUB Brewer's Whiskey to make a variety of house cocktails including a Hopworks Old Fashioned and Blackberry Sour. The whiskey will also be served neat or on the rocks. The Hopworks brewpub on Powell will also serve a BBQ Whiskey Burger special with beer battered in the days following the release.
For those looking to purchase a 750mL bottle of HUB Brewer's Whiskey, this will take place on Saturday, December 17th, from 11:00am until 3:00pm. There is a limited supply of this new HUB Brewer's Whiskey so do not delay. New Deal Distillery will also have a variety of bottles available for purchase at the pub during the sale.