Olympia Beer Debuts Olympia Artesian Vodka In Pacific Northwest
|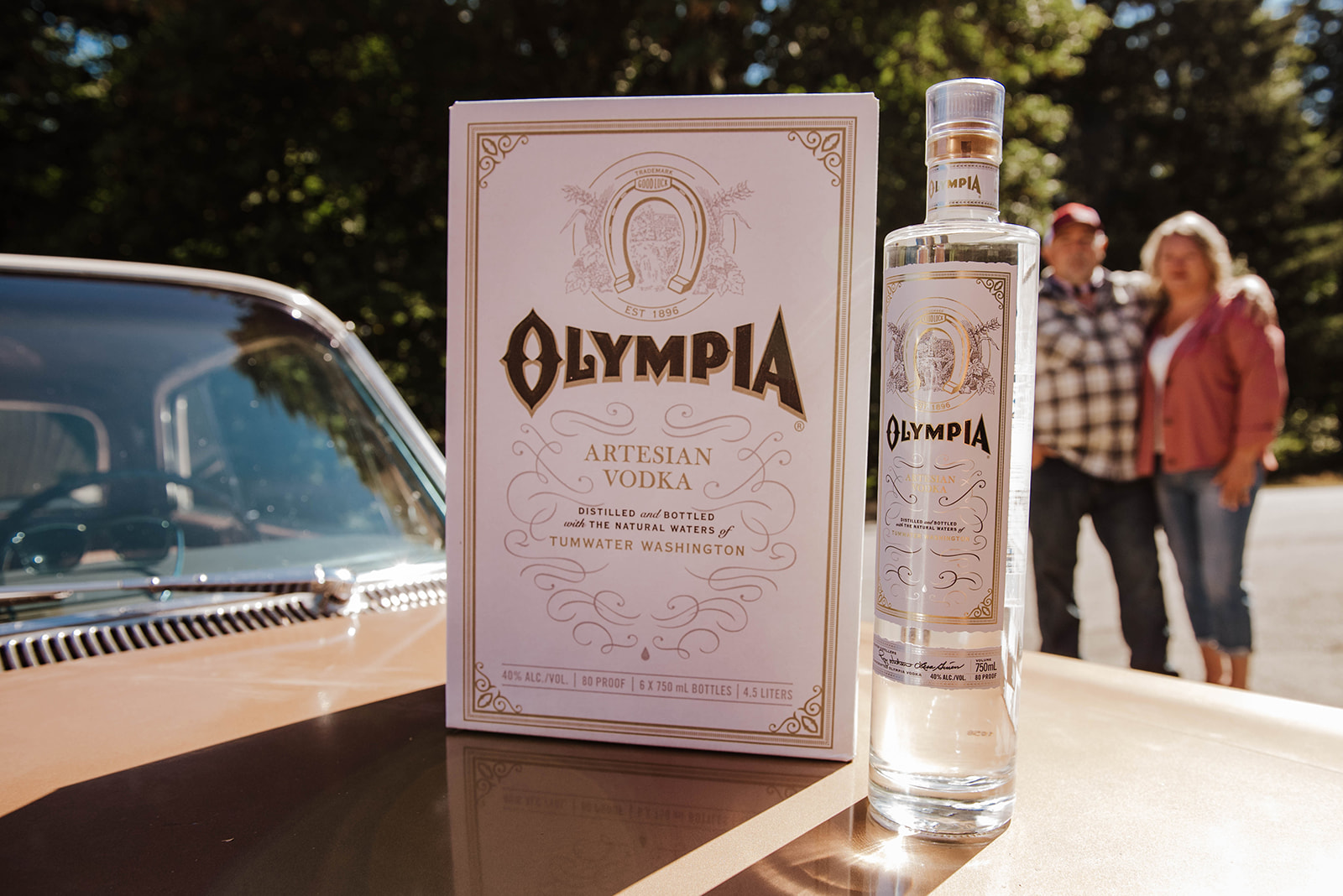 Known for its famous slogan "It's the Water", Olympia Beer has extended its reach outside of beer and has now entered the craft distilling market with Olympia Artesian Vodka. The new vodka is produced and bottled outside of Olympia, Washington in Tumwater using the artesian water aquifer located beneath the town that gave birth to the Olympia Brewing Company and the iconic Olympia Beer.
Founded by Leopold Schmidt, Olympia Brewing began brewing in 1896 in the city of Tumwater at the site of its famed artesian waters. The brewery has changed hands a few times during the years and is now owned by Pabst Brewing Company where Olympia Beer is brewed in Irwindale, California. Now the legacy lives on in Tumwater with the legendary artesian waters at the new Olympia Distilling Company.
Led by master distillers Ray Watson and Lesa Givens, both of whom are life-long residents of the Pacific Northwest, the Olympia Distilling Company is now proud to fully launch its new Olympia Artesian Vodka.
"We know how historically important the brewing of Olympia beer has been to this town. To be able to now distill Olympia Artesian Vodka here in Tumwater, and produce a product and facility that we, and the community can be proud of, has been an incredible experience," said Watson.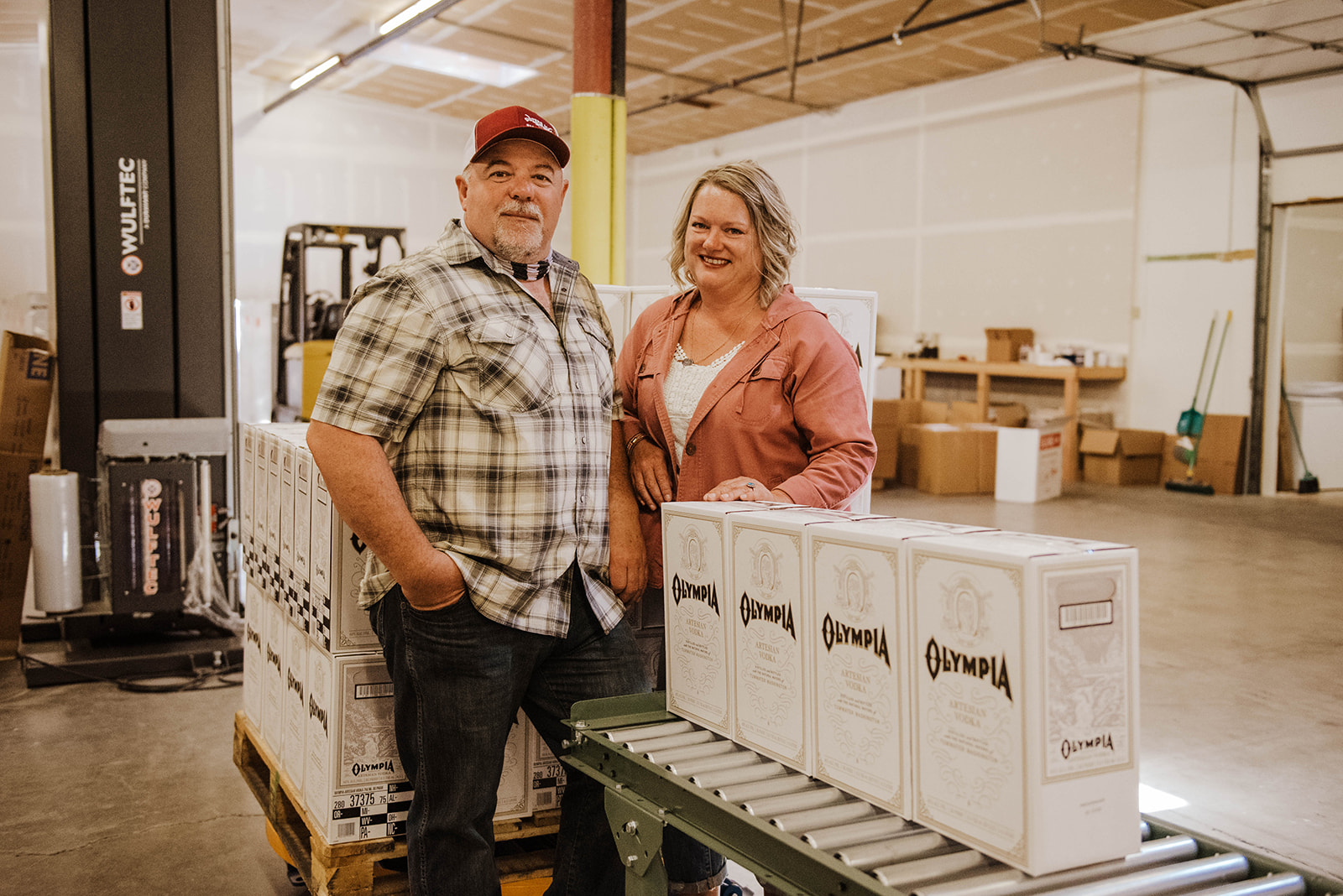 Originally set to be released earlier this year, but the ongoing pandemic stalled the debut of Olympia Artesian Vodka. Instead of producing its vodka, Watson and Givens decided to pivot the business in late March to produce much needed hand sanitizer. The distillery ended up providing over 12,000 bottles of hand sanitizer for the local community of first responders, health care workers and other people in need in response to the Covid-19 pandemic.
Honoring the company's rich legacy set forth 124 years ago by Leopold Schmidt, Olympia Artesian Vodka is distilled and blended with the same artesian water as Olympia Beer did. As this water flows directly down from the Cascade Mountains, it passes through layers of bedrock on its way to the aquifer. There, the water undergoes a process of natural filtration, while collecting various minerals and electrolytes, creating some of the purest water on earth and giving it a truly singular taste and character. Water is vital to Olympia's history and future, as such a portion of profits from sales of Olympia Artesian Vodka will be donated to locally located charities that support and protect waters in the Pacific Northwest and around the world.
"We come from a long lineage of Pacific Northwest distillers, it's a passionate and unique tradition. It's amazing to think that we're using the same natural water sources that they were over a hundred years ago. There is something really special about that, and we feel you can taste that Olympia magic and local tradition in every bottle," added Givens.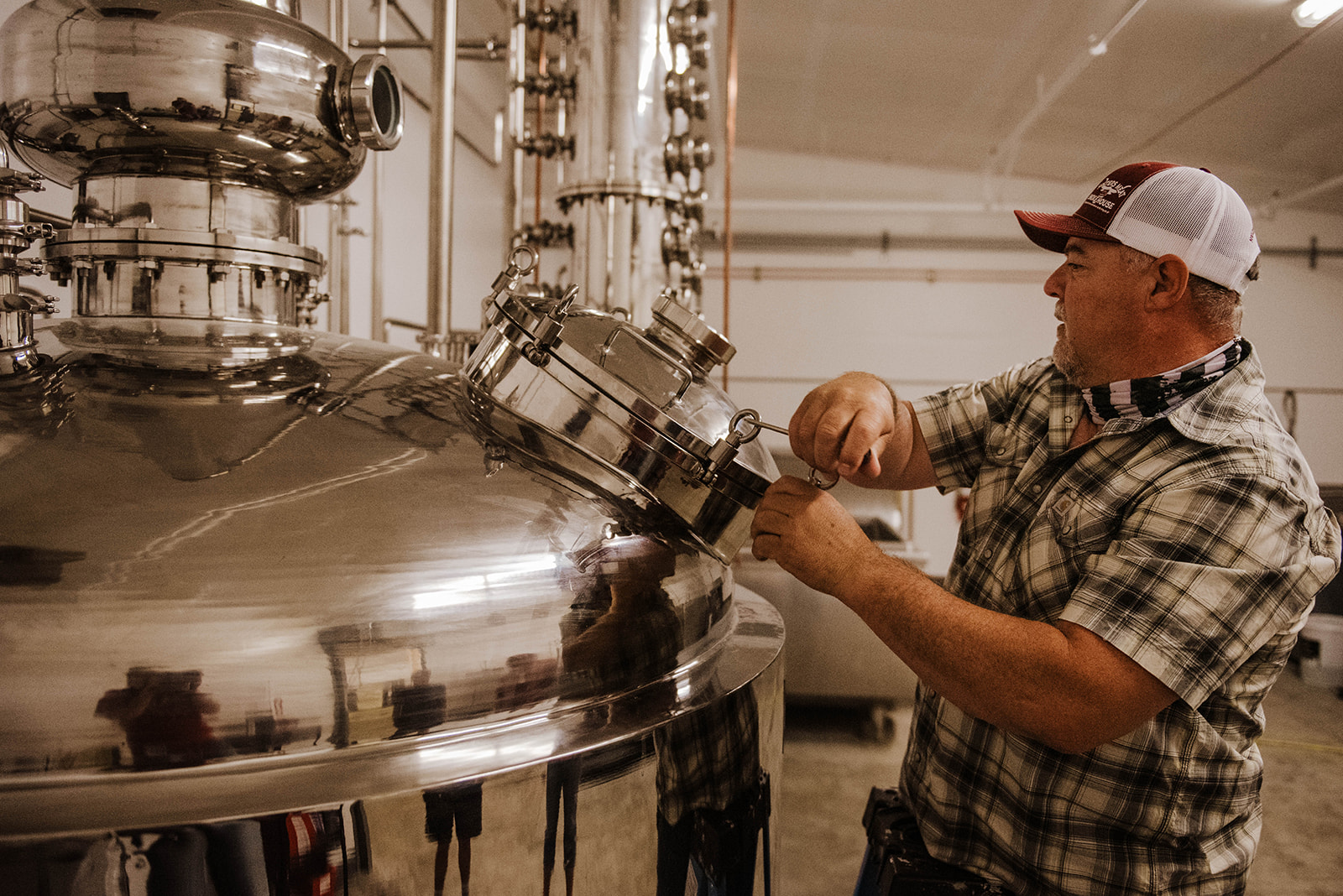 And just don't take Givens' word for it. Just barely in the marketplace, Olympia Artesian Vodka has already been recognized as a premium vodka. Earlier this month, Olympia Artesian Vodka was awarded Silver in the New York International Spirits Competition and named the best vodka distillery in Washington state.
Both Watson and Givens got involved in distilling for different reasons and at different times in their lives while living in the Pacific Northwest. We recently emailed the two of them to learn more about their background.
Read More: Olympia Distilling Co. Produces Hand Sanitizer for First Providers
"It might sound crazy but at first, I was more excited about the buildout of the equipment and making it all work," wrote Watson. "I love to design, plan, build, put it into play, step back and check it out, then make it more efficient."
He added, "Distillation is really separation or purification. I started working in the dairy industry when I was 23 and learned separation by evaporation and centrifugal separation as well as how to build, maintain and design equipment. I built our first distillery with second hand stainless dairy equipment and it worked great. Our distillery manager moved on and it was time to "sink or swim", so I learned how to distill. I already had a good handle on mashing and fermentation. There were a few old timers around that knew a lot about mash, fermentation and distillation. They would show up here and there at the distillery and they would talk about making whiskey for hours. I would listen, be respectful and absorb. The education was great but the stories were priceless!"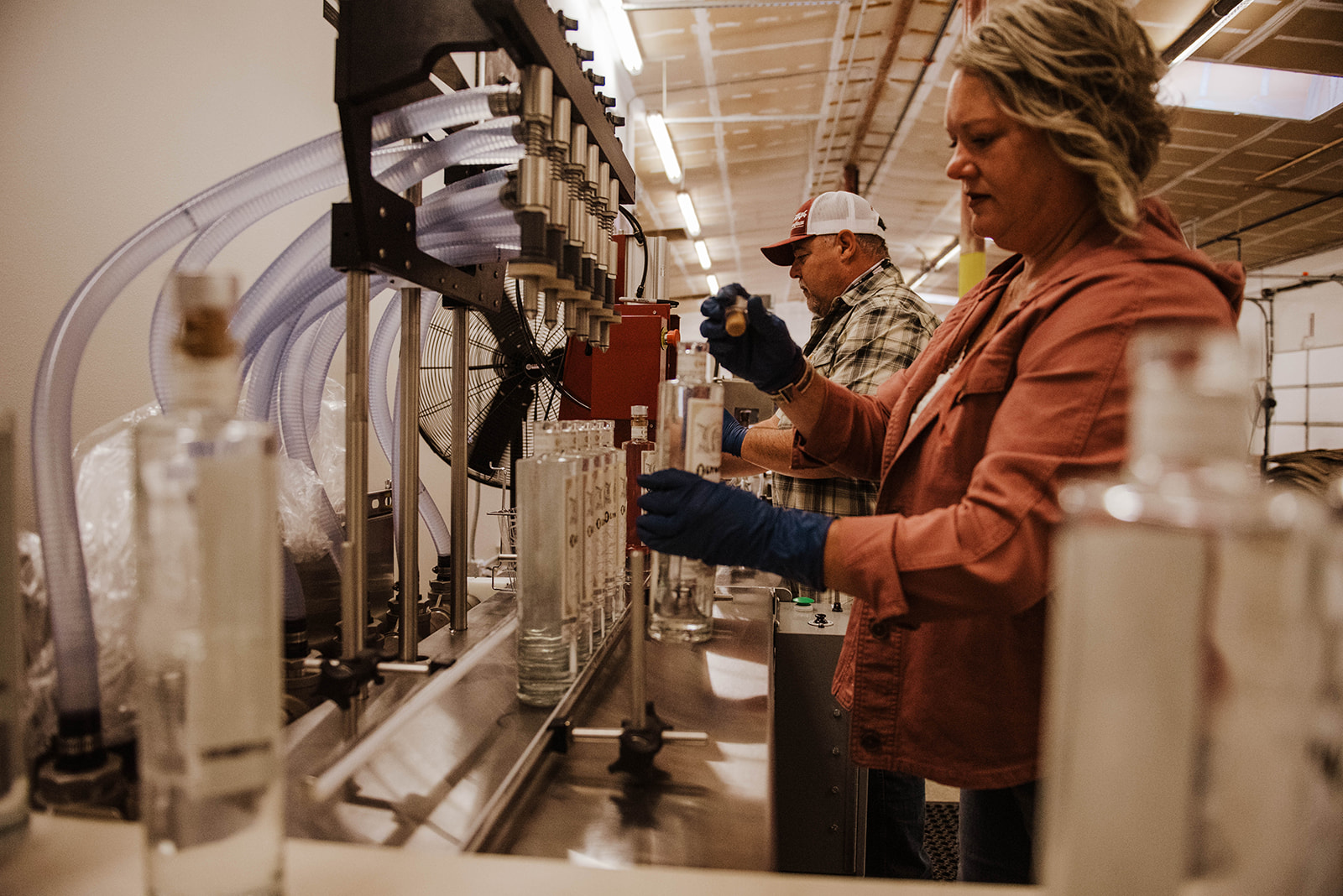 Givens on the other hand entered distilling via a different route. "After working more than 25 years in the insurance industry, I had an opportunity to get involved in the distillery from a risk management prospective," wrote Givens. "In 2014, I was able to buy out one of the partners and REALLY get involved. I have always loved the idea of distilling or making moonshine. Learning how to mash, ferment, tune a still and when to make my cuts was something that I took very seriously."
Her family lineage has many generations that dabbled in distilling. "My great grandparents originated from Avery County, North Carolina and moved to Rockport, WA in the early 1900's, to find work. My great grandfather, Len Buchanan, made moonshine across the Skagit River near Marblemount, WA. My great uncles would run the shine down to Bellingham and Everett WA to deliver it to the taxi drivers, who would then distribute it around town to paying customers."
Givens continues, "I am a "by the book" individual which comes in handy with how regulated this business is. I love to read and learn about different methods of distilling, as well as maturation and blending. I really love what I do! I think my ancestors would be proud."
Olympia has come up with a few easy to make cocktail recipes featuring Olympia Artesian Vodka. These drinks include the Oly Soda, Oly Mary and Oly Rocks.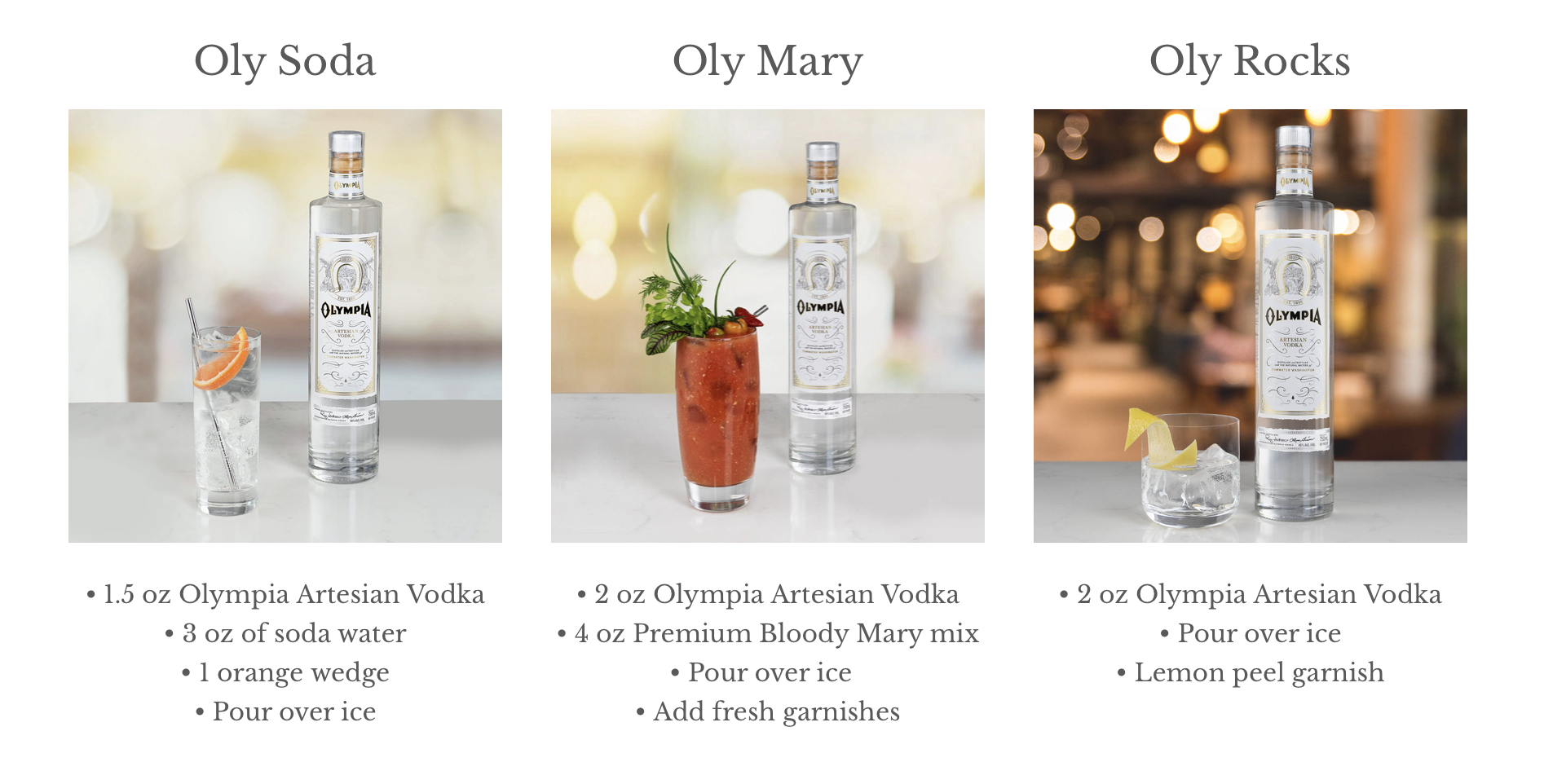 As for now, the only way to acquire Olympia Artesian Vodka is through a liquor retailer as there is currently not a tasting room attached to the distillery. We were told that the distiller's focus right now is on the production of Olympia Artesian Vodka. The demand has been very strong and with now opening up the Oregon market a tasting room is something that will likely be considered in the future.
Olympia Artesian Vodka is 80 proof and 40% ABV, it is available in 750mL bottles. The vodka is currently available direct to consumers via Drizly (select markets) and in stores throughout Washington, with distribution in Oregon beginning in September. For those in California, look for a launch in 2021.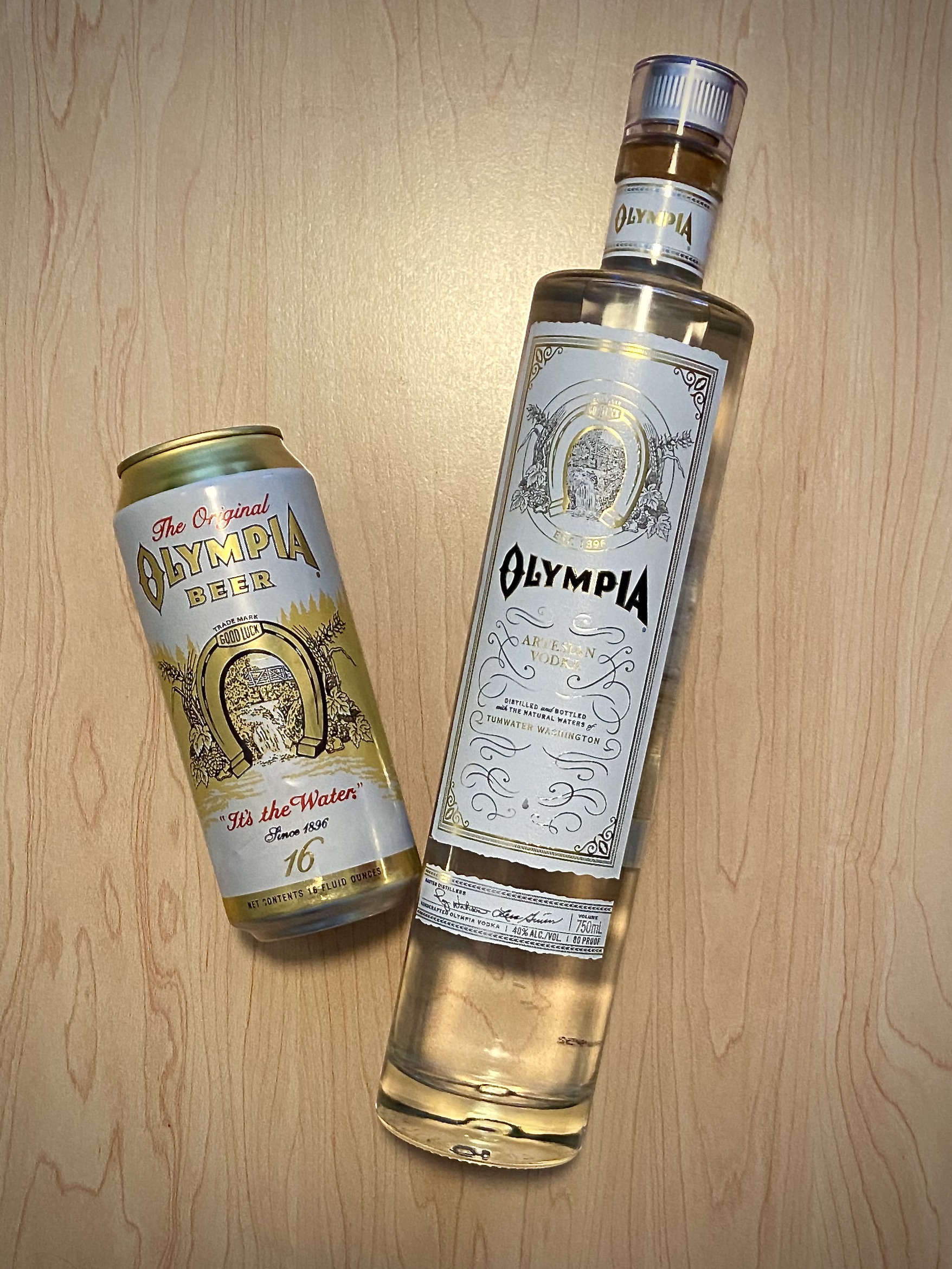 For more information about Olympia visit https://theoriginalolympia.com or follow on Instagram and Facebook via @theoriginalolympia.