Rogue Ales & Spirits Launches Ginger Lemon Whiskey Mule Canned Cocktail Review
|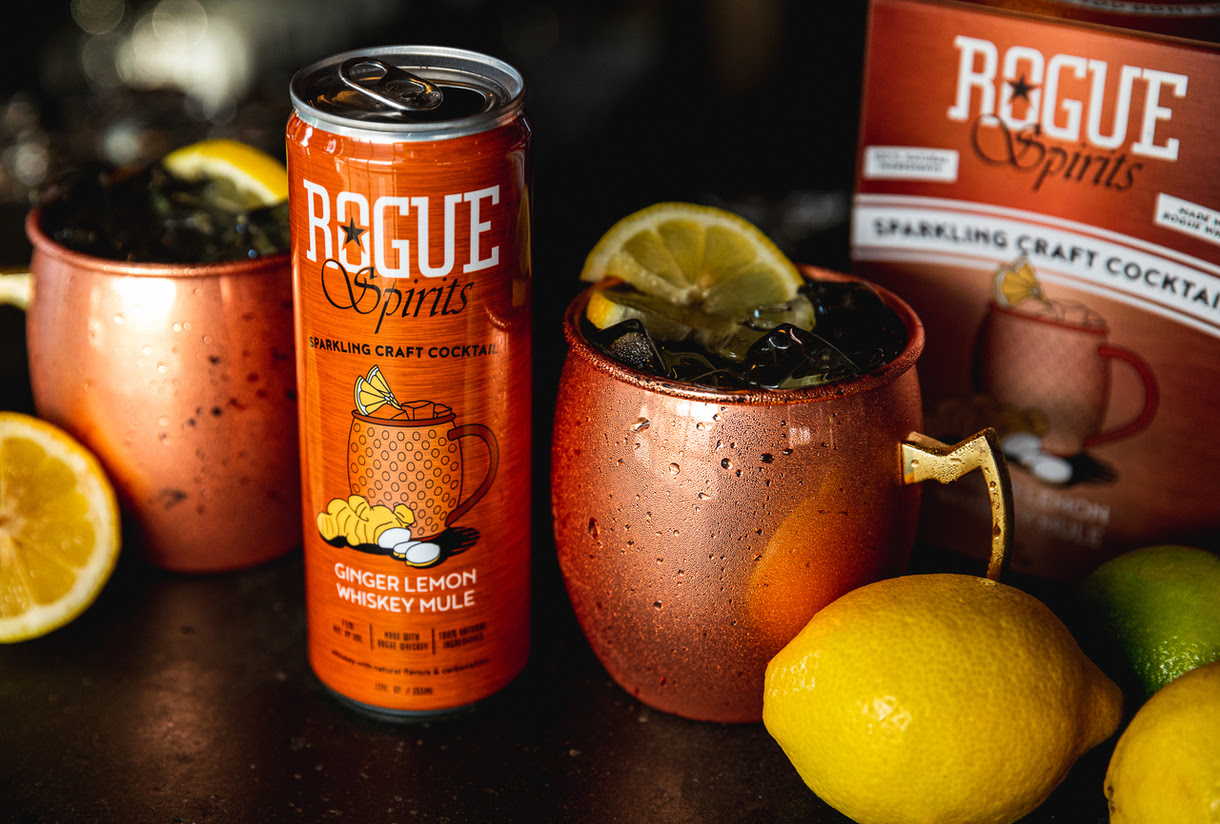 A new flavor joins the expanding lineup of canned cocktails from Rogue Ales & Spirits. Just released in 12oz slim cans, Ginger Lemon Whiskey Mule is the first Rogue Whiskey canned cocktail from the Newport distiller. This new flavor joins the previously released Cranberry Elderflower Vodka Soda, Cucumber Lime Gin Fizz, Grapefruit Vodka Soda, and Ginger Lime Vodka Mule.
"From day one our fans have been asking for a whiskey canned cocktail and we knew we had to deliver," says Steven Garrett, VP of Business Development, in a statement. "It took us about a year to get it right and we're proud and excited to finally introduce our Whiskey Lemon Ginger Mule. This canned cocktail is made with a blend of 4 to 6 year old Rogue whiskey that was distilled and aged at the Rogue Spirits distillery in Newport, Oregon."
Rogue's Ginger Lemon Whiskey Mule arrives in a 12oz. slim can that features an enticing blend of Rogue Spirits Whiskey, ginger, lemon, simple syrup, and sparkling water. On this new flavor, Rogue has found the sweet spot on this creation with a satisfying blend of ginger and lemon that tastes as if this whiskey mule was created from scratch. And at 7.5% ABV, this Ginger Lemon Whiskey Mule will keep you warm during the cool, fall nights.
"Released just in time for the holiday season, our Ginger Lemon Whiskey Mule is made for those special occasions when you want to spend less time making drinks and more time celebrating with the ones you love," says Hagen Moore, VP of Marketing & Creative, in a statement. "Dressed for a holiday party, the shiny copper packaging evokes a feeling of celebration from the outside in. On the palate, the warming ginger and lemon flavor provide a refreshing balance of citrus and spice. These are sure to be a welcome addition at any holiday gathering."
The lineup of Rogue Spirits Sparkling Craft Cocktails is all made with Rogue Spirits and 100% natural ingredients, offer authentic, gluten-free, bar quality recipes in the convenience of a can at 7.5% ABV. To find Rogue Spirit's Sparkling Craft Canned Cocktails near you, use the Rogue Finder.