Rogue Farm Fresh Cocktail Competition Celebrates Gin & Craft Cocktails
|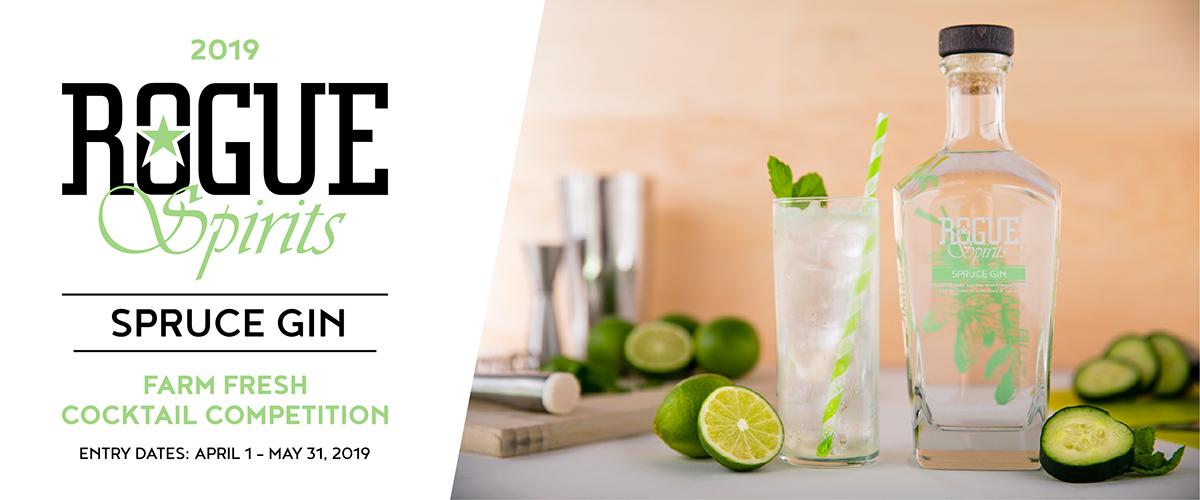 Newport, Ore. (March 21, 2019) — Rogue Ales & Spirits announces its first-ever cocktail competition, celebrating Rogue's farm-grown Spruce Gin. Running from April 1–May 31, 2019, Rogue's Farm Fresh Cocktail Competition invites bartenders and craft cocktail enthusiasts from all over the country to submit their best cocktail using Rogue Spruce Gin for a chance to win a trip to Rogue's farm and headquarters in Oregon.
Rogue Spruce Gin is a cucumber-forward gin made with ingredients grown at Rogue Farms. It has notes of spruce and juniper, as well as subtle hints of ginger, orris root, citrus, angelica root and coriander. While delicious and complex on its own, Spruce Gin makes an excellent addition to cocktails made with farm-fresh ingredients.
"Our Spruce Gin is the perfect base spirit for our cocktail competition," says Rogue President Dharma Tamm. "Bartenders already love creating cocktails with it, and now we're rewarding them and our everyday fans of Spruce Gin for their creativity and talent. We can't wait to see what they come up with."
For this competition, entrants will enter their recipe online and will be judged on cocktail presentation, aroma, flavor, mouthfeel and overall experience of the cocktail. The winning recipe will be included in a Rogue cocktail book and shared to Rogue's social media channels. The winner will be flown out to Oregon for an immersive Rogue experience: a tour of Rogue Farms in Independence, Oregon, a tour of the World Headquarters (including the brewery, distillery and cooperage) in Newport, Oregon and the opportunity to make some Rogue Spruce Gin with Rogue head distiller Brian Pribyl.
Contestants can enter their cocktail here. For official rules, visit rules.roguecocktailcontest.com.
Rogue Spruce Gin is available in 750ml bottles nationwide. For more information, visit Rogue.com.