Whiskey From Home – Free Virtual Bourbon Event
|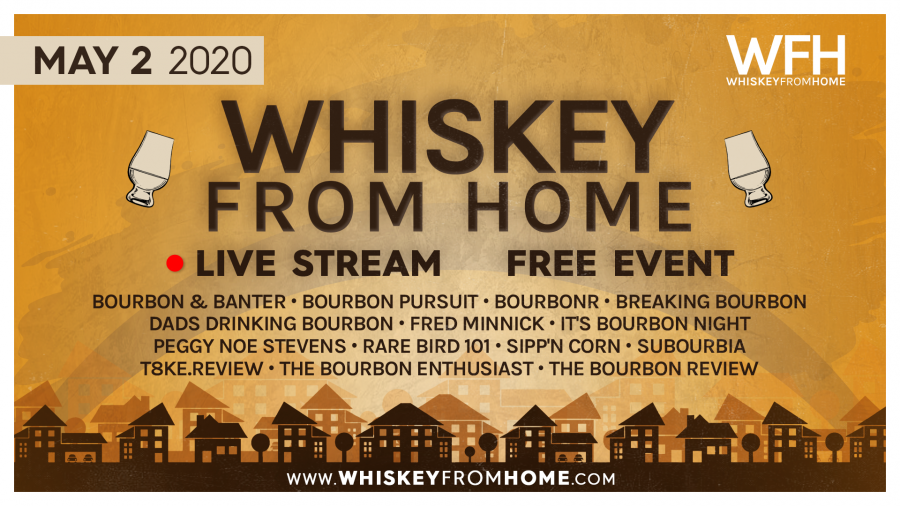 Virtual events are becoming the norm in the world we live in today. And this holds true to the world of bourbon with the arrival of Whiskey From Home. This new, free virtual bourbon event taking place on on Saturday, May 2nd will feature seminars, tastings, food pairings and cocktails all from the comfort of your own home. But for those of us wanting to partake here in the Pacific Northwest, prepare to imbibe a bit early as Whiskey From Home will take place from 9:00am – 2:30pm Pacific.
Whiskey From Home lasts five and half hours and streams whiskey-soaked entertainment straight to YouTube, Facebook, Twitch, dLink, Periscope, and Twitter using Restream.io. Links to participate in the event are available as a part of the free registration from the streaming partners. To register for free click here.
Wall Street Journal-Bestselling author Fred Minnick and Bourbon Hall of Fame inductee Peggy Noe Stevens headline the bourbon personalities. These two alone have, combined, conducted more than 1,000 bourbon seminars around the world.
Whiskey From Home includes bourbon history, the best bourbons to buy right now, craft whiskey exploration, how to host a kick-ass tasting, and blind flights. Viewers can purchase bourbon, food, and cocktail ingredients from their local stores to follow along with cocktail breaks, a virtual food pairing with Stevens, and a virtual bourbon tasting with Minnick. With an integrated live chat, participants can network with each other and interact with the presenters.
"This was an opportunity to bring a force of recognizable bourbon names together and build a first of its kind," says Minnick, a co-founder of Bourbon & Beyond and editor-in-chief of Bourbon+ Magazine, in a press release. "This gives everyone sitting at home that has ever wanted to attend a whiskey conference a chance to do it for free."
The entertaining and educational sessions include the following bourbon personalities: Bourbon & Banter, Bourbon Pursuit, Bourbonr, Breaking Bourbon, Dad's Drinking Bourbon, Fred Minnick, It's Bourbon Night, Peggy Noe Stevens, Rare Bird 101, Sipp'n Corn, Subourbia, t8ke.review, The Bourbon Enthusiast, and The Bourbon Review. Sponsored by Rabbit Hole Distillery.
To learn more about Whiskey From Home and its full event of interactive online experiences, including the schedule of sessions and the shopping list, click here: https://whiskeyfromhome.com.
Whiskey From Home is being hosted by Bourbon Pursuit, a leading bourbon whiskey podcast, dubbed as the official podcast of bourbon. Started in 2015, Bourbon Pursuit reaches a global audience with more than 1 million streams per year informing listeners on the next bourbon trends, great bottles, and sharing the personalities behind their favorite brands with interviews from prominent whiskey distilleries.