Whiskey Wednesday – Black Butte Whiskey 5-Year from Deschutes Brewery and Bendistillery
|
Recently Deschutes Brewery and Bendistillery's Crater Lake Spirits came together on the release of a new version of its popular whiskey, Black Butte Whiskey 5 Year.
Originally released in 2016 as a very limited run three-year-old whiskey, the new version receives an additional two years of aging and this pays dividends. From sampling this new, enhanced five-year aged whiskey, we can definitely say that it's one worthy of adding to your whiskey library.
Over the past few years since its release, Black Butte Whiskey has gained notable national recognition and praise. Black Butte Whiskey was awarded Best in Show and Double Gold at Sunset Magazine's 2019 International Spirits Competition and was named Best American Craft Luxury Whiskey by Sunset. It also received a Gold Medal and 92 points from the prestigious Beverage Tasting Institute. Crater Lake Spirits joined forces with Deschutes to create a unique whiskey that initially launched in 2016 as a 3-year aged American whiskey that will now be a 5-year-old whiskey.
Black Butte Whiskey 5 Year begins just as its predecessor did with this American malt whiskey being distilled from the wash of Deschutes Brewery's legendary Black Butte Porter beer. What makes this whiskey wash stand apart from others is that this beer uses an artisanal selection of specialty malts and is then double-distilled and aged for 5 years in new #4 char American Oak barrels. The resulting spirit is a 94-proof balanced, yet complex whiskey that retains the malty, chocolatey notes of Black Butte Porter and finishes with a soft, nearly sweet, character.
"We're honored to receive recognition that speaks volumes to the uniqueness and complexity of this whiskey," said Deschutes Brewery founder, Gary Fish, in a statement. "The idea for this partnership was born decades ago through conversations over beers and the result has generated incredible excitement from both craft beer lovers and spirits fans."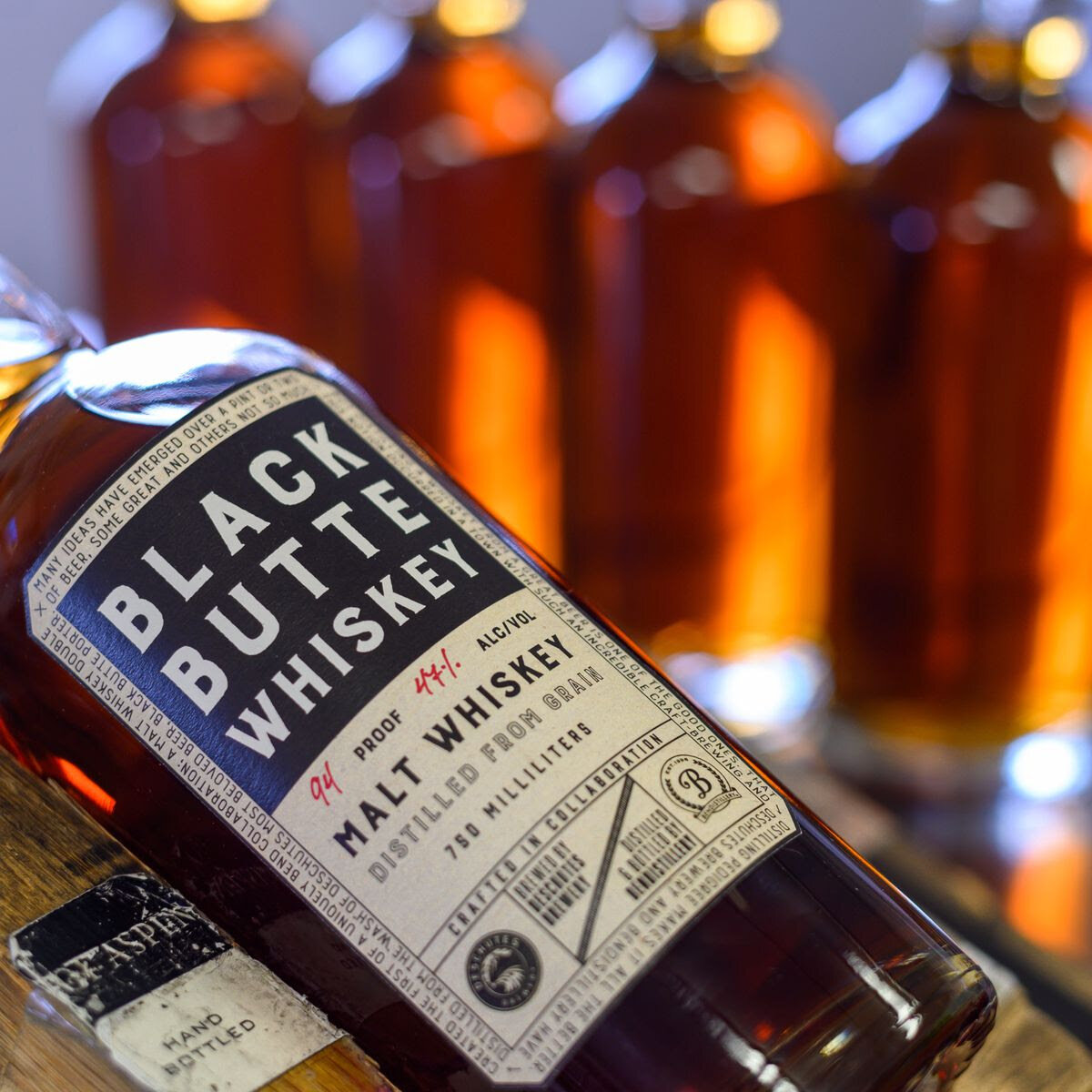 "We are thrilled by the attention we've received, especially to earn Sunset's Best in Show against such a deep field of brands is really an honor," said Alan Dietrich, Crater Lake Spirits CEO, in a statement. "It means even more to share this success with our partners at Deschutes Brewery. Both of our teams have worked tirelessly to redefine the traditional American whiskey category."
From our sampling of Black Butte Whiskey 5 Year, we came away with a very positive experience. Many smaller craft distillers can miss a bit of the depth that long time whiskey producers provide. This is not the case with the latest rendition of Black Butte Whiskey. The additional two years of aging from the first edition is a game changer.
The nose on Black Butte Whiskey 5 Year offers deep notes of caramel and oak. The front of the palate is delicious toffee and caramel that segues into dark malts and chocolate flavors. This lovely whiskey finishes with wonderful notes of tobacco, leather, and lingering oak. A definite winner and one that a few of us here at the website will be seeking out a bottle at a nearby liquor store.
Bottles of the exclusive 5-year 2020 batch are for sale at Bendistillery's Crater Lake Spirits Downtown Tasting Room located at 1024 NW Bond Street and Distillery Tap Room at 19330 Pinehurst Road in Bend. In addition to these two locations, the whiskey is available in select liquor stores in Oregon. Black Butte Whiskey 5 Year (9415B) retails for $74.95 as Black Butte Whiskey 3 Year (3946B) retails for $64.95. Use the very handy OLCC Liquor Search to locate a bottle.